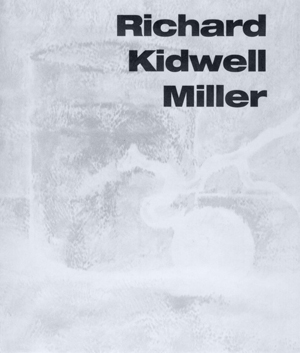 Richard Kidwell Miller
Curated by John A. Cuthbert
January 2011
104pp
HC/J 978-0-975292-50-1
$29.95
Published by West Virginia University Libraries
Summary
With striking contrasts, bold colors, and powerful textures and lines, Richard Kidwell Miller's art is abstract, yet integrated and powerful, while sensuous. Born in the coal-mining region of Fairmont, West Virginia during the Great Depression, Miller displayed artistic talent as a young boy, holding his first solo exhibition by the age of sixteen. As his artistic training progressed, his paintings took on an array of subjects and mediums. He explored realism, abstraction, collage, portraiture, still life and constructed works. The scale of his work varied as well, as he produced huge still life compositions that challenge the very nature of the subject and exquisitely layered canvas on canvas and wood on canvas structures that cross the border between traditional painting and relief sculpture.
In 2004, Richard Kidwell Miller's work was displayed at West Virginia University. This lushly illustrated book encompasses that exhibit, as curator John A. Cuthbert narrates Miller's development as a student, artist, and teacher. With over twenty-five beautifully reproduced paintings, spanning over forty years of artistic development, this collection brings attention to the life and work of a contemporary artist.
Contents
Foreword
Richard Kidwell Miller: "What's Next?"
Catalogue of the Exhibition
Artist's Statment
Appendices
Selected Exhibitions
Selected Collections
Awards
Bibliography
Acknowledgements
Author
Richard Kidwell Miller has exhibited work in countless museums, including The Phillips Collection, Hirshhorn Museum and Sculpture, the Whitney Museum, and the Smithsonian Institution. He is a recipient of the National Society of Arts and Letters Lifetime Achievement Award.
John A. Cuthbert is Curator of the West Virginia and Regional History Collection and Director of the West Virginia Historical Art Collection at the West Virginia University Libraries.
Reviews
"This is the first book to describe Miller's oeuvre and it does so handsomely."
E.H. Teague, University of Oregon