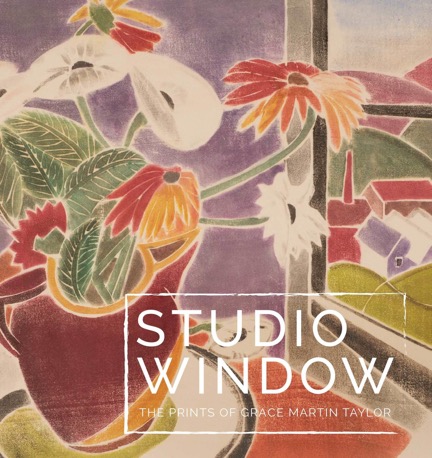 Robert Bridges and Kristina Olson
Foreword by Joyce Ann Ice
September 2016
91pp
PB 978-0-975278-74-1
$14.99
15 color images
Published by the Art Museum of West Virginia University
Studio Window
The Prints of Grace Martin Taylor
Summary
This catalogue was published on the occasion of the exhibition "Studio Window: The Prints of Grace Martin Taylor," curated by Robert Bridges, at the Art Museum of West Virginia University, Morgantown, West Virginia, September 16 to December 15, 2016. The exhibition marked the first time that a complete set of Grace Martin Taylor's white-line prints have been exhibited. Taylor was born near Morgantown and graduated from WVU before embarking on a career in art. She studied with her cousin, internationally known American modernist Blanche Lazzell, and went on to study at the Pennsylvania Academy of Fine Arts with Arthur Carles in the 1920s, and later with prestigious artists such as Hans Hofmann and Emil Bisttram. One of America's innovative printmakers of the 20th century, Taylor dedicated her life to teaching art in West Virginia for 40 years at what is now the University of Charleston, where she promoted modern art and abstraction.
Author
Robert Bridges is curator of the Art Museum of West Virginia University. Between 2000 and 2015, Bridges organized more than 80 exhibitions in WVU's Mesaros Galleries, among them "Ceramic Art from the Jingdezhen Ceramic Institute" and two national exhibitions featuring the work of American Modernist Blanche Lazzell. Since the opening of the Art Museum in 2015, his curatorial projects have included "Shepard Fairey: Work Against the Clampdown" and "Paintings and Sculptures by Sally and Peter Saul," among others. Bridges is co-editor (along with Kristina Olson and Janet Snyder) of Blanche Lazzell: The Life and Work of An American Modernist (WVU Press, 2004). He received his MFA in printmaking at WVU and previously worked as a curator in the private sector in Chicago.
Kristina Olson is an associate professor of art history at West Virginia University, as well as the associate director of the School of Art & Design. Her research focuses on the intersection of contemporary art and architecture. She is co-editor of Social Practice Art in Turbulent Times: The Revolution Will Be Live (Routledge, 2019).