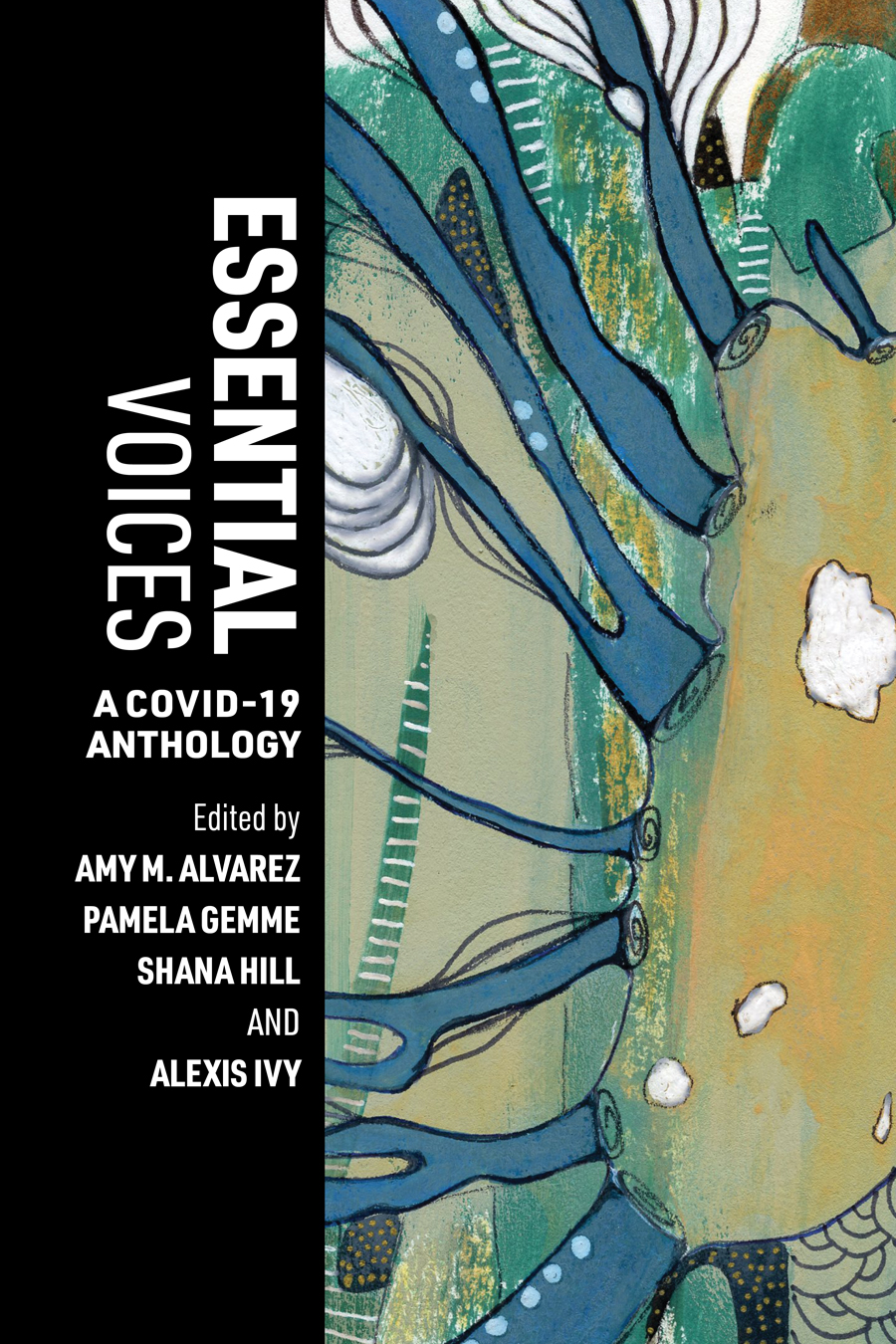 Edited by Amy M. Alvarez, Pamela Gemme, Shana Hill, and Alexis Ivy
Available now!
July 2023
304pp
PB 978-1-952271-88-5
$26.99
eBook 978-1-952271-89-2
$26.99
Borderless Series
Essential Voices
A COVID-19 Anthology
Summary
Bringing together artwork, creative nonfiction, fiction, and poetry, Essential Voices shares the perspectives of people from vulnerable populations as they were affected by COVID-19 in 2020, before the release of the vaccine. The pieces in this volume represent a range of writers and artists, some from international locations, whose work may be less likely to be seen because of race, ethnicity, or current legal status. Contributors include individuals who identify as BIPOC, LGBTQIA+, or seniors; those who are immunocompromised or undocumented; those working in medicine, food service, factories, and sanitation; and parents who were unable to work from home, along with individuals who were being held in correctional facilities or facing mental health concerns. This multigenre collection preserves the history of the pandemic by documenting and publishing these essential voices.
Essential Voices will be of interest to readers who want to consider the diverse lived experiences of people during the pandemic when outcomes were most uncertain. It will also be useful for teachers, students, activists, and policy makers in a variety of settings, including government, hospitals, prisons, homeless shelters, colleges, art schools, and secondary schools.
Contents
List of Illustrations
Foreword | Maria del Guadalupe Davidson
Introduction
Acknowledgments
Fear: It lives in droplets
Monster under Me
Fiction | Nathan Blalock
Table of Contents for a Manual of Pandemic Response Protocols
Poetry | Rasha Abdulhadi
The Worst of Times
Essay | Frances Ogamba
Essentials
Poetry | Maria James-Thiaw
Recipe for Troubled Times
Poetry | Linda Parsons
Night Guard
Poetry | Linda Parsons
Pandemic Pandemonium
Poetry | Kenneth Moore
Even the Robins Know
Poetry | Robert Okaji
Distance: As we moan into the phone
How Corona Evolves or Makes Us Evolve, or We Have to Evolve Together
Poetry | Xiaoly Li
Sequestered Alone
Poetry | Joan Hofmann
To whom it may concern,
Letter and Poetry | Alyce Copeland
Love in the Time of Corona
Poetry | John Cuetara
What We Know about the Fatalities
Fiction | Lisa Michelle Moore
Do Lockdowns Ever End?
Poetry | Diego Islas
Wish You Were Here
Poetry | Joan Goodreau
Comfort
Poetry | Celeste Blair
Didn't We Once Call It Love?
Poetry | E. Ethelbert Miller
The Cheat
Poetry | Rayna Momen
How I've Survived This Long, Part 3
Poetry | Kasha Martin Gauthier
What it's like to get married in prison during a pandemic
Essay | Christopher Blackwell
Mask: A parachute that catches my breath
Invisi dis ability in COVID Times
Essay | Catherine Young
Corona Spring
Poetry | Deborah DeNicola
Unmasked
Poetry | Faiza Anum
The Fabric of Society
Fiction | Alice Benson
Masked
Poetry | Christine Rhein
Melt Down
Poetry | Mary K O'Melveny
May 6, 2020
Poetry | Kevin McLellan
Barriers
Essay | Robbie Gamble
from The Quarantinas
Poetry | Stephanie Lenox
Labor: Warnings on the floor
Bezos Knows
Poetry | Ranney Campbell
We Are Family: A Lesson Learned as an On-line English Teacher during COVID-19
Essay | Maya Lear Brewer
Line Speed
Poetry | Ben Gunsberg
Staying Socially and Politically Active while Socially Distancing: Making the Issues around COVID-19 Part of One's Activism
Essay | C. Liegh McInnis
Essential Medical Workers Are to Report to Duty
Poetry | Michele Bombardier
These Hands
Fiction | Z. S. Roe
Postcard from Pandemic
Poetry | Robert Okaji
A Classroom Hums in Wait.
Poetry | Vanessa Chica Ferreira
Sickness: My stomach charlie-horsed
My COVID Story
Essay | Brett L. Massey
Essentially Unseen
Poetry | Lavinia Kumar
Nudge
Poetry | Phrieda Bogere
Elegy
Poetry | Bianca Alyssa Pérez
I Cut Up My Hillary T-shirt to Make a COVID Mask
Poetry | Joan E. Bauer
A Story of Constantine, COVID-19, and Pandora
Fiction | Waliyah Oladipo
New Age
Poetry | Robert J. Levy
Alcohol Woman
Poetry | Deidra Suwanee Dees
Grief: Interjected like a comma
Elegy, Interrupted
Poetry | Emily Ransdell
My Mother Whispers, Doesn't He Look So Peaceful
Poetry | Bianca Alyssa Pérez
A Sonnet for the Living
Poetry | Bianca Alyssa Pérez
#covidclarity
Essay | Marcelle Mentor
Trapped
Poetry | Deidra Suwanee Dees
Love, Coronavirus
Poetry | Lisa Suhair Majaj
A Poet Attempts to Homeschool, Week 6: Fractions
Poetry | Kasha Martin Gauthier
Evaporating Villanelle during a Time of Pandemic
Poetry | Jen Karetnick
A Day in the Life
Essay | Eric Ebers
What You Want to Say
Poetry | Maria Rouphail
Zoom Funeral
Poetry | Laura Glenn
For Jon, Who Died Because of Time
Poetry | Rayna Momen
Survival: Remember every surface you touch
Essential Nonessentials in Lockdown
Poetry | Katy Giebenhain
The Eaters
Fiction | Danielle Lauren
Off-Script
Poetry | Monserrat Escobar Arteaga
Heroes
Fiction | Mark Brazaitis
15 Mar 2020—A (a roll in the hand is worth two on the shelf) Haiku
Poetry | Peter Joel
We Will Sing of Gone Bodies Some Days from Now
Poetry | Blessing Omeiza Ojo
In Times of Quarantine
Poetry | Rosalie Hendon
Halmoni's Kimchi Pancakes
Recipe | Elia Min
COVID Curriculum
Essay | Dominique Traverse Locke
Monkeys
Poetry | Fabiyas M V
Justice and Reckoning: Colonial co-morbidities
How to Make White Supremacy Generative/How to Survive a Pandemic
Essay | Ahimsa Timoteo Bodhrán
Blackout
Poetry | Thomas Beckwith
The Marrow-Sucking Grip of Immigration Injustice
Poetry | Kim Denning
White
Poetry | Roan Davis
we've been here before
Poetry | Liseli A. Fitzpatrick
Crosstown
Poetry | Ahimsa Timoteo Bodhrán
My Uncertain Story
Essay | Noe Hernandez
Em Ontvlecetv / Invaded
Poetry | Deidra Suwanee Dees
POV
Poetry | Jameka Hartley
The Home of the Brave
Poetry | David Antonio Reyes
Things I Never Told You
Poetry | Steve Ramirez
Environment and Place: Let the river turn the stone
Lines before Lockdown
Poetry | Lisa Suhair Majaj
hymn
Poetry | Caroline Furr
May Shivers
Poetry | Lukpata Lomba Joseph
For the emptiers have emptied them out
Poetry | Alan Smith Soto
While the World Fell Apart around Us
Poetry | Aimee Nicole
COVID Spring Comes to Southeast Pennsylvania
Poetry | Kenneth Pobo
2020
Poetry | Yuan Changming
Folded Up
Poetry | donnarkevic
Social Distance
Poetry | Fred Shaw
Austin
Poetry | Jeffrey Taylor
Hope: Beyond sorrow there's a gardenia tree
During quarantine, I embrace myself as a long-hauler,
Poetry | Jen Karetnick
Magdalena
Poetry | Deborah "Deby" Rodriguez
Too Loud to Sleep
Essay | Natalie Mislang Mann
When the Games Return
Poetry | E. Ethelbert Miller
Wasted
Essay | Celeste Blair
This Is Not the End of the World
Poetry | Darius Atefat-Peckham
Touch Screen
Fiction | Mohini Malhotra
Notes
Contributors
About the Editors
Editors
Amy M. Alvarez is an Affrilachian poet and professor living in Morgantown, West Virginia.
Pamela Gemme is a poet, artist, and creative writing tutor from Massachusetts.
Shana Hill is a poet and founder of Poetica Pastor. She lives in Somerville, Massachusetts.
Alexis Ivy is a poet and outreach advocate for homeless people in Cambridge, Massachusetts.
Reviews
"The work is emotionally moving. The attention to the quotidian, lived experiences of those affected offers unique insights into a global catastrophe that has turned precious lives and deaths into statistics. . . . An important cultural response."
Darius Bost, author of Evidence of Being: The Black Gay Cultural Renaissance and the Politics of Violence
"This is a text of powerful firsthand accounts that capture the current context in critical and intersectional ways that are attentive to how individual lives are shaped by structural realities. It is important that these voices are engaged."
Nana Osei-Kofi, Oregon State University