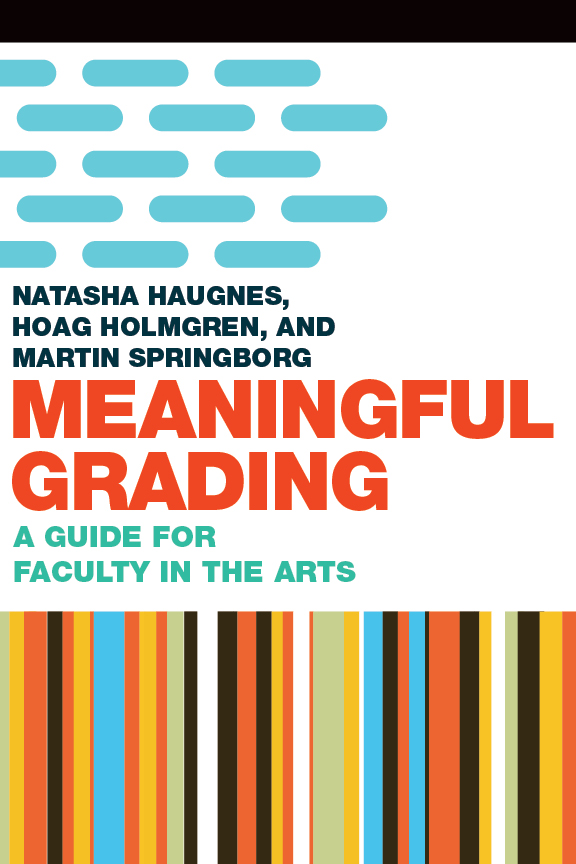 Natasha Haugnes, Hoag Holmgren, and Martin Springborg
August 2018
240pp
PB 978-1-946684-49-3
$26.99
CL 978-1-946684-48-6
$99.99
eBook 978-1-946684-50-9
$26.99
Summary
College and university faculty in the arts (visual, studio, language, music, design, and others) regularly grade and assess undergraduate student work but often with little guidance or support. As a result, many arts faculty, especially new faculty, adjunct faculty, and graduate student instructors, feel bewildered and must "reinvent the wheel" when grappling with the challenges and responsibilities of grading and assessing student work.
Meaningful Grading: A Guide for Faculty in the Arts enables faculty to create and implement effective assessment methodologies—research based and field tested—in traditional and online classrooms. In doing so, the book reveals how the daunting challenges of grading in the arts can be turned into opportunities for deeper student learning, increased student engagement, and an enlivened pedagogy.
Contents
Introduction
Part I: Course Design and Preparation
Examining Your Own Beliefs and Biases
1. Quantifying the Qualitative
2. Examining Aesthetic Sensibility
3. The Apprenticeship of Observation
Knowing Your Context
4. Novices and Experts
5. Getting Involved
6. Implications of Grades
Defining Success in Your Course
7. Course Design: An Overview
8. Course Design: Defining Goals
9. Course Design: Teaching and Learning Activities
10. Course Design: Assessment Criteria
11. Your Grading System: Math Matters
12. Ungraded Assignments
13. Scaffolding Learning Tasks
14. Soliciting Feedback
Part I Supplementary Resources
Part II: During the Semester
Communicating Goals
15. Making Grading Expectations Clear
16. A Mutual Understanding of Progress
17. Clarifying Teaching Methods
18. Choice of Graded Projects
19. Office Hours
Emphasizing Process over Results
20. Making Creative Process Explicit
21. Redefining Effort
22. Problem Finding
23. Generating Ideas and Brainstorming
24. Aha! Moments
25. Grading and Mistakes
26. Contemplative Practice
27. Famous Artists' Early Work
28. The Artist-Apprentice Dynamic
29. Grading Participation
30. Grading Discussions
31. Self-Assessment and Creative Process
Teaching Content and Skills
32. The Language of the Discipline
33. Assessing Research
34. Skills-Based Assignments
Rubrics
35. Creating Rubrics
36. Using Rubrics
37. When to Introduce a Rubric
38. Student-Generated Rubrics
39. Rubrics for Peer and Self-Assessment
40. Common Rubric Pitfalls
The Critique
41. Structuring the Critique
42. Critiquing in the Online Environment
43. Peer Critique
44. Art Directing vs. Critiquing
45. Critique Journals
Part II Supplementary Resources
Part III: Post-semester
46. Requesting Feedback on Your Grading
47. Post-semester Community: Moving Beyond Assessment
48. Reflecting and Planning for Next Semester
49. End-of-Semester Evaluations
50. Norming Your Grades
Part III Supplementary Resources
Notes
Author
Natasha Haugnes, currently at the Academy of Art University and California College of the Arts, has worked in art and design university settings for twenty-three years and has authored two ESL textbooks.
Hoag Holmgren has worked in the field of faculty and educational development for over twenty years. A former creative writing instructor, he is the author of the poetry collection p a l e o s and No Better Place: A New Zen Primer, both published in 2018.
Martin Springborg is a faculty member in the Minnesota State system of colleges and universities, where he teaches photography and art history.
Reviews
"A rich resource for educational developers."
International Journal for Academic Development
"Fills a significant gap in the teaching and learning literature. I am particularly impressed with the ability of the volume to serve simultaneously as text, guide, and reference, and suspect that artist-teachers will find the same utility."
David Chase, coauthor of Assessment in Creative Disciplines: Quantifying and Qualifying the Aesthetic