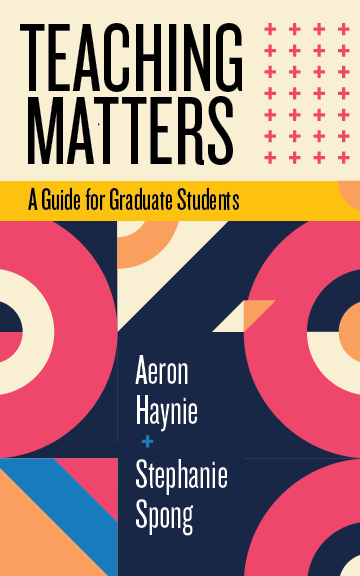 Aeron Haynie and
Stephanie Spong
Available now!
June 2022
240pp
PB 978-1-952271-55-7
$24.99
CL 978-1-952271-54-0
$99.99
eBook 978-1-952271-56-4
$24.99
Teaching and Learning in Higher Education Series
Teaching Matters
A Guide for Graduate Students
Summary
In a book written directly for graduate students that includes graduate student voices and experiences, Aeron Haynie and Stephanie Spong establish why good teaching matters and offer a guide to helping instructors-in-training create inclusive and welcoming classrooms.
Teaching Matters is informed by recent research while being grounded in the personal perspectives of current and past graduate students in many disciplines. Graduate students can use this book independently to prepare to teach their courses, or it can be used as a guide for a teaching practicum. With a just-in-time checklist for graduate students who are assigned to teach courses right before the semester starts, step-by-step directions for writing a compelling teaching philosophy, and an emphasis on teaching well regardless of modality, Teaching Matters will remain relevant for graduate students throughout their careers.

---
Receive a 30% discount on orders of 10 or more copies of this title with code HIGHEREDBULK30 at checkout.
Contents
Acknowledgments
1. Why Teaching Matters
2. How Do You Design a Course?
3. How Can You Create a Welcoming Classroom Community?
4. How Do You Develop a Classroom Practice?
5. Navigating Classroom Challenges
6. Creating Assignments and Responding to Student Work
7. What Are Other Graduate Students Experiencing?
8. Cultivating Well-Being
Appendix 1: Help! What If My Course Starts Next Week?
Appendix 2: How Can My Teaching Experience Help Me Get a Job?
Appendix 3: Resources
Notes
References
Index
Authors
Aeron Haynie is executive director of the Center for Teaching and Learning and associate professor of English at the University of New Mexico. She is coeditor of Exploring Signature Pedagogies and Exploring More Signature Pedagogies.
Stephanie Spong is an associate director for the Center for Teaching and Learning and affiliated faculty with the department of organization, information, and learning sciences at the University of New Mexico.
Reviews
"Empowering graduate students to savor teaching when higher education emphasizes research is no mean feat. I mentor graduate students from multiple disciplines, and this book, from its title to its student-focused chapters, resonates closely with my rallying call. Yes, indeed, teaching matters, and Haynie and Spong nicely address graduate student needs head on, warmly inviting the educators of the future to join the teaching commons and let the passion for teaching develop and shine unbridled."
Regan A. R. Gurung, coauthor of Thriving in Academia: Building a Career at a Teaching-Focused Institution
"Indispensable."
John Warner, Inside Higher Ed