Give to West Virginia University Press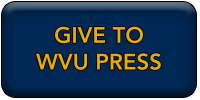 Why Give?
West Virginia University Press—as the only university press, and the largest publisher of any kind, in the state of West Virginia—strives to publish the very best work in our areas of specialization. As a nonprofit publisher, we publish books because of their significance and impact rather than their commercial viability. While sales cover a significant portion of our costs, donations help us carry out our mission to publish high-quality books for readers in the state, around the country, and around the world.
Many of our most distinguished and attractive books are made possible by support from generous individuals and institutions. Your gift allows the Press to:
Publish scholarly and regional works that may not always recover their costs through sales
Produce beautifully illustrated books about West Virginia and the region
Develop ambitious long-term projects showcasing areas in which West Virginia, West Virginia University, and the Press are recognized as established or emerging leaders
How to Give
We welcome contributions of any amount. To make a gift, please visit our page at Give WVU (https://give.wvu.edu/wvupress).
Donations are tax deductible.
To discuss funding opportunities at the Press, including sponsorship of individual books and series, please contact Than Saffel, interim director, at press_director@mail.wvu.edu.
Thank you for your support!