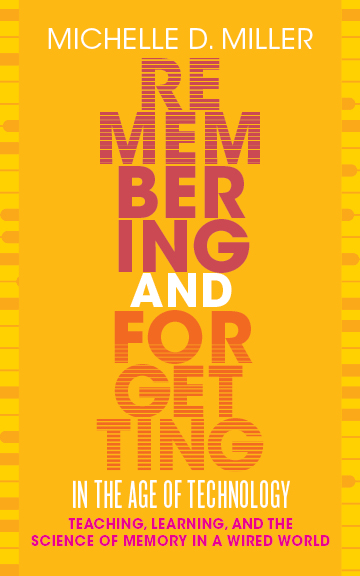 Michelle D. Miller
Available now!
April 2022
288pp
PB 978-1-952271-47-2
$24.99
eBook 978-1-952271-48-9
$24.99
Teaching and Learning in Higher Education Series
Remembering and Forgetting in the Age of Technology
Teaching, Learning, and the Science of Memory in a Wired World
Summary
Human minds are made of memories, and today those memories have competition. Biological memory capacities are being supplanted, or at least supplemented, by digital ones, as we rely on recording—phone cameras, digital video, speech-to-text—to capture information we'll need in the future and then rely on those stored recordings to know what happened in the past. Search engines have taken over not only traditional reference materials but also the knowledge base that used to be encoded in our own brains. Google remembers, so we don't have to. And when we don't have to, we no longer can. Or can we?
Remembering and Forgetting in the Age of Technology offers concise, nontechnical explanations of major principles of memory and attention—concepts that all teachers should know and that can inform how technology is used in their classes. Teachers will come away with a new appreciation of the importance of memory for learning, useful ideas for handling and discussing technology with their students, and an understanding of how memory is changing in our technology-saturated world.

---
Receive a 30% discount on orders of 10 or more copies of this title with code HIGHEREDBULK30 at checkout.
Contents
Introduction: Machines, Memory, and Learning
1. What Technology Does to Us (and for Us): Taking a Critical Look at Common Narrative
2. Why We Remember, Why We Forget
3. Enhancing Memory and Why It Matters (Even though Google Exists)
4. Memory Requires Attention
5. The Devices We Can't Put Down: Smartphones, Laptops, Memory, and Learning
Conclusion: How Memory Can Thrive in a Technology-Saturated Future
Notes
Acknowledgments
Index
Author
Michelle D. Miller is a professor of psychological sciences and President's Distinguished Teaching Fellow at Northern Arizona University. She is the author of Minds Online: Teaching Effectively with Technology.
Reviews
"This is the book we need: a clear, lively, and authoritative examination of technology, memory, and learning—perhaps the most critical subjects in all of higher education right now."
Kevin Gannon, author of Radical Hope: A Teaching Manifesto