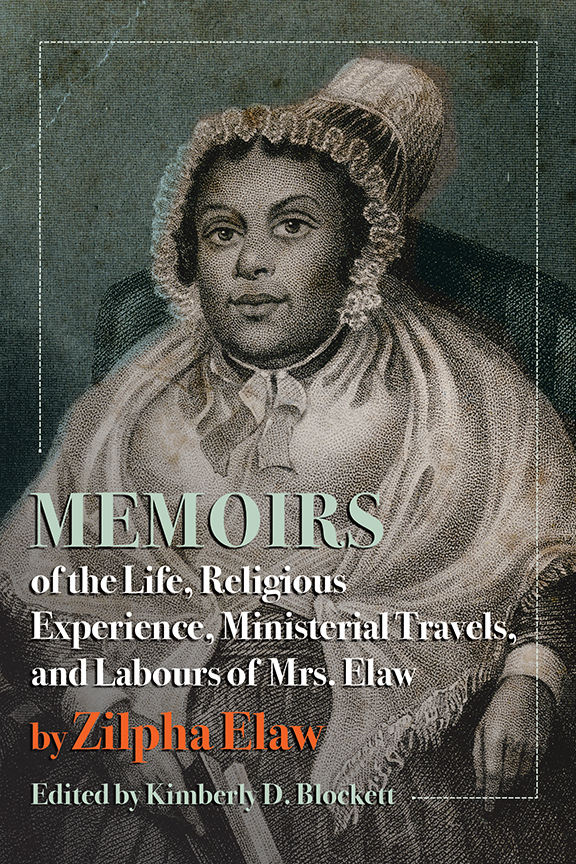 Zilpha Elaw
Edited by Kimberly D. Blockett
Available now!
December 2021
216pp
PB 978-1-952271-27-4
$29.99
CL 978-1-952271-26-7
$99.99
eBook 978-1-952271-28-1
$29.99
Regenerations Series
Memoirs of the Life, Religious Experience, Ministerial Travels, and Labours of Mrs. Elaw
Summary
As a young Black orphan indentured to a Quaker family in Bristol, Pennsylvania, Zilpha Elaw (c. 1793–1873) decided to join the upstart Methodists in 1808. She preached her first sermon a decade later, ignoring her husband and the many church leaders, clergy, and laity who tried to silence her. Elaw's memoir chronicles the first twenty years of her forty-year itinerant ministry during massive Protestant revivalism in the United States and England.
Elaw preached from Maine to Virginia, attracting multiracial and multidenominational audiences that included powerful men, wealthy White women, poor families, and enslaved communities. She moved from Bristol to Burlington, New Jersey, then to Nantucket, Massachusetts, and finally, in 1840, to London's East End. In England, Elaw's celebrity expanded, and at least twice she drew crowds so large they caused human stampedes and multiple injuries.
Blockett's introduction and extensive annotations draw on newly unearthed information about the entirety of Elaw's evangelism to provide context for this remarkable story of an antebellum Black woman's personal and professional mobility.
Contents
Acknowledgments
Introduction
Note on the Text
Memoirs of the Life, Religious Experience, Ministerial Travels and Labours,
of Mrs. Zilpha Elaw, An American Female of Colour
Appendix A: Rebecca Elaw Pierce Crawford's Life
Appendix B: Images and Archival Materials
Timeline
Notes
Works Cited
Select Bibliography
Editor
Kimberly D. Blockett is associate professor of English at Penn State Brandywine. Her publications appear in the Cambridge History of African American Literature, MLA Approaches to Teaching Hurston, MELUS, African American Review, and Legacy.
Reviews
"Outstanding. Kimberly Blockett's edition of Zilpha Elaw's memoirs will become the authoritative edition of this text and the best biographical treatment of Elaw."
John Ernest, University of Delaware