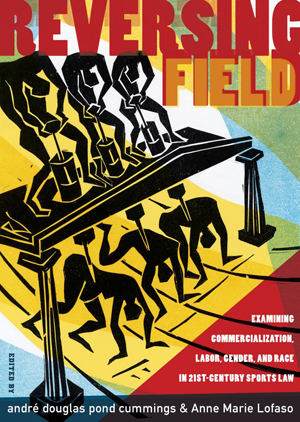 Edited by
andré douglas pond
cummings and
Anne Marie Lofaso
Foreword by Dr. John Carlos
December 2010
536pp
HC/J  978-1-933202-55-6
$44.95
PDF  978-1-935978-05-3
$43.99
PDF  (120 Days)
$20.00
Summary
Reversing Field invites students, professionals, and enthusiasts of sport – whether law, management and marketing, or the game itself – to explore the legal issues and regulations surrounding collegiate and professional athletics in the United States. This theoretical and methodological interrogation of sports law openly addresses race, labor, gender, and the commercialization of sports, while offering solutions to the disruptions that threaten its very foundation during an era of increased media scrutiny and consumerism. In over thirty chapters, academics, practitioners, and critics vigorously confront and debate matters such as the Arms Race, gender bias, racism, the Rooney Rule, and steroid use, offering new thought and resolution to the vexing legal issues that confront sports in the 21st century.
Watch the 2007 Symposium that inspired this book.
Contents
Foreword, John Carlos
Preface
Acknowledgments
Introduction, Stacey B. Evans
The Interconnectivity of Sports to Commercialization, Labor, and Race, John W. Fisher II
Part I: Commercialization: The Recruiting and Selling of the Modern Athlete

Overview, andré douglas pond cummings
More Lightning and Less Thunder: The Challenge for NCAA Athletics, Bernard Franklin
The Value and Perils of Intercollegiate Athletics: A Presidential Perspective, David C. Hardesty, Jr.
Exploring the Commercialized Arms Race Metaphor, Alfred Dennis Mathewson
Describing Racism as Asymmetrical Market Imperfections, or How to Determine Whether the NBA Dress Code is Racist, Andre L. Smith
Athletes as Television Celebrities: Why We Watch; How They Benefit; Must They Be Responsible?, Sherri Burr

Part II: Labor: How the Athlete Changes the Economic Playing Field

Overview, Anne Marie Lofaso
A. Balls or Strikes: Are Economic Weapons Finding the Zone?

Introduction, Jeffrey M. Hirsch
The 1994–'95 Baseball Strike and National Labor Relations Board: To the Precipice and Back Again, William B. Gould IV
1994 Baseball Players' Strike: A Case Study in Labor's Use of its Most Effective Economic Weapon, Dennis P. Walsh
The State of Sports Law and Policy: Views from a Labor Law Professor, William B. Gould IV

B. False/Positives: Debating the Merits of Drug Testing

Introduction, Anne Marie Lofaso
The Temptation of Performance-Enhancing Drugs, andré douglas pond cummings
Performance-Enhancing Drugs and How They Affect Today's Athlete: Views from a Medical, Doctor Julian Bailes
From Barry Bonds to USADA: Protecting the Interests of "Drug-Free" Athletes, Timothy Davis
Challenging the Premise of Steroid Testing in Sports, Wm. David Cornwell, Sr.

Part III: Finding Equal Footing: Gender Issues in Sports

Overview: Progress Riddled with Disappointment, Anne Marie Lofaso
The Invisible Pregnant Athlete and the Promise of Title IX, Deborah L. Brake
Title IX Backlash and Intercollegiate Athletics, Barbara Osborne
Reflections of a Former Athlete as a Young Woman: Growing Up Under Title IX, Anne Marie Lofaso
Girls Can Play, Too: Has the Lack of Female Leadership in NCAA Athletics Become an Afterthought?, Bethany Swaton

Part IV: Race Issues in Sports

Overview: A Troubling History but a Bright Future, andré douglas pond cummings
Race in Sports: The Continuing Dilemma, Leonard J. Elmore
A. Racing From the Past: Exposing Racism in Today's Collegiate Athletics

Introduction, andré douglas pond cummings
The Legacy of Brown: Commodification of the African American Student-Athlete?, Dana D. Brooks and Ronald Althouse
Using Social Psychology to Evaluate Race and Law in Sports, Michael A. McCann
From the Inside Looking Out: Racism in Men's Collegiate Coaching, Marlon LeBlanc
Progress Realized? The Continuing American Indian Mascot Quandary, andré douglas pond cummings

B. Professional Equality: The Rooney Rule

Introduction, Todd J. Clark
Minorities Are Separate and Unequal: A Look at the Minority Hiring Practices in Collegiate and Professional Athletics, Floyd Keith
The Changing Landscape of African Americans in Sports, Kenneth L. Shropshire
The Critical Role of the Fritz Pollard Alliance, Cyrus Mehri
The Fritz Pollard Alliance, the Rooney Rule, and the Quest to "Level the Playing Field" in the National Football League, N. Jeremi Duru
Pushing Weight, andré douglas pond cummings
Author
andré douglas pond cummings is Professor of Law, West Virginia University College of Law. cummings holds a JD from Howard University School of Law.
Anne Marie Lofaso is Associate Professor of Law, West Virginia University College of Law. She holds a JD from University of Pennsylvania Law School, an AB from Harvard University, and a DPhil from the University of Oxford.
With a foreword by Dr. John Carlos
Contributors: Ronald Althouse, Dr. Julian Bailes, Deborah Brake, Dana D. Brooks, Sherri Burr, John Carlos, Todd J. Clark, John Carlos, David Cornwell, andré douglas pond cummings, Timothy Davis, N. Jeremi Duru, Leonard J. Elmore, Stacey B. Evans, John Fisher, Bernard Franklin, William B. Gould IV, David C. Hardesty Jr., Jeffrey Hirsch, Floyd Keith, Marlon LeBlanc, Anne Marie Lofaso, Alfred Mathewson, Michael McCann, Cyrus Mehri, Barbara Osborne, Andre L. Smith, Bethany Swaton, Kenneth Shropshire, Dennis Walsh.
Reviews
"[This book] is a welcomed reservoir of information for reference by scholars, students, practitioners, jurists, and others in the field of sports law."
James McCurdy, Gonzaga University School of Law
"Outstanding . . . . [will] contribute to the debate considerably."
Nancy Hogshead-Makar, Florida Coastal School of Law
Interviews
Intervierw with andré douglas pond cummings
Intervierw with Anne Marie Lofaso