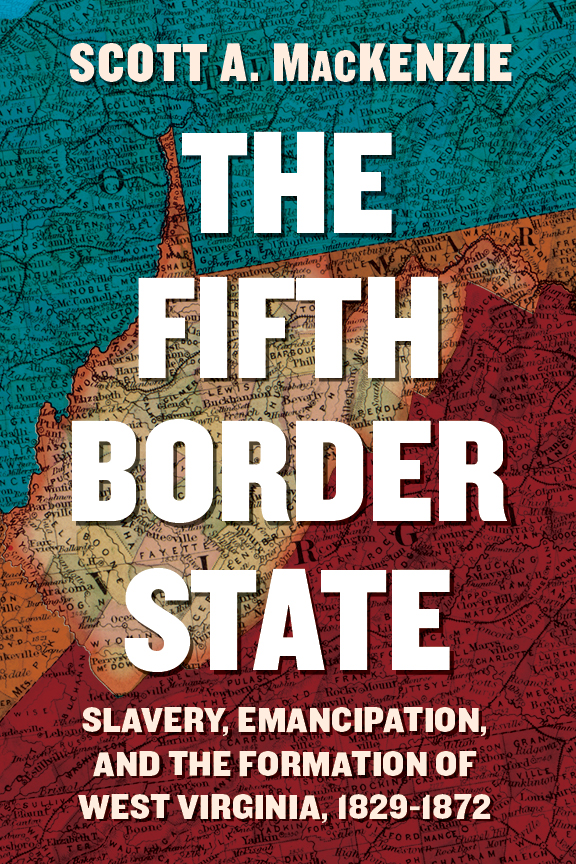 Scott A. MacKenzie
Available now!
January 2023
256pp
PB 978-1-952271-71-7
$29.99
eBook 978-1-952271-72-4
$29.99
West Virginia and Appalachia Series
The Fifth Border State
Slavery, Emancipation, and the Formation of West Virginia, 1829–1872
Summary
Every history of West Virginia's creation in 1863 explains the event in similar ways: at the start of the Civil War, political, social, cultural, and economic differences with eastern Virginia motivated the northwestern counties to resist secession from the Union and seek their independence from the rest of the state. In The Fifth Border State, Scott A. MacKenzie offers the first new interpretation of the topic in over a century—one that corrects earlier histories' tendency to minimize support for slavery in the state's founding.
Employing previously unused sources and reexamining existing ones, MacKenzie argues that West Virginia experienced the Civil War in the same ways as the border states of Missouri, Kentucky, Maryland, and Delaware. Like these northernmost slave states, northwestern Virginia supported the institution of slavery out of proportion to the actual presence of enslavement there. The people who became West Virginians built a new state first to protect slavery, but radical Unionists and escaping slaves forced emancipation on the statehood movement. MacKenzie shows how conservatives and radicals clashed over Black freedom, correcting many myths about West Virginia's origins and making The Fifth Border State an important addition to the literature in Appalachian and Civil War history.
Contents
List of Illustrations
List of Tables
Acknowledgments
Introduction
1. Northwestern Virginia's Path towards Reconciliation, 1829–1851
2. Northwestern Virginia on the Defensive, 1851–1860
3. Northwestern Virginia in the Secession Crisis, January to July 1861
4. The Conservative Phase of the West Virginia Statehood Movement, August 1861 to February 1862
5. The Radical Phase of the West Virginia Statehood Movement, March 1862 to June 1863
6. West Virginia under Radical Rule, June 1863 to December 1869
Epilogue: West Virginia Redeemed, 1870–1872
Appendix A: An Appeal of the People of West Virginia to Congress, Suggesting for the Consideration of Members Material Facts
Appendix B: Report of the Minority to Lincoln's Border State Emancipation Plan, July 15, 1862
Notes
Author
Scott A. MacKenzie received his education at the University of Manitoba, Queens College of the City University of New York, the University of Calgary, and Auburn University. He lives in Winnipeg, Manitoba.
Reviews
"Thoughtfully researched and lucidly argued."
Civil War Monitor
"A refreshing new look at how West Virginia became a state. I can see The Fifth Border State appealing widely to scholars of the Civil War era."
William Hal Gorby, West Virginia University