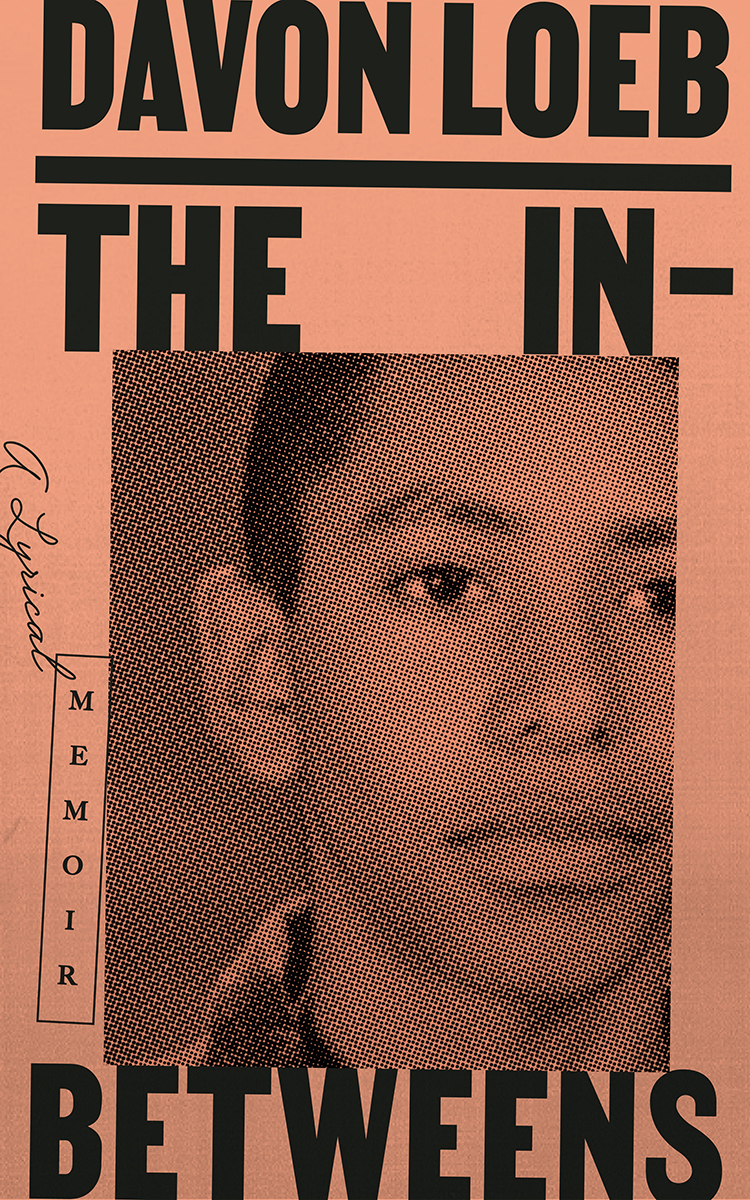 Davon Loeb
Available now!
February 2023
280pp
PB 978-1-952271-74-8
$21.99
eBook 978-1-952271-75-5
$21.99
The In-Betweens
A Lyrical Memoir
Summary
The In-Betweens tells the story of a biracial boy becoming a man, all the while trying to find himself, trying to come to terms with his white family, and trying to find his place in American society. A rich narrative in the tradition of Justin Torres's We the Animals and Bryan Washington's Memorial, Davon Loeb's memoir is relevant to the country's current climate and is part of the necessary rewrite of the nation's narrative and identity.
The son of a Black mother with deep family roots in Alabama and a white Jewish man from Long Island, Loeb grows up in a Black family in the Pine Barrens of New Jersey as one of the few nonwhite children in their suburban neighborhood. Despite his many and ongoing efforts to fit in, Loeb acutely feels his difference—he is singled out in class during Black History Month; his hair doesn't conform to the latest fad; coaches and peers assume he is a talented athlete and dancer; and on the field trip to the Holocaust Museum, he is the Black Jew. But all is not struggle. In lyrical vignettes, Loeb vibrantly depicts the freedom, joys, and wonder of childhood; the awkwardness of teen years, first jobs, first passions. Loeb tells an individual story universally, and readers, regardless of subjectivity and relation, will see themselves throughout The In-Betweens.
Contents
A Love Story
On I-85 South
My Mother's Mother
Bath Time
The Reconstruction of a Slave
At Church
Like Gladiators
Drinking a Colt 45
Throw the Football
A Roll of Duct Tape
Summer Thunderstorms
Aunt Sammy
Alabama Fire Ants
Don't Open the Door
The Settlers Inn
To Be a Man
Patricide and Boot Shines
With My Dad
Fighting for the Tree
Weekend Weather
O. J. and the Wax Museum
Steve Urkel, Kick the Ball
Before Cell Phones
Between Walls at a Friend's House
But I Am Not Toby
Thoughts on Hair
The Angels of the Paint
Suicide on the Triples
Shopping with Kris
The Jumps
Not the Worst of Boys
5-Series BMW
A Back Seat and a Fire Pit
Morning Noise
Quitting Meant Back to Babysitting
After-School Basketball Game
The Best Dancer
The Black Jew
Something about Love
Visitations with My Father
For My Brother
Living in a Studio Apartment
The Makings of a Gym Rat
In-Between Sirens
A Small Lesson on Loitering
On the Confederate Flag
Retirement
Acknowledgments
Author
Davon Loeb is an assistant features editor at The Rumpus. He earned an MFA in creative writing from Rutgers University–Camden and has had work published in Catapult, Ploughshares, Joyland, PANK, and elsewhere. He lives in New Jersey. Learn more at davonloeb.com.
Reviews
"Utterly captivating and resonant, The In-Betweens deserves a top spot on your bookshelf."
Chicago Review of Books
"This gorgeously told 'lyrical memoir' recounts Loeb's curious, difficult, joyous journey to find a place in the world in light of his Southern Black and Long Island-Jewish heritage."
Philadelphia Inquirer
"Resonant. . . . Engagingly delivered, candid reflections on heritage and identity."
Kirkus Reviews
"Ideal for those interested in descriptive, insightful stories about what it is like to not quite fit in anywhere, to inhabit many spaces at once, and to be challenged with the formation of one's own identity in a sometimes chaotic and contradictory environment."
Library Journal
"Loeb's writ­ing is art­ful. . . . One must get to know Loeb slow­ly, one mem­o­ry at a time."
Jewish Book Council
"Rich, evocative, and surprising."
Marissa Higgins, Daily Kos
"While the memoir is masterfully told—Loeb employs a variety of craft techniques that have a powerful effect—what makes The In-Betweens so special is the thoughtfulness Loeb brings to his work."
The Rumpus
"[Loeb] dances to a slow, beautiful ballad on every page. His story will move any reader, but it's the craft of his work that truly shines."
Debutiful
"With its keen attention to language and its moving portrayal of boyhood and belonging, The In-Betweens has earned its place alongside the greats of lyrical, coming-of-age nonfiction."
The Adroit Journal
"Loeb's debut memoir crackles with light, breaking open each superb chapter to uncover a memorable and gripping origin story."
Aimee Nezhukumatathil, author of World of Wonders
"Sentence to sentence, The In-Betweens is awake to the awe of being in a body and the danger of negotiating a culture that wants to drive space between us, inside us. Davon Loeb is writing to stay alive under the harshest conditions, and he has given us a brilliant, devastating book."
Paul Lisicky, author of Later: My Life at the Edge of the World
"Confession, manifesto, bildungsroman, and prayer, The In-Betweens is a meditation on bruise and healing. Loeb's struggles become snapshots of how transformation occurs even where shards have been piled, where one waits 'for something to happen, like flashes of red and blue and sirens pulsing.' A truly extraordinary new voice."
Roy G. Guzmán, author of Catrachos