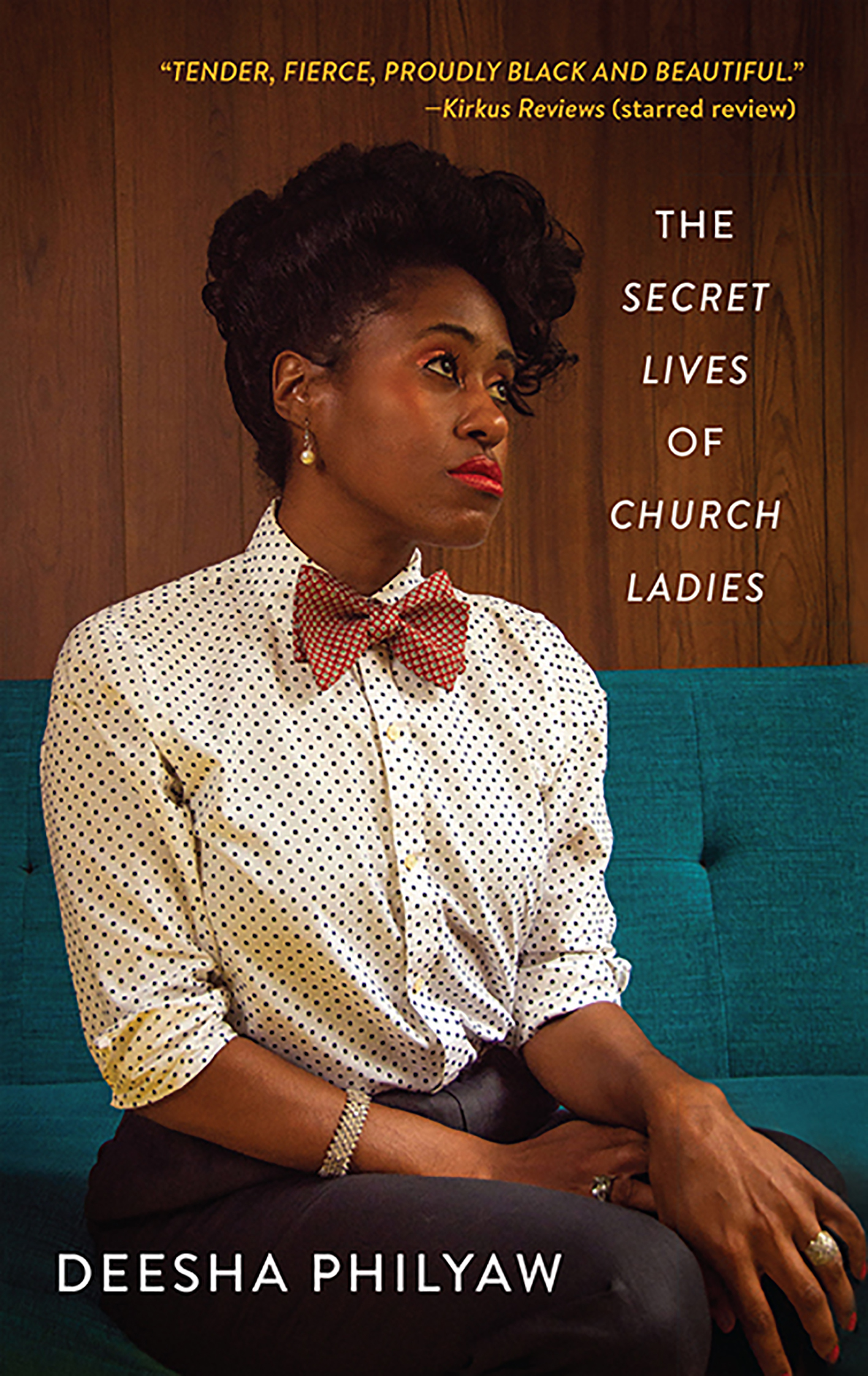 Deesha Philyaw
Available now!
September 2020
192pp
PB 978-1-949199-73-4
$18.99
eBook 978-1-949199-74-1
$18.99
The Secret Lives of Church Ladies
Summary
2020 National Book Award Finalist, Fiction
2021 PEN/Faulkner Winner
2020 Story Prize Winner
2020 L.A. Times Book Prize: Art Seidenbaum Award for First Fiction Winner
The Secret Lives of Church Ladies explores the raw and tender places where Black women and girls dare to follow their desires and pursue a momentary reprieve from being good. The nine stories in this collection feature four generations of characters grappling with who they want to be in the world, caught as they are between the church's double standards and their own needs and passions.
There is fourteen-year-old Jael, who has a crush on the preacher's wife. At forty-two, Lyra realizes that her discomfort with her own body stands between her and a new love. As Y2K looms, Caroletta's "same time next year" arrangement with her childhood best friend is tenuous. A serial mistress lays down the ground rules for her married lovers. In the dark shadows of a hospice parking lot, grieving strangers find comfort in each other.
With their secret longings, new love, and forbidden affairs, these church ladies are as seductive as they want to be, as vulnerable as they need to be, as unfaithful and unrepentant as they care to be, and as free as they deserve to be.
Contents
Eula
Not-Daniel
Dear Sister
Peach Cobbler
Snowfall
How to Make Love to a Physicist
Jael
Instructions for Married Christian Husbands
When Eddie Levert Comes
Acknowledgments
Author
Deesha Philyaw's writing on race, parenting, gender, and culture has appeared in the New York Times, the Washington Post, McSweeney's, the Rumpus, Brevity, TueNight, and elsewhere. Originally from Jacksonville, Florida, she currently lives in Pittsburgh with her daughters.
Reviews
"A collection of luminous stories populated by deeply moving and multifaceted characters. . . . Tender, fierce, proudly black and beautiful, these stories will sneak inside you and take root."
Kirkus Reviews (starred review)
"Triumphant. . . . Philyaw's stories inform and build on one another, turning her characters' private struggles into a beautiful chorus."
Publishers Weekly
"Beguiling."
The New Yorker
"Vivid, vibrant stories that will linger on your tongue like sweet tea."
Vox
"The church, sexuality, and everyday life come alive in each story bringing readers closer to experiences we can, or have, seen ourselves in."
Electric Lit, "24 New and Forthcoming Books That Celebrate Black Lives"
"The stories of these women and their friendships come alive, beating with tenderness and imperfection, and build upon one another to create a beautiful melody of female determination."
Amazon Book Review, "12 Must-Read Books by Black Authors Coming in Fall 2020"
"In this year of constriction and pain, juicy goodness bursts from every page of Deesha Philyaw's debut short story collection. . . . This collection marks the emergence of a bona fide literary treasure."
Minneapolis Star Tribune
"Full of lived-in humanity, warmth, and compassion."
Pittsburgh Current
"These are stories about Black women that haven't been told with this level of depth, wit, or insight before, so it will not shock me if Oprah gets around to selecting it before the end of the year."
Pittsburgh Post-Gazette
"Incredibly moving."
Pittsburgh City Paper
"Sex, friendship, freedom, and agency are centered throughout this cheeky, insightful, and irresistible new book."
Ms. Magazine
"Stunning. . . Philyaw's stories are addictive while also laying bare the depth and vulnerability of Black women."
Observer
"Beautifully crafted. A lovely collection."
Roxane Gay, author of Bad Feminist
"Our new decade deserves a new literary force with major literary skills. Deesha Philyaw uses the comic, the allegorical, and the geographic to examine black intimacies and black secrets. Her work is as rigorous as it is pleasurable to read."
Kiese Laymon, author of Heavy
"To encounter Deesha Philyaw's work is to encounter contemporary folktales. They are the stories of southern customs and mores and of voices over the back fence. The daughters and granddaughters of Toni Cade Bambara and Bebe Moore Campbell readers need this book."
Yona Harvey, author of Hemming the Water and writer for the Marvel Comics World of Wakanda series
"This is no mere collection of sappy romance stories. The love in Philyaw's stories runs the gamut from sweet to bitter, sexy to sisterly, temporary to time tested, often with hidden aspects. The word secret in the title is earned, and some of the secrets are downright juicy."
Tara Campbell, author of Midnight at the Organporium, from Barrelhouse magazine