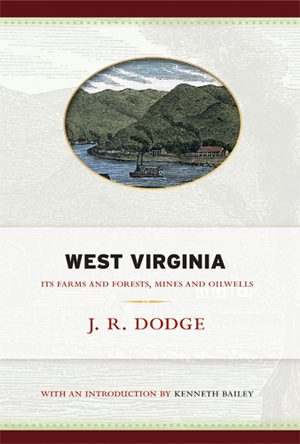 J.R. Dodge
Introduction by Kenneth R. Bailey
October 2011
304pp
HC/J 978-1-935978-11-4
$24.99
PDF 978-1-935978-12-1
$24.99
Summary
West Virginia: Its Farms and Forests, Mines and Oil-Wells celebrates the state of West Virginia. Originally published in 1865 as a series of studies on mineral resources, observations on agriculture, and interviews with businessmen, West Virginia details the industrial statistics, terrain, and population of a state during its infancy.
With no record of natural wealth or reported transactions of agriculture or geography prior to this overview, West Virginia sparked the curiosity of non-residents, enticing investment and settlement through descriptions of abundant natural resources and an agreeable industrial condition.
With an introduction by Kenneth Bailey, this new edition of West Virginia reminds us of the state's alluring beginning and rich, yet often exploited development.
Contents
Introduction
Preface
CHAPTER I
west virginia.—cradled in convulsion.—a sturdy race.—old jealousies.— reorganization.—new laws.—finances.—her boys in blue
CHAPTER II
original settlement.—where virginians emigrate.—tobaccoand the blue laws.—lands.—the "tomahawk right."—how thepioneers lived.—getting married.—progress.—population.
CHAPTER III
location.—value of lands.—stock growing.—fertility.—no waste areas.— comparison with maryland, minnesota, andnew hampshire.
CHAPTER IV
climate.—altitude.—temperature.—rain-fall.—salubrity.—scenery.
CHAPTER V
topography and statistics of counties.—the valley group.
CHAPTER VI
survey of counties continued.—the mountain group.
CHAPTER VII
survey of counties continued.—the "panhandle."
CHAPTER VIII
survey of counties continued.—the river district.
CHAPTER IX
survey of counties continued.—the kanawha valley.
CHAPTER X
survey of counties continued.—the southern group.
CHAPTER XI
survey of counties continued.—the central group.
CHAPTER XII
statistics of production.
CHAPTER XIII
internal improvement.—roads and turnpikes.—slackwaternavigation.—ohio and chesapeake canal.—baltimore and ohio railroad.—other railroads.
CHAPTER XIV
mineral wealth.—coal.
CHAPTER XV
iron. — salt.—limestone.—other minerals.
CHAPTER XVI
petroleum.—its wide distribution.—discovery in west virginia.
CHAPTER XVII
how originated.—popular and unpopular theories.
CHAPTER XVIII
where found.—how to find it.
CHAPTER XIX
uses.—quantity used.
CHAPTER XX
well boring.—oil distillation.—refining.
CHAPTER XXI
the era of oil wells.—the burning springs district.—the little kanawha.
CHAPTER XXII
the hughes' river region.—oil run of goose creek.—horseneck and cow creek.
CHAPTER XXIII
the central and northern oil region.
CHAPTER XXIV
the great kanawha oil basin.—the valleys of the guyandotte and big sandy.
CHAPTER XXV
petroleum companies of west virginia.
CHAPTER XXVI
petroleum prospects.
Author
Jacob Richards Dodge (1823–1902) was born in New Boston, NH. He was the first statistician for the US Department of Agriculture. When he began his work he had one clerk, and when he retired in 1893, there were sixty. He became known for his ability in gathering and presenting statistics. The government sent him on two trips to Europe to observe how other countries gathered data and to share his knowledge. He was given responsibility for compiling agricultural statistics for the Tenth Census in 1880, and in 1889 he was recognized by the international community of statisticians when he received a gold medal at the Paris Exposition for his illustrations of agricultural statistics. After retiring, Dodge became an editor of the Country Gentleman and wrote numerous articles and books. He died at age eighty at Nashua, NH.
Kenneth R. Bailey is professor emeritus at West Virginia University Institute of Technology, where he served as dean of the College of Business, Humanities and Sciences.