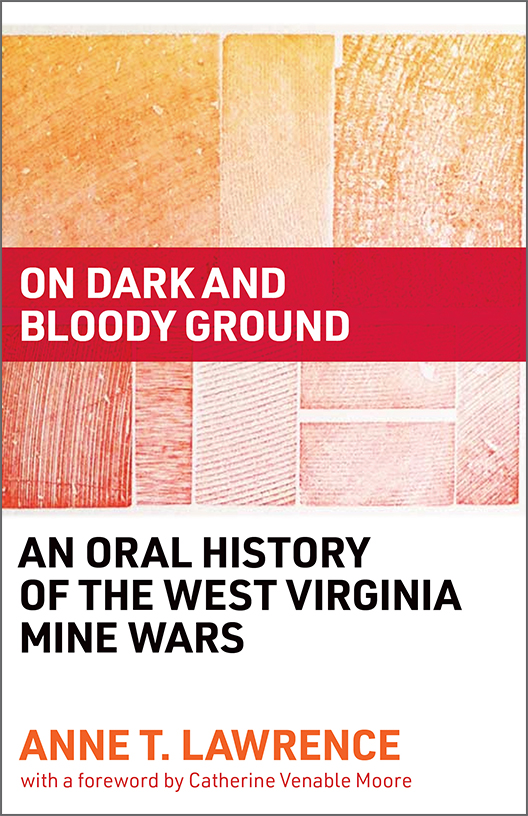 Anne T. Lawrence
with a foreword by
Catherine Venable Moore
Available now!
August 2021
176pp
PB 978-1-952271-09-0
$22.99
CL 978-1-952271-08-3
$99.99
eBook 978-1-952271-10-6
$22.99
On Dark and Bloody Ground
An Oral History of the West Virginia Mine Wars
Summary
In 1972 Anne Lawrence came to West Virginia at the invitation of the Miners for Democracy movement to conduct interviews with participants in, and observers of, the Battle of Blair Mountain and other Appalachian mine wars of the 1920s and '30s. The set of oral histories she collected—the only document of its kind—circulated for many years as an informal typescript volume, acquiring an almost legendary status among those intrigued by the subject. Key selections from it appear here for the first time as a published book, supplemented with introductory material, maps, and photographs. The volume's vivid, conversational mode invites readers into miners' lived experiences and helps us understand why they took up arms to fight anti-union forces in some of the nation's largest labor uprisings.
Published to coincide with the celebration of the Blair Mountain centennial in 2021, On Dark and Bloody Ground includes a preface by public historian Catherine Venable Moore and an afterword by Cecil E. Roberts of the United Mine Workers of America.
Contents
Foreword by Catherine Venable Moore
Acknowledgments
Introduction
Notes on the Text
The Interviews
Afterword by Cecil E. Roberts
Selected Educational Resources
Index

Author
Anne T. Lawrence is professor of management emerita at San José State University. She currently serves as chair of the Case Research Foundation, a nonprofit organization that provides fellowships to early-career scholars for training in case research and teaching.
Catherine Venable Moore is a nationally published nonfiction writer and cofounder of several public history projects, including the West Virginia Mine Wars Museum. She is currently at work on a book about the mine wars.
Reviews
"The publication of On Dark and Bloody Ground is a tremendous addition to the literature on the West Virginia Mine Wars and is long overdue. It is a pleasure to read, and it captures the voices of the coalfields in a way that is unlike any of the other accounts."
Lou Martin, Chatham University
"When I read this book, I was blown away. . . . It is so important to keep our history alive and that is what this book does."
From the afterword by Cecil E. Roberts, president, United Mine Workers of America International