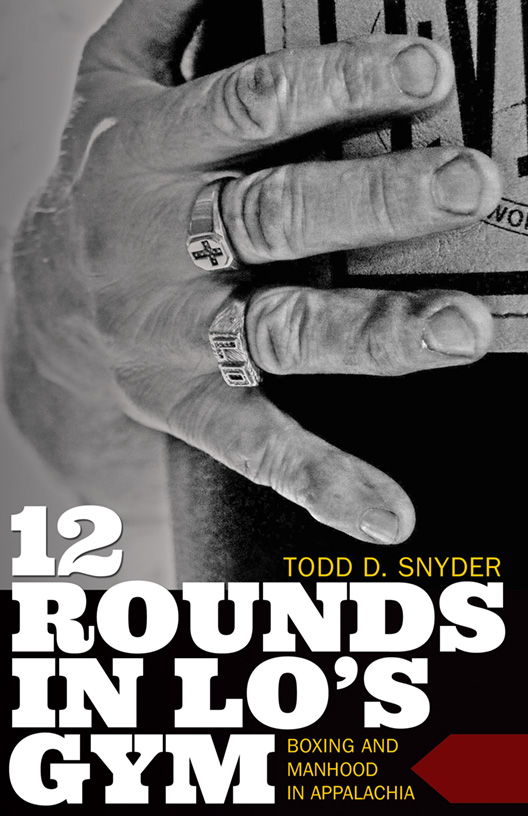 Todd D. Snyder
Now available!
240pp
PB 978-1-946684-12-7
$26.99
Epub 978-1-946684-13-4
$26.99
PDF 978-1-946684-14-1
$26.99
Summary
Questions of class and gender in Appalachia have, in the wake of the 2016 presidential election and the runaway success of Hillbilly Elegy, moved to the forefront of national conversations about politics and culture. From Todd Snyder, a first generation college student turned college professor, comes a passionate commentary on these themes in a family memoir set in West Virginia coal country.
12 Rounds in Lo's Gym is the story of the author's father, Mike "Lo" Snyder, a fifth generation West Virginia coal miner who opened a series of makeshift boxing gyms with the goal of providing local at-risk youth with the opportunities that eluded his adolescence. Taking these hardscrabble stories as his starting point, Snyder interweaves a history of the region, offering a smart analysis of the costs—both financial and cultural—of an economy built around extractive industries.
Part love letter to Appalachia, part rigorous social critique, readers may find 12 Rounds in Lo's Gym—and its narrative of individual and community strength in the face of globalism's headwinds—a welcome corrective to popular narratives that blame those in the region for their troubles.
Contents
Prelude: Mountain Violence
Part I: Corner Men: The Eden Story of Lo's Gym Boxing Club
1. Fighting Noah Milton
2. Tough Men
3. Lo's Gym
4. Flex and the Rumble on the Hill
5. Street Preacher
Part II: Counter Punchers: Parables of Coal Country Pugilism
6. The Unlikely Reincarnation Story of Rick Cogar
7. Jeremiah and the Three Bears
8. Ring Girls
9. Appalachian Underdogs of the Squared Circle
Part III: Split Decisions: Stories from the Championship Rounds
10. Prizefighters
11. Hillbilly Jefferson
12. Premature Stoppage
Dedication: Fighting Naton Leslie
Notes and References
Index
Author
Todd Snyder is associate professor of rhetoric and writing at Siena College and author of The Rhetoric of Appalachian Identity.
Reviews
"An affecting testimonial to the power of action and of storytelling—to say nothing of a good right hook—to make real change."
Kirkus Reviews
"This is a very special book, both in its focus on one man who did work that mattered and in its portrayal of a distressed region whose economy is based on a dying industry."
Booklist, starred review
"Snyder's discerning eye and well-tuned ear help turn his exploration of boxing in coal country into a resonant account of work, church, masculinity, family, and more. It's on the lowest levels of the fight world—DIY gyms, Toughman competitions, amateur cards at local venues—that the social and cultural embedding of boxing in everyday life comes most vividly alive, and Snyder introduces us to some unforgettable scenes and characters."
Carlo Rotella, author of Cut Time: An Education at the Fights
"This memoir will appeal to many readers: those in gender studies who study manifestations of masculinity, scholars who examine the collapse of the coalfields and the rampant unemployment found in Central Appalachia, and West Virginians who possess a fierce pride in the Mountain State and celebrate small-town triumphs."
Jeff Mann, author of Loving Mountains, Loving Men