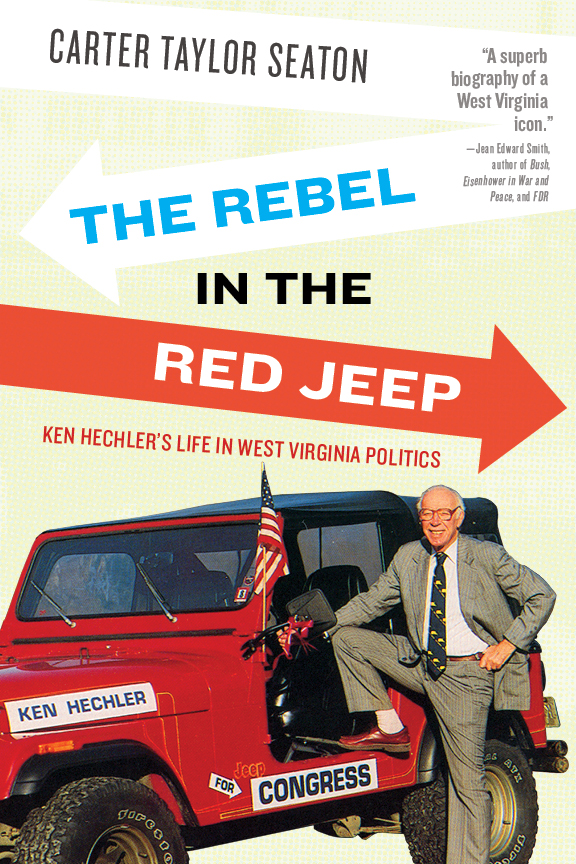 Carter Taylor Seaton
Available now!
344pp
PB 978-1-943665-61-7
$32.99
ePub 978-1-943665-62-4
$32.99
PDF 978-1-943665-63-1
$32.99
Summary
The Rebel in the Red Jeep follows the personal and professional experiences of Ken Hechler, the West Virginia politician and activist who died in 2016 at the age of 102.
This biography recounts a century of accomplishments, from Hechler's introduction of innovative teaching methods at major universities, to his work as a speechwriter and researcher for President Harry Truman, and finally to his time representing West Virginia in the United States House of Representatives and as the secretary of state.
In West Virginia, where he resisted mainstream political ideology, Hechler was the principal architect behind the Federal Coal Mine Health and Safety Act of 1969 and constantly battled big coal, strip mining, and fellow politicians alike. He and his signature red jeep remain a fixture in West Virginia. Since 2004, Hechler has campaigned against mountaintop removal mining. He was arrested for trespassing during a protest in 2009 at the age of 94.
Contents
Introduction
Acknowledgements
1. Behind the Wrought Iron Gates
2. Big Man on Campus
3. Over There!
4. Princeton's Professor of Politics
5. The Truman White House
6. The Road to Congress Winds Through West Virginia
7. Rouge Campaigner
8. Your Servant in Congress
9. Congressional Campaigning, Hechler Style
10. Space . . . Where Hechler Didn't Expect To Go
11. Win Some; Lose Some
12. Marching to Selma
13. Fighting For Miners' Lives
14. Hechler vs. Big Coal—Round Two
15. Saving the New River
16. Heckling Congress
17. The Interregnum
18. The People's Office—The First Term
19. The People's Office—The Rest of the Story
20. Walking With Granny D
21. From Rebel to Hell-raiser
22. Into the Sunset
23. Twilight
Notes
Index
Author
Carter Taylor Seaton is the author of Hippie Homesteaders: Arts, Crafts, Music, and Living on the Land in West Virginia, two novels, and numerous magazine articles. A ceramic sculptor, she previously directed a rural craft cooperative and was a marketing professional for thirty years. She is the recipient of the 2014 West Virginia Library Association's Literary Merit Award, 2015 Marshall University Distinguished Alumni Award, and the 2016 Governor's Award for Lifetime Achievement in the Arts.
Reviews
"A superb biography of a West Virginia icon. Carter Seaton has done a wonderful job capturing the essence of Ken Hechler."
Jean Edward Smith, author of Bush, Eisenhower in War and Peace, and FDR
"Fascinating new insights into the personal and political aspects of the long career of one of the Mountain State's most intriguing and maverick political leaders."
Paul Nyden, retired Charleston Gazette labor reporter