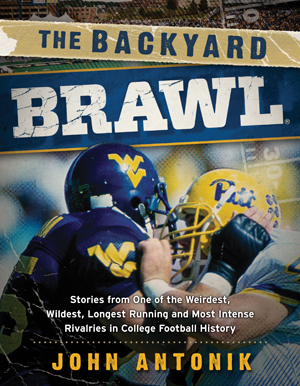 John Antonik
September 2012
352pp
60 color & b/w images
PB 978-1-935978-82-4
$19.99
ePub 978-1-935978-83-1
$19.99
PDF 978-1-935978-84-8
$19.99
Purchase the Kindle Edition at Amazon
Summary
The West Virginia University Mountaineers and the University of Pittsburgh Panthers, separated by less than eighty miles of highway, have battled it out on the football field for more than one hundred years. Now, with Pitt announcing its departure from the Big East Conference to join the Atlantic Coast Conference and West Virginia becoming a member of the Big 12 Conference, this intense rivalry has come to an abrupt end. Thousands of players and dozens of coaches - some among the very best to ever play the game - have been a part of this famous series known as the "Backyard Brawl." With fantastic tales about this feud's star-studded rosters, including White, Slaton, Harris, Luck, Huff, Nehlen, and Rodriguez for West Virginia and Fitzgerald, Marino, Dorsett, Green, Majors, and Sherrill for Pitt, The Backyard Brawl celebrates the tradition, heritage, and pride of two outstanding universities. With unparalleled access, John Antonik, a 20-year West Virginia University athletic administrator and WVU alumnus, unearths the fascinating and humorous stories that make up this revered, colorful, and cherished football game-and more importantly, the great passion and pride these schools exhibit every time they take the field.
Contents
Prologue
1943-1955: The Rivalry Resumes
1943 - The Long Shadow of Sutherland
1947 - Finally!
1952 - Pappy Makes 'em Happy
1954 - The Power of Positive Thinking
1955 - Pass the Sugar
1957-1965: Wild Times
1957 - West Virginia Survives
1959 - A "Pitt-iful" Performance
1961 - The Garbage Game
1963 - The Battle of the Brothers
1965 - Points Galore
1967-1979: The Birth of the Backyard Brawl
1967 - "Jusk" for Kicks
1970 - Bobby Blows It
1975 - McKenzie Kicks the Hell out of Pitt
1976 - Tony D Gets Tossed
1979 - Farewell, Old Mountaineer Field
1982-1991: A Changing of the Guard
1982 - A Classic Comeback
1983 - "Let's Do It!"
1985 and 1987 - A Tie and a Sigh
1989 - Kissing Your Sister; Clubbing Your Neighbor
1991-2011: The Big East Years
1991 - A Big East Blowout
1994 - E-I-E-I-O, Tractors and Corncob Pipes
1997 - For the Love of Pete
2002 - Collins Steals the Show
2007 - 13-9: Miracle in the Mountains
2009 and 2011 - Down to the Wire
Epilogue
Acknowledgments
Bibliography
Index
About the Author
Reviews
"If you enjoyed West Virginia University's football rivalry with the University of Pittsburgh, you want to get a copy of The Backyard Brawl."
Mickey Furfari, The Inter-mountain