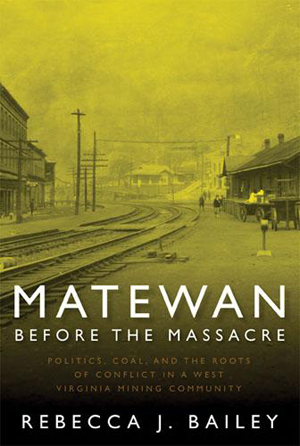 Rebecca J. Bailey
2008
224pp
PB 978-1-933202-28-0
$27.95
PDF 978-1-935978-03-9
$26.99
Purchase the Kindle Edition at Amazon
Summary
On May 19, 1920, gunshots rang through the streets of Matewan, West Virginia, in an event soon known as the "Matewan Massacre." Most historians of West Virginia and Appalachia see this event as the beginning of a long series of tribulations known as the second Mine Wars. But was it instead the culmination of an even longer series of proceedings that unfolded in Mingo County, dating back at least to the Civil War. Matewan Before the Massacre provides the first comprehensive history of the area, beginning in the late eighteenth century continuing up to the Massacre. It covers the relevant economic history, including the development of the coal mine industry and the struggles over land ownership; labor history, including early efforts of unionization; transportation history, including the role of the N&W Railroad; political history, including the role of political factions in the county's two major communities—Matewan and Williamson; and the impact of the state's governors and legislatures on Mingo County.
2008 ForeWord Magazine Book of the Year Award Finalist
Contents
May 19, 1920 1
"Bleeding Mingo": 1895–1911
The Progressive Era?
The Williamson-Thacker Coalfield Falls Behind
World War I and The Rise of Class Tensions
The Massacre: Before and After
Conclusion: The Matewan Myth
Bibliography
Index
Author
Rebecca "Becky" Bailey's family roots are in McDowell and Mercer Counties in West Virginia. She first learned about Matewan through stories her coal miner grandfather told about witnessing Sid Hatfield's murder. Later, when she came to West Virginia University to study public history, she was hired to help collect oral histories in Matewan and Mingo County. She wrote Matewan Before the Massacre because she could not let the story go.
Reviews
"A close-up history of economic and political factions struggling for control of the southern West Virginia coalfields. You couldn't create fiction with this much drama."
Ronald L. Lewis, author Transforming the Appalachian Countryside
"[Bailey] has saved from oblivion the massacre's local social, economic, and political context."
Paul Salstrom, The Journal of Southern History
"Bailey's study contributes to the breadth of work in Appalachian studies that is recontextualizing the complexities and nuances of Appalachian communities."
Erica Lies, Oral History Review
"...fascinating."
Steve Fesenmaier, The Charleston Gazette
"Rebecca J. Bailey's book makes early twentieth-century Mingo County come alive and emphasizes the significance of local history."
Ginny Young, West Virginia History