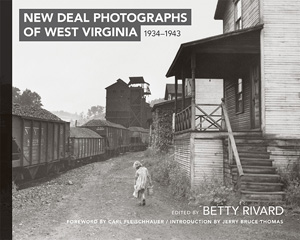 Edited by Betty Rivard
With a foreword by
Carl Fleischhauer
and an introduction by
Jerry Bruce Thomas
October 2012
240pp
158 b/w photographs
Lithocase 978-1-933202-88-4
$29.99
Summary
Upon entering the White House in 1933, President Franklin D. Roosevelt faced an ailing economy in the throes of the Great Depression and rushed to transform the country through recovery programs and legislative reform. By 1934, he began to send professional photographers to the state of West Virginia to document living conditions and the effects of his New Deal programs. The photographs from the Farm Security Administration Project not only introduced "America to Americans," exposing a continued need for government intervention, but also captured powerful images of life in rural and small town America.
New Deal Photographs of West Virginia, 1934–1943 presents images of the state's northern and southern coalfields; the subsistence homestead projects of Arthurdale, Eleanor, and Tygart Valley; and various communities from Charleston to Clarksburg and Parkersburg to Elkins. With over 150 images by ten FSA photographers, including Walker Evans, Marion Post Wolcott, Arthur Rothstein, and Ben Shahn, this collection is a remarkable record of hardship, hope, endurance, and, above all, community. These photographs provide a glimpse into the everyday lives of West Virginians during the Great Depression and beyond.
Contents
Editor's Note
Foreword, Carl Fleischhauer
West Virginia in the Era of the Great Depression and World War II, Jerry Bruce Thomas
Chapter 1. On the Road
Chapter 2. Towns and Cities
Chapter 3. Non-Coal Industries
Chapter 4. Northern Coalfields: 1935
Chatper 5. Northern Coalfields: 1938
Chapter 6. Arthurdale
Chapter 7. Eleanor
Chapter 8. Tygart Valley Homesteads
Chapter 9. Southern Coalfields: 1935
Chapter 10. Southern Coalfields: 1938
Chapter 11. Wartime Photo-Essays: Richwood and Point Pleasant
A West Virginia Perspective, Betty Rivard
Acknowledgments
Bibliography
About the Authors
Author
Betty Rivard is an award-winning fine art landscape photographer (http://www.bettyrivard.com). She has researched and coordinated three exhibits of FSA photographs of West Virginia and contributed articles about the FSA Project to Wonderful West Virginia, Goldenseal, and West Virginia South magazines. She is a social worker emerita with graduate degrees in education and social work from West Virginia University and a BA in political science from the University of California at Berkeley. She traveled to every county in West Virginia during her twenty-five-year career as a social worker and planner with the state.
Jerry Bruce Thomas, Professor Emeritus, Shepherd University, is the author of An Appalachian Reawakening: West Virginia and the Perils of the New Machine Age, 1945–1972 and An Appalachian New Deal: West Virginia In the Great Depression.
Carl Fleischhauer is a digital preservation specialist at the Library of Congress. He is the coauthor of Documenting America, 1935–1943, a book about the Farm Security Administration/Office of War Information photographs. In the 1970s, he worked for the public television station based at West Virginia University and contributed to a Library of Congress documentary project about the Hammons family of Marlinton, West Virginia.
Reviews
"What Rivard offers in this beautifully presented book, is a collection of images by photographers whose work I know well of West Virginia at a time I never knew. I'm fascinated with how others see my home state. None of the photographers are from West Virginia, yet they managed to capture its essence, its livelihood.
"Perhaps one of the things I appreciate most about these pictures is that they were made at a time when photographs weren't nearly as prevalent as they are today (Instagram, Facebook and the like). Unlike the War on Poverty images of Appalachia, these pictures were made with a different intent. I sense a true collective effort to document the people and stories of West Virginia when I look at these photographs and think about the photographers who made them.
"New Deal Photographs of West Virginia is a brilliant book, extremely well edited and designed. The photographic reproductions are sharp and well printed and with every image, the Library of Congress negative file number is included, which makes finding them online incredibly easy. I can only hope for a second volume."
Roger May, www.walkyourcamera.com
"During the Great Depression, FSA photographers reminded urban Americans of something they didn't see every day—a rural way of life, troubled by circumstance. Now, Rivard hopes the photographs will remind West Virginians themselves of what negative stereotypes can obscure—the beauty and spirit of those who survived hard times. Some other states had New Deal photography books out years ago. It has taken West Virginia a bit longer, but the thoughtful essays by Rivard and others that accompany the photos are worth the time it has taken to get it right."
C.V. Moore, Beckley Register-Herald