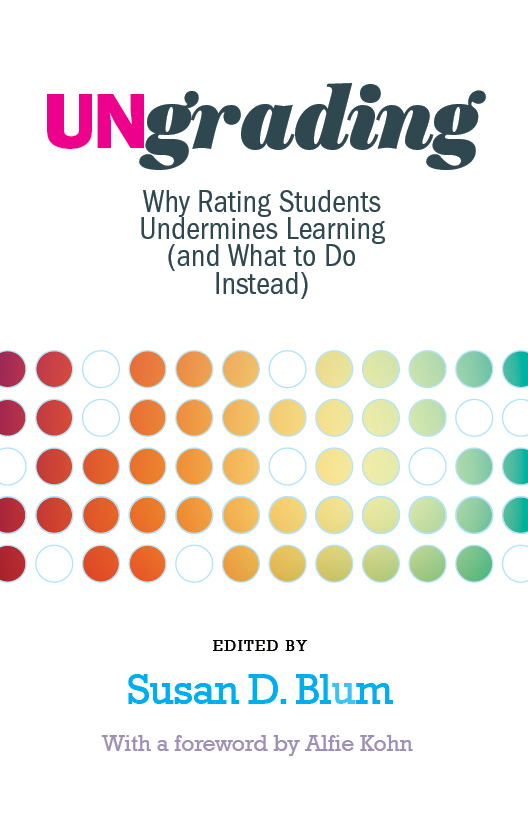 Edited by Susan D. Blum
With a foreword by Alfie Kohn
Available now!
December 2020
272pp
PB 978-1-949199-82-6
$26.99
CL 978-1-949199-81-9
$99.99
eBook 978-1-949199-83-3
$26.99
Teaching and Learning in Higher Education Series
Ungrading
Why Rating Students Undermines Learning (and What to Do Instead)
Summary
The moment is right for critical reflection on what has been assumed to be a core part of schooling. In Ungrading, fifteen educators write about their diverse experiences going gradeless. Some contributors are new to the practice and some have been engaging in it for decades. Some are in humanities and social sciences, some in STEM fields. Some are in higher education, but some are the K–12 pioneers who led the way. Based on rigorous and replicated research, this is the first book to show why and how faculty who wish to focus on learning, rather than sorting or judging, might proceed. It includes honest reflection on what makes ungrading challenging, and testimonials about what makes it transformative.
CONTRIBUTORS:
Aaron Blackwelder
Susan D. Blum
Arthur Chiaravalli
Gary Chu
Cathy N. Davidson
Laura Gibbs
Christina Katopodis
Joy Kirr
Alfie Kohn
Christopher Riesbeck
Starr Sackstein
Marcus Schultz-Bergin
Clarissa Sorensen-Unruh
Jesse Stommel
John Warner
---
Receive a 30% discount on orders of 10 or more copies of this title with code HIGHEREDBULK30 at checkout.
Contents
Foreword
Alfie Kohn
Introduction: Why Ungrade? Why Grade?
Susan D. Blum
Part I: Foundations and Models
1. How to Ungrade
Jesse Stommel
2. What Going Gradeless Taught Me about Doing the "Actual Work"
Aaron Blackwelder
3. Just One Change (Just Kidding): Ungrading and Its Necessary Accompaniments
Susan D. Blum
4. Shifting the Grading Mindset
Starr Sackstein
5. Grades Stifle Student Learning. Can We Learn to Teach without Grades?
Arthur Chiaravalli
Part II: Practices
6. Let's Talk about Grading
Laura Gibbs
7. Contract Grading and Peer Review
Christina Katopodis and Cathy N. Davidson
8. Critique-Driven Learning and Assessment
Christopher Riesbeck
9. A STEM Ungrading Case Study: A Reflection on First-Time Implementation in Organic Chemistry II
Clarissa Sorensen-Unruh
10. The Point-less Classroom: A Math Teacher's Ironic Choice in Not Calculating Grades
Gary Chu
Part III: Reflections
11. Grade Anarchy in the Philosophy Classroom
Marcus Schultz-Bergin
12. Conference Musings and The G Word
Joy Kirr
13. Wile E. Coyote, the Hero of Ungrading
John Warner
Conclusion: Not Simple but Essential
Susan D. Blum
Acknowledgments
Contributors
Index
Editor
Susan D. Blum is professor of anthropology at the University of Notre Dame. Her work on education builds on her academic specialties of linguistic, psychological, cultural, and educational anthropology. She is the author of My Word! Plagiarism and College Culture and "I Love Learning; I Hate School": An Anthropology of College, among other works.
Reviews
"I love this book. It undermines the mythology around grading, helping us understand that (a) grading is a construction, and a relatively recent one at that, and (b) we'd be better off without it—as would our students."
Paul Hanstedt, author of Creating Wicked Students: Designing Courses for a Complex World
"Nuanced and well balanced."
Choice Reviews