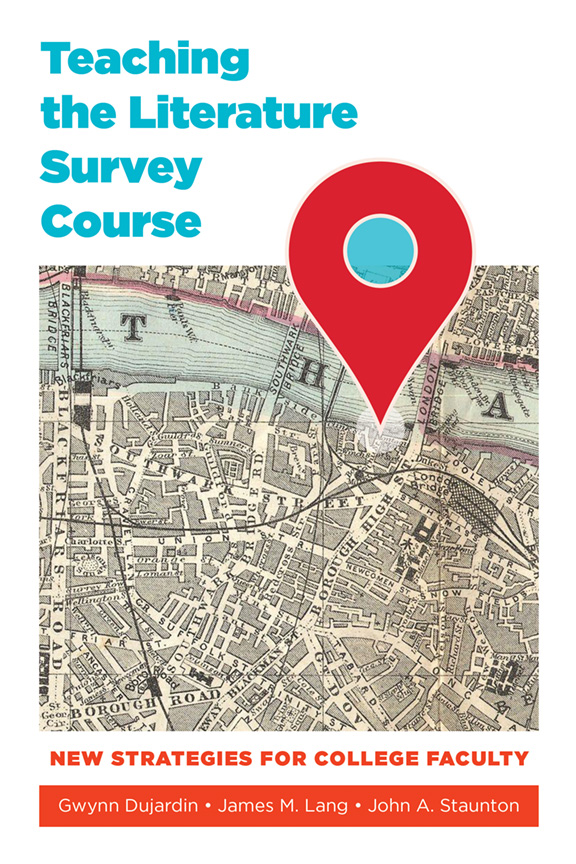 Edited by
Gwynn Dujardin,
James M. Lang,
and John A. Staunton
January 2018
276pp
PB 978-1-946684-09-7
$28.99
CL 978-1-946684-08-0
$99.99
Epub 978-1-946684-10-3
$28.99
PDF 978-1-946684-11-0
$28.99
Teaching and Learning in Higher Education
Summary
Teaching the Literature Survey Course makes the case for maintaining—even while re-imagining and re-inventing—the place of the survey as a transformative experience for literature students. Through essays both practical and theoretical, the collection presents survey teachers with an exciting range of new strategies for energizing their teaching and engaging their students in this vital encounter with our evolving literary traditions.
From mapping early English literature to a team-based approach to the American survey, and from multimedia galleries to a "blank syllabus," contributors propose alternatives to the traditional emphasis on lectures and breadth of coverage. The volume is at once a set of practical suggestions for working teachers (including sample documents like worksheets and syllabi) and a provocative engagement with the question of what introductory courses can and should be.

---
Receive a 30% discount on orders of 10 or more copies of this title with code HIGHEREDBULK30 at checkout.
Contents
Introduction, James M. Lang
Part One: Pedagogies
1. Mapping the Literature Survey: Locating London in British Literature I, Kevin Bourque
2. Creative Imitation: The Survey as an Occasion for Emulating Style, Scott L. Newstok
3. Bingo Pedagogy: Team-Based Learning and the Literature Survey, Desirée Henderson
4. Extended Engagement: In Praise of Breadth, Aaron Rosenfeld
Part Two: Projects
5. "Reacting to the Past" in the Survey Course: Teaching the Stages of Power: Marlowe and Shakespeare, 1592 Game, Joan Varnum Ferretti
6. The Blank Survey Syllabus, Chris Walsh
7. Errant Pedagogy in the Early Modern Classroom, or Prodigious Misreadings in and of the Renaissance, Melissa J. Jones
8. Digital Tools, New Media Survey, and the Literature Survey, Jennifer Page
Part Three: Programs
9. Thematic Organization and the First-Year Literature Survey, Kristin Lucas and Sarah Fiona Winters
10. Fear and Learning in the Historical Survey Course, Gwynn Dujardin
11. The Survey as Pedagogical Training and Academic Job Credential, Tim Rosendale
12. Revisioning the American Literature Survey for Teachers and Other Wide-Awake Humans, John A. Staunton
Contributor Biographies
Notes S
Editors
Gwynn Dujardin is assistant professor of English at Queen's University in Kingston, ON, Canada.
James M. Lang is a professor of English and director of the Center for Teaching Excellence at Assumption College.
John A. Staunton is professor of English education and American literature at Eastern Michigan University.
Reviews
"An effectively organized collection that I believe will benefit college—and potentially, some high school—instructors at many levels and institutions. Even as I was reading it, I felt the gears in my mind turning and trying to think of ways to adapt some of its ideas right away."
Jesse Kavadlo, Maryville University