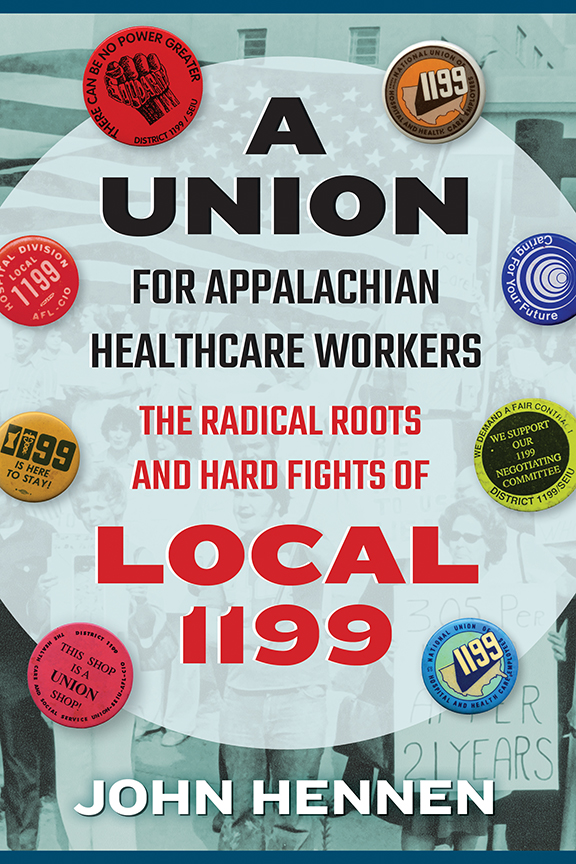 John Hennen
Available now!
November 2021
288pp
PB 978-1-952271-24-3
$29.99
CL 978-1-952271-23-6
$99.99
eBook 978-1-952271-25-0
$29.99
West Virginia and Appalachia Series
A Union for Appalachian Healthcare Workers
The Radical Roots and Hard Fights of Local 1199
Summary
The union of hospital workers usually referred to as the 1199 sits at the intersection of three of the most important topics in US history: organized labor, health care, and civil rights. John Hennen's book explores the union's history in Appalachia, a region that is generally associated with extractive industries but has seen health care grow as a share of the overall economy.
With a multiracial, largely female, and notably militant membership, 1199 was at labor's vanguard in the 1970s, and Hennen traces its efforts in hospitals, nursing homes, and healthcare centers in West Virginia, eastern Kentucky, and Appalachian Ohio. He places these stories of mainly low-wage women workers within the framework of shake-ups in the late industrial and early postindustrial United States, relying in part on the words of Local 1199 workers and organizers themselves. Both a sophisticated account of an overlooked aspect of Appalachia's labor history and a key piece of context for Americans' current concern with the status of "essential workers," Hennen's book is a timely contribution to the fields of history and Appalachian studies and to the study of social movements.
Contents
Acknowledgments
Abbreviations
Introduction
1. Radical Elders, or, a Multigenerational Red Thread
2. Busting Loose at Marshall
3. New Boundaries for Local 1199
4. "1199 Comes to Appalachia"
5. Law, Busting Unions, Building Unions
6. A Kentucky Saga and a Strike for Survival
7. Big Win and Tough Losses, 1976–1980
8. Survival in the Time of Reagan
9. "Organize or Die:" An Ohio Odyssey and a Big Fight in Fairmont
10. "A Howling Voice in the Wilderness": Separation and Merger
Epilogue
Bibliography
Index
Author
John Hennen taught history for over thirty years, including two decades at Morehead State University, where he is emeritus professor of history. He is the author of The Americanization of West Virginia: Creating a Modern Industrial State, 1916–1925.
Reviews
"An important contribution to the scholarship that examines the complexities of labor organizing."
Journal of Southern History
"Hennen's engagingly told and well-researched study is a valuable contribution to both American labor history and Appalachian studies."
Gordon Simmons, president, West Virginia Labor History Association
"How did a union of healthcare workers founded in New York City by radical Russian immigrants and composed primarily of Black and Hispanic women gain a powerful foothold in Appalachia despite determined opposition from employers and national and state politicians, as well as the impact of the consolidation of the hospital industry? John Hennen tells this inspiring story in a way that speaks directly to our current moment, when a long era of declining union power may be coming to an end."
Eric Foner, Columbia University