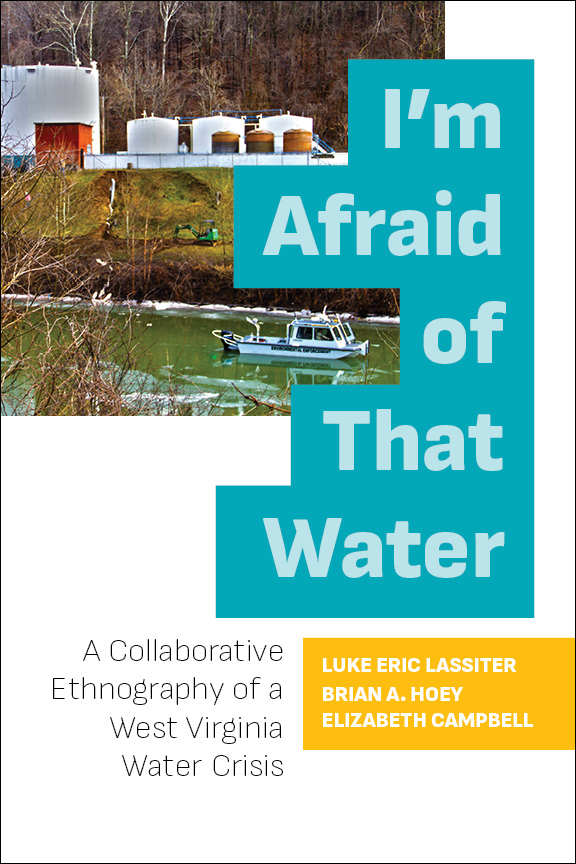 Edited by Luke Eric Lassiter, Brian A. Hoey, and Elizabeth Campbell
Now available!
April 2020
240pp
PB 978-1-949199-37-6
$29.99
CL 978-1-949199-36-9
$99.99
eBook 978-1-949199-38-3
$29.99
I'm Afraid of That Water
A Collaborative Ethnography of a West Virginia Water Crisis
Summary
Weatherford Award Winner, Nonfiction
On January 9, 2014, residents across Charleston, West Virginia, awoke to an unusual licorice smell in the air and a similar taste in the public drinking water. That evening residents were informed the tap water in tens of thousands of homes, hundreds of businesses, and dozens of schools and hospitals—the water made available to as many as 300,000 citizens in a nine-county region—had been contaminated with a chemical used for cleaning crushed coal.
This book tells a particular set of stories about that chemical spill and its aftermath, an unfolding water crisis that would lead to months, even years, of fear and distrust. It is both oral history and collaborative ethnography, jointly conceptualized, researched, and written by people—more than fifty in all—across various positions in academia and local communities. I'm Afraid of That Water foregrounds the ongoing concerns of West Virginians (and people in comparable situations in places like Flint, Michigan) confronted by the problem of contamination, where thresholds for official safety may be crossed, but a genuine return to normality is elusive.
Download a free copy of the book in the Free Book PDF tab.
Editors
Luke Eric Lassiter is a professor of humanities and anthropology and director of the graduate humanities program at Marshall University. He is the author of Invitation to Anthropology, The Chicago Guide to Collaborative Ethnography, and, with Elizabeth Campbell, Doing Ethnography Today.
Brian A. Hoey is a professor of anthropology and associate dean of the honors college at Marshall University and author of Opting for Elsewhere.
Elizabeth Campbell is chair of the department of curriculum and instruction at Appalachian State University. She is the coeditor of Re-imagining Contested Communities and coauthor of Doing Ethnography Today.
Reviews
"A great example of a multiauthored and intersubjective ethnography of toxic suffering, this book is a model for future disaster ethnographies."
Peter Little, Rhode Island College
"A unique, moving, and highly readable account of community reactions to a technological disaster. Authors weave together powerful and highly personal narratives that reveal the tensions of coping with ongoing environmental uncertainty. With a novel, collaborative approach, they make meaningful connections between the experiences of local residents and the systems and institutions that produce and perpetuate disasters and their aftermaths. Readers of all stripes will find it as enlightening as it is poignant."
Melissa Checker, coeditor of Sustainability in the Global City: Myth and Practice
"In a perfect world, I'm Afraid of That Water would be required reading."
Journal of Appalachian Studies