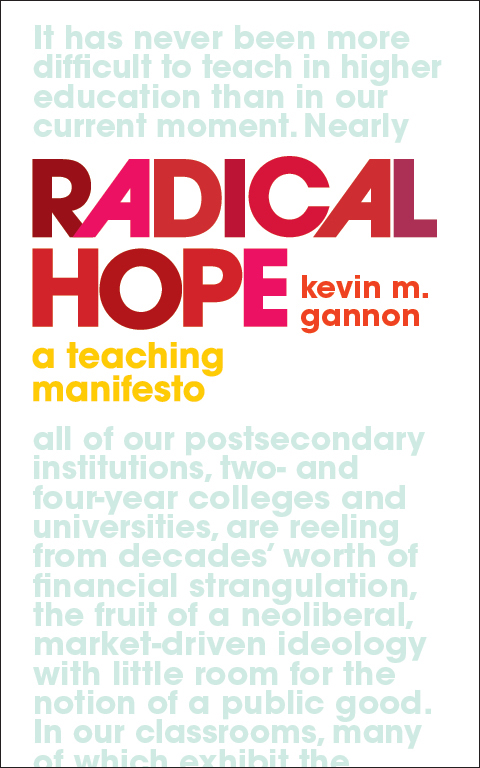 Kevin M. Gannon
April 2020
180pp
PB 978-1-949199-51-2
$19.99
CL 978-1-949199-50-5
$99.99
eBook 978-1-949199-52-9
$19.99
Teaching and Learning in Higher Education Series
Radical Hope
A Teaching Manifesto
Summary
Higher education has seen better days. Harsh budget cuts, the precarious nature of employment in college teaching, and political hostility to the entire enterprise of education have made for an increasingly fraught landscape. Radical Hope is an ambitious response to this state of affairs, at once political and practical—the work of an activist, teacher, and public intellectual grappling with some of the most pressing topics at the intersection of higher education and social justice.
Kevin Gannon asks that the contemporary university's manifold problems be approached as opportunities for critical engagement, arguing that, when done effectively, teaching is by definition emancipatory and hopeful. Considering individual pedagogical practice, the students who are the primary audience and beneficiaries of teaching, and the institutions and systems within which teaching occurs, Radical Hope surveys the field, tackling everything from impostor syndrome to cell phones in class to allegations of a campus "free speech crisis." Throughout, Gannon translates ideals into tangible strategies and practices (including key takeaways at the conclusion of each chapter), with the goal of reclaiming teachers' essential role in the discourse of higher education.

---
Receive a 30% discount on orders of 10 or more copies of this title with code HIGHEREDBULK30 at checkout.
Contents
Acknowledgments
Introduction
1. Classrooms of Death
2. The Things We Tell Our Students
3. Cultivating Transformative Teaching
4. Teaching and Learning Inclusively
5. Making Access Mean Something
6. Encouraging Choice, Collaboration, and Agency
7. A Syllabus Worth Reading
8. Pedagogy Is Not a Weapon
9. Platforms and Power
10. I Don't Know . . . Yet.
Coda: Radical Hope, Even When It Seems Hopeless
Notes
Index
Author
Kevin M. Gannon is director of the Center for Excellence in Teaching and Learning and professor of history at Grand View University. He writes for the Chronicle of Higher Education, gives frequent talks and workshops, and appeared in the Oscar-nominated documentary 13th, directed by Ava DuVernay.
Reviews
"A full-throated defense of the humanities, a liberal education, and the power of education as a transformational force."
Contingent Magazine
"A must-read for pedagogues and theorists alike. Gannon's explorations into history, power, and academia place students and the environments in which they learn front and center for the rest of us to consider. This work isn't about reform, but transformation, and Gannon's book pushes us in the right direction."
José Luis Vilson, author of This Is Not a Test: A New Narrative on Race, Class, and Education
"This is the book I needed to read—it was a fresh drink of water in a time of turmoil and despair in education. Gannon grounds his calls for radical hope in the work of educational scholars like Freire, hooks, and Giroux, and offers helpful examples and recommendations based on his years of teaching experience. He tackles real issues we are facing at our institutions head-on without capitulating to clichés or trendy solutions often offered in books about higher education."
Amy Collier, Middlebury College
"In a time of precariously employed professors, crushing student debt burdens, and cynically manufactured campus outrages, Radical Hope is a much-needed practical and principled reminder of the promise and possibility of education for liberation."
Nikhil Pal Singh, author of Race and America's Long War and faculty director, NYU Prison Education Program