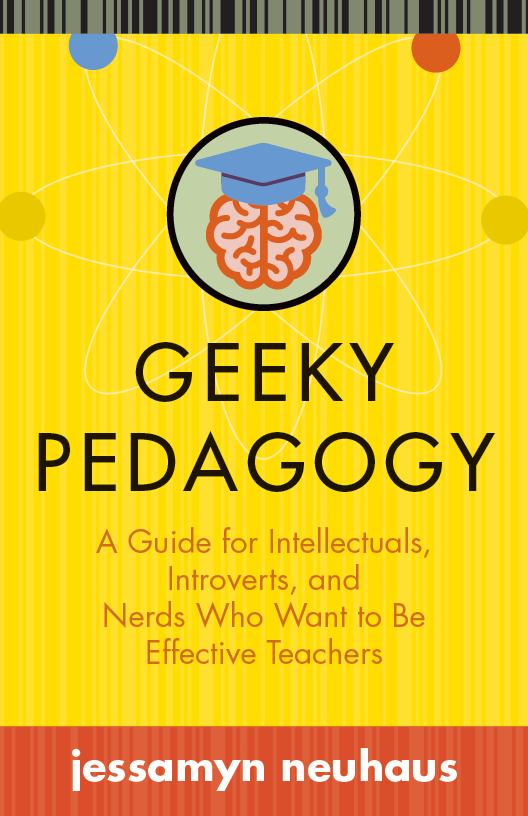 Jessamyn Neuhaus
September 2019
264pp
PB 978-1-949199-06-2
$26.99
eBook 978-1-949199-07-9
$26.99
Teaching and Learning in Higher Education Series
Summary
Geeky Pedagogy is a funny, evidence-based, multidisciplinary, pragmatic, highly readable guide to the process of learning and relearning how to be an effective college teacher. It is the first college teaching guide that encourages faculty to embrace their inner nerd, inviting readers to view themselves and their teaching work in light of contemporary discourse that celebrates increasingly diverse geek culture and explores stereotypes about super-smart introverts.
Geeky Pedagogy avoids the excessive jargon, humorlessness, and endless proscriptions that plague much published advice about teaching. Neuhaus is aware of how embodied identity and employment status shape one's teaching context, and she eschews formulaic depictions of idealized exemplar teaching, instead inviting readers to join her in an engaging, critically reflective conversation about the vicissitudes of teaching and learning in higher education as a geek, introvert, or nerd. Written for the wonks and eggheads who want to translate their vast scholarly expertise into authentic student learning, Geeky Pedagogy is packed with practical advice and encouragement for increasing readers' pedagogical knowledge.

---
Receive a 30% discount on orders of 10 or more copies of this title with code HIGHEREDBULK30 at checkout.
Contents
Acknowledgements
Introduction
1. Awareness
2. Preparation
3. Reflection
4. Support
5. Practice
Glossary
Notes
Index
Author
Jessamyn Neuhaus is a professor of US history and popular culture at SUNY Plattsburgh, a scholar of teaching and learning, and a recipient of the SUNY Chancellor's Award for Excellence in Teaching. She is the author of Manly Meals and Mom's Home Cooking: Cookbooks and Gender in Modern America and Housework and Housewives in American Advertising: Married to the Mop.
Reviews
"Every college professor should read this book. It is useful, accessible, lively, and humorous. It is not ideological or pedantic, but is instead a practical guide to becoming a better professor for those of us who never desired to read a book about pedagogy."
David Arnold, Columbia Basin College