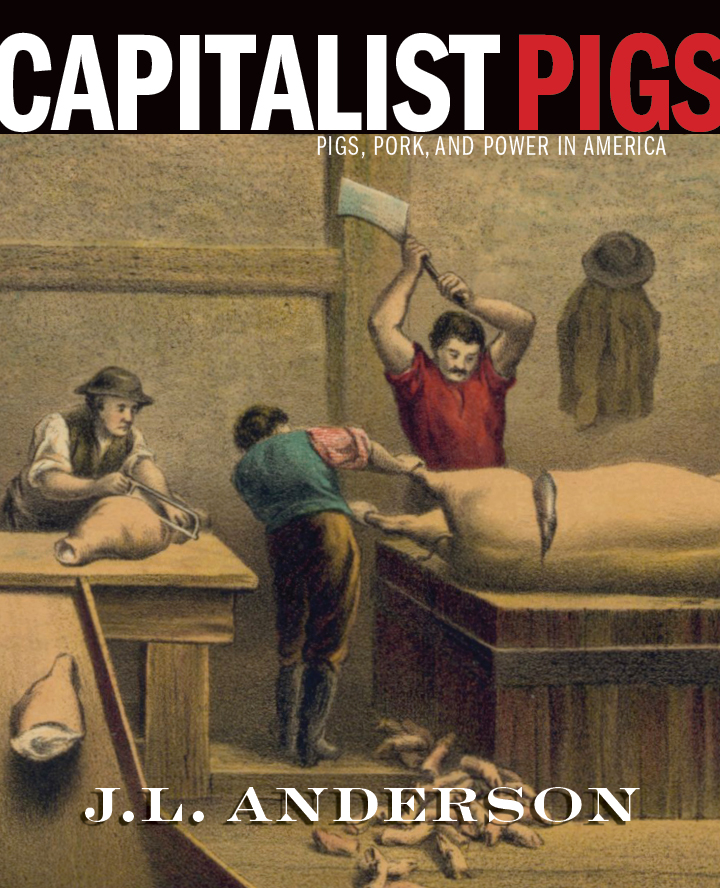 J. L. Anderson
Now available!
300pp
PB 978-1-946684-73-8
$34.99
CL 978-1-946684-72-1
$99.99
eBook 978-1-946684-74-5
$34.99
Summary
Pigs are everywhere in United States history. They cleared frontiers and built cities (notably Cincinnati, once known as Porkopolis), served as an early form of welfare, and were at the center of two nineteenth-century "pig wars." American pork fed the hemisphere; lard literally greased the wheels of capitalism.
J. L. Anderson has written an ambitious history of pigs and pig products from the Columbian exchange to the present, emphasizing critical stories of production, consumption, and waste in American history. He examines different cultural assumptions about pigs to provide a window into the nation's regional, racial, and class fault lines, and maps where pigs are (and are not) to reveal a deep history of the American landscape. A contribution to American history, food studies, agricultural history, and animal studies, Capitalist Pigs is an accessible, deeply researched, and often surprising portrait of one of the planet's most consequential interspecies relationships.
Contents
List of Illustrations
Acknowledgments
Introduction
1. Making American Gehography
2. Hogs at Home on the Range
3. Working People's Food
4. Pigs and the Urban Slop Bucket
5. To Market, to Market
6. Swine Plagues
7. Making Bacon and White Meat
8. Science and the Swineherd
Coda: The Future of Hogs in America
Notes
Index
Author
J. L. Anderson teaches history at Mount Royal University in Calgary, Alberta. Prior to his academic appointment, he was a museum educator and administrator, cultivating a personal and professional interest in swine at the agricultural museums where he worked. Anderson is currently president of the Agricultural History Society.
Reviews
"In the vein of William Cronon's Nature's Metropolis, this is a meaty, accessible, and clear-eyed agricultural history."
Booklist
"Anderson delivers the most thorough account of American pigs ever written, a book packed with fascinating detail on where pigs lived (forests, farmyards, city streets), what they ate (nuts, corn, garbage, the corpses of Civil War soldiers), and how scientists transformed their bodies and their lives to meet the relentless demands of the market. This is the story of how pigs made America, and how America remade the pig."
Mark Essig, author of Lesser Beasts: A Snout-to-Tail History of the Humble Pig
"J.L. Anderson weaves a complex story about the hog industry's impact on the growth of an economy and offers insight into the important role the agriculture and food industry played in the building of a nation. You will find yourself surprised by its influence."
Tom Vilsack, US Secretary of Agriculture, 2009–2017
"J. L. Anderson's Capitalist Pigs is a thorough and engaging examination of swine in US agriculture, culture, and history. It will be a standard to judge later histories of Americans' relationships with agricultural livestock and domestic animals."
Leo Landis, State Curator, State Historical Society of Iowa and "the Bacon Professor"
"A sweeping history of pigs in the United States from before the arrival of Europeans to today. In Anderson's clear, brisk, and clever history, these animals appear as wild beasts roaming forests, domesticates in farm pens, commodities in railcars, corpses on slaughterhouse hooks, meat at the ends of butchers' knives, consumer products in Walmart coolers, nourishment in human stomachs, and as transplanted hearts thumping away in human chests. It's fun to read."
James C. Giesen, author of Boll Weevil Blues: Cotton, Myth, and Power in the American South
"Anderson's investigation is thorough, focusing on economic and social impacts, and, when appropriate, unflinching."
Publishers Weekly
"A clear and accessible read, beautifully illustrated with paintings, maps, and photographs that demonstrate the prominence of the pig in America."
Environmental History
"Valuable for scholars and ac­cessible to a broad audience."
The Annuals of Iowa