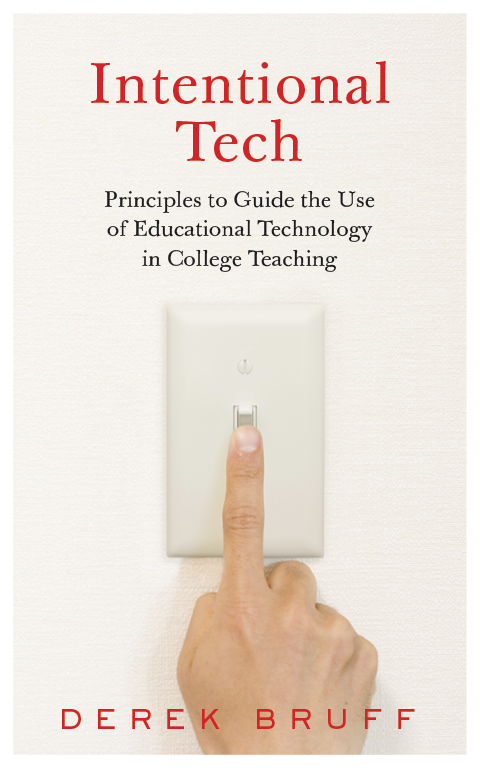 Derek Bruff
November 2019
240pp
PB 978-1-949199-16-1
$24.99
CL 978-1-949199-15-4
$99.99
eBook 978-1-949199-17-8
$24.99
Teaching and Learning in Higher Education Series
Summary
Chalkboards and projectors are familiar tools for most college faculty, but when new technologies become available, instructors aren't always sure how to integrate them into their teaching in meaningful ways. For faculty interested in supporting student learning, determining what's possible and what's useful can be challenging in the changing landscape of technology.
Arguing that teaching and learning goals should drive instructors' technology use, not the other way around, Intentional Tech explores seven research-based principles for matching technology to pedagogy. Through stories of instructors who creatively and effectively use educational technology, author Derek Bruff approaches technology not by asking "How to?" but by posing a more fundamental question: "Why?"

---
Receive a 30% discount on orders of 10 or more copies of this title with code HIGHEREDBULK30 at checkout.
Contents
Acknowledgements
Introduction
1. Times for Telling
2. Practice and Feedback
3. Thin Slices of Learning
4. Knowledge Organizations
5. Multimodal Assignments
6. Learning Communities
7. Authentic Audiences
Conclusion
Notes
References
Index
Author
Derek Bruff is the director of the Vanderbilt University Center for Teaching, where he helps faculty and other instructors develop foundational teaching skills and explore new ideas in teaching and learning. He is the author of Teaching with Classroom Response Systems: Creating Active Learning Environments.
Reviews
"Derek Bruff is an engaging—and often charming—guide throughout this concise book. The stories he tells keep things moving at a crisp pace and offer pedagogical inspiration. His principles provide a useful framework and establish a clear foundation for his practical advice."
Peter Felten, coauthor of The Undergraduate Experience: Focusing Institutions on What Matters Most