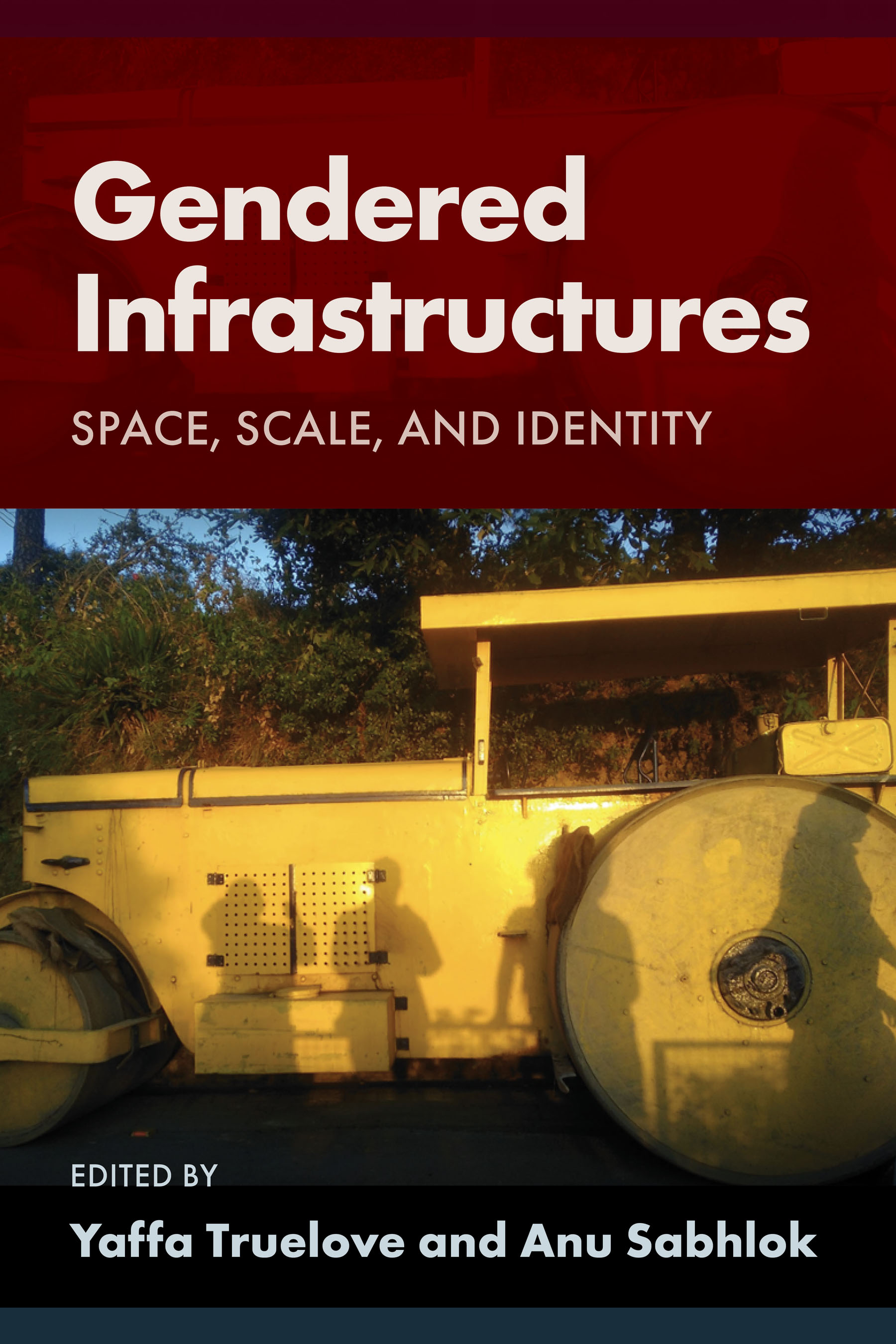 Edited by Yaffa Truelove and Anu Sabhlok
March 2024
264pp
PB 978-1-959000-08-2
$29.99s
eBook 978-1-959000-09-9
$29.99
Gender, Feminism, and Geography Series
Gendered Infrastructures
Space, Scale, and Identity
Summary
The first book to take a feminist geographical approach to infrastructure, Gendered Infrastructures delves into the complex relationships between identity, social relations, and infrastructure. By drawing on feminist scholarship to enable new frameworks for critical study, this edited volume explores the gendered nature of infrastructures as diverse as Senegal's waste disposal, Vietnam's cement industry, and Lilongwe's water kiosks. The chapters consider how infrastructural assemblages rework and shape gendered relations, identities, and meanings across space, while tracing the intersectionality of relations and uneven geographies that surround infrastructure. Ultimately, the contributors show how gender is always present in the quotidian building blocks that organize the socio-material world and daily life.
Edited by Yaffa Truelove and Anu Sabhlok, and the third book in Amy Trauger and Jennifer Fluri's Gender, Feminism, and Geography series, the original essays in Gendered Infrastructures respond to and build upon a "new infrastructural turn in critical scholarship"—one that has helped enliven studies of identity across scale. The volume is relevant to geographers, anthropologists, architects, sociologists, urban researchers, and other interdisciplinary scholars interested in the gendered and social dimensions of infrastructure.
Contents
Acknowledgments
Introduction
Yaffa Truelove and Anu Sabhlok
1. Concretizing Modernity: The Gendered Labor of Cement Infrastructures in Vietnam
Christina Schwenkel
2. Gender Relations and Infrastructural Labors at the Water Kiosks in Lilongwe, Malawi
Cecilia Alda-Vidal, Alison L. Browne, and Maria Rusca
3. Gendered Infrastructures of Discard in Dakar, Senegal
Rosalind Fredericks
4. Placing Oppression (with)in Public Infrastructures: Tracing an Intersectional Relationship between Gender, Violence, and Technology
Anshika Suri
5. Severing the Spatial Leash: Promoting Women's Right of Mobility through Digital Disruption and a Feminist Ethics of Care
Linda Carroli and Deanna Grant-Smith
6. Trains, Trees, and Terraces: Infrastructures of Settler Colonialism and Resistance in the Refaim Valley, Israel-Palestine
Gabi Kirk
7. Informal Transport Infrastructures: Gendered Experiences of Moving around the Peripheries of Quito, Ecuador
Cristen Dávalos and Julie Gamble
8. "Dirty Phone": Infrastructures of Violence against Women in Urban Kerala
Nabeela Ahmed and Ayona Datta
9. Infrastructure of Recyclable Waste as Assemblages: From Scavengers on the Ground to Recycling Workers in Collectives
Margarida Queirós, Antonio Cezar Leal, Fernanda Regina Fuzzi, and Mário Vale
10. Conceptualizing Bodies as Urban Infrastructure: Gender, Intimate Infrastructures, and Slow Infrastructural Violence in Urban Nepal and India
Yaffa Truelove and Hanna A. Ruszczyk
11. Looking into Wells: Picturing the Gendered Relations of Water Infrastructure in Southwest Cameroon
Jennifer A. Thompson
Afterword
Anu Sabhlok and Yaffa Truelove
Contributors
Index
Author
Yaffa Truelove is an assistant professor in the Department of Geography and the Program in International Affairs at the University of Colorado Boulder. Her research focuses on urban and feminist political ecologies of water, urban infrastructure, and the governance of Indian cities.
Anu Sabhlok is a professor in the Department of Humanities and Social Sciences at the Indian Institute of Science Education and Research Mohali. Her work lies at the intersection of feminist geography, architecture, labor studies, and critical infrastructure studies.
Reviews
"This collection offers insights into the ways in which infrastructural challenges, restrictions, breakdowns, and opportunities intersect with gendered labor, mobility, and the ability to effectively access spaces and live in specific places. It will undoubtedly make important and lasting contributions to the extant literature in feminist geography and geographies of development."
Jennifer L. Fluri, coauthor of Engendering Development: Capitalism and Inequality in the Global Economy