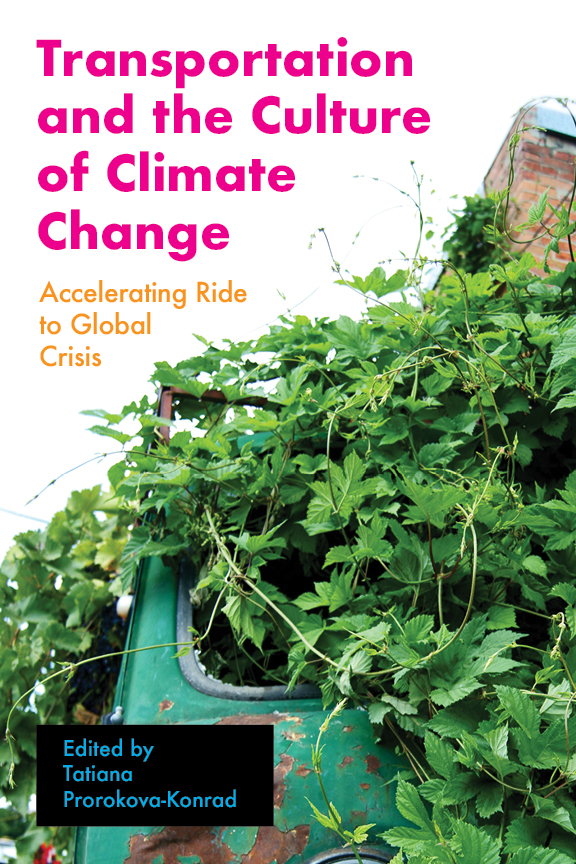 Edited by Tatiana Prorokova-Konrad
October 2020
288pp
PB 978-1-949199-64-2
$32.99
eBook: 978-1-949199-65-9
$32.99
Energy and Society Series
Transportation and the Culture of Climate Change
Accelerating Ride to Global Crisis
Summary
This interdisciplinary collection of eleven original essays focuses on the environmental impact of transportation, which is, as Tatiana Prorokova-Konrad and Brian C. Black note in their introduction, responsible for 26 percent of global energy use. Approaching mobility not solely as a material, logistical question but as a phenomenon mediated by culture, the book interrogates popular assumptions deeply entangled with energy choices. Rethinking transportation, the contributors argue, necessarily involves fundamental understandings of consumption, freedom, and self.
The essays in Transportation and the Culture of Climate Change cover an eclectic range of subject matter, from the association of bicycles with childhood to the songs of Bruce Springsteen, but are united in a central conviction: "Transport is a considerable part of our culture that is as hard to transform as it is for us to stop using fossil fuels—but we do not have an alternative."
Contents
Introduction. Carbonization as a Choice: Environmental Ethics, Mobility, and Energy Options
Tatiana Prorokova-Konrad and Brian C. Black
Part I: Mobility and the Environment
1. Using Heritage and Ecological Systems Thinking to Inform Resilient Automobility Design
Barry L. Stiefel
2. Bikes for Children, Cars for Adults: Postwar American Transportation Culture and the Legacy of Moving Images
James Longhurst
3. E-Scooters and the Urban Micromobility Revolution
Matthew C. Swanson
Part II: Car Cultures
4. "Carbolization": Cars, Carbon Emissions, and the Global Discipline of Automobility
Gordon M. Sayre
5. Hydrocarbon Enslavement and Fantasies of Freedom
Patrick D. Murphy
6. Suicide Machines: Bruce Springsteen, Ballard, and Broken Heroes on a Last Chance Power Drive
David LaRocca
7. Remainders of the Fossil Regime: Automobility Regression in Three Post-Apocalyptic Novels
Brent Ryan Bellamy
Part III: Film, Energy, and Climate Change
8. Intermodal Aesthetics and the Otherwise of Cargo
Megan Hayes and Jeff Diamanti
9. Nature Guarding "Her Treasures" in Oil Comedies: The Case of Local Hero and Fubar: Balls to the Wall
Robin L. Murray and Joseph K. Heumann
10. Boom/Bust: Tragic Logistics and Accelerationist Comedy in Petroleum Transport
C. Parker Krieg
11. Trafficking in Petronormativities: At the Intersections of Petrofeminism, Petrocolonialism, and Petrocapitalism
Sheena Wilson
Contributors
Index
Editor
Tatiana Prorokova-Konrad is a postdoctoral researcher in the department of English and American studies at the University of Vienna. She is the author of Docu-Fictions of War: U.S. Interventionism in Film and Literature and coeditor of Cultures of War in Graphic Novels: Violence, Trauma, and Memory.
Reviews
"A timely, accessible, and intriguingly interdisciplinary collection. Building upon the important work of energy humanities, which has focused on exposing the links between material systems of fueling and symbolic regimes of values and power, the collection compels the reader—in a performative act of slowing down—to contemplate the most dispersed yet most concrete site of the long twentieth century of accelerationism."
Anindita Banerjee, Cornell University