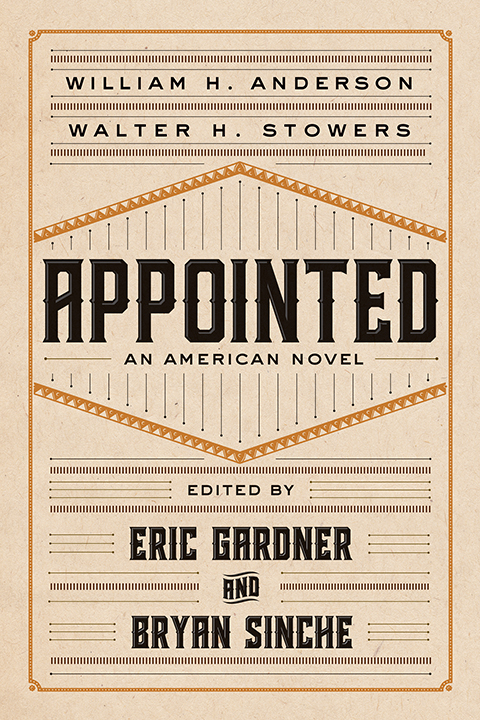 William H. Anderson and Walter H. Stowers
Edited by Eric Gardner and Bryan Sinche
Available now!
September 2019
348pp
PB 978-1-949199-00-0
$29.99
eBook 978-1-949199-01-7
$29.99
Summary
Appointed is a recently recovered novel written by William Anderson and Walter Stowers, two of the editors of the Detroit Plaindealer, a long-running and well-regarded African American newspaper of the late nineteenth century. Drawing heavily on nineteenth-century print culture, the authors tell the story of John Saunders, a college-educated black man living and working in Detroit. Through a bizarre set of circumstances, Saunders befriends his white employer's son, Seth Stanley, and the two men form a lasting, cross-racial bond that leads them to travel together to the American South. On their journey, John shows Seth the harsh realities of American racism and instructs him in how he might take responsibility for alleviating the effects of racism in his own home and in the white world broadly.
As a coauthored novel of frustrated ambition, cross-racial friendship, and the tragedy of lynching, Appointed represents a unique contribution to African American literary history. This is the first scholarly edition of Appointed, and it includes a collection of writings from the Plaindealer, the authors' short story "A Strange Freak of Fate," and an introduction that locates Appointed and its authors within the journalistic and literary currents of the United States in the late nineteenth century.
Contents
Introduction
Note on the Text
Appointed: An American Novel
Appendix A: Reviews of Appointed
Appendix B: Writings from the Plaindealer
Appendix C: "A Strange Freak of Fate"
Notes
Bibliography of Related Works
Author
Eric Gardner is a professor of English at Saginaw Valley State University and award-winning author of Unexpected Places: Relocating Nineteenth-Century African American Literature and Black Print Unbound: The Christian Recorder, African American Literature, and Periodical Culture.
Bryan Sinche is associate professor and chair of English and modern languages at the University of Hartford. He has published over a dozen articles on nineteenth-century American literature and culture and is the editor of the teacher's guide accompanying the Norton Anthology of African American Literature.
Reviews
"An admirable edition that will certainly find its way into courses on African American literature, and American literature more broadly. Gardner and Sinche have provided exceptional accompanying material that recovers not only the novel but also its makers and its contexts, and have included supplementary works that are well suited for classroom use."
Benjamin Fagan, author of The Black Newspaper and the Chosen Nation