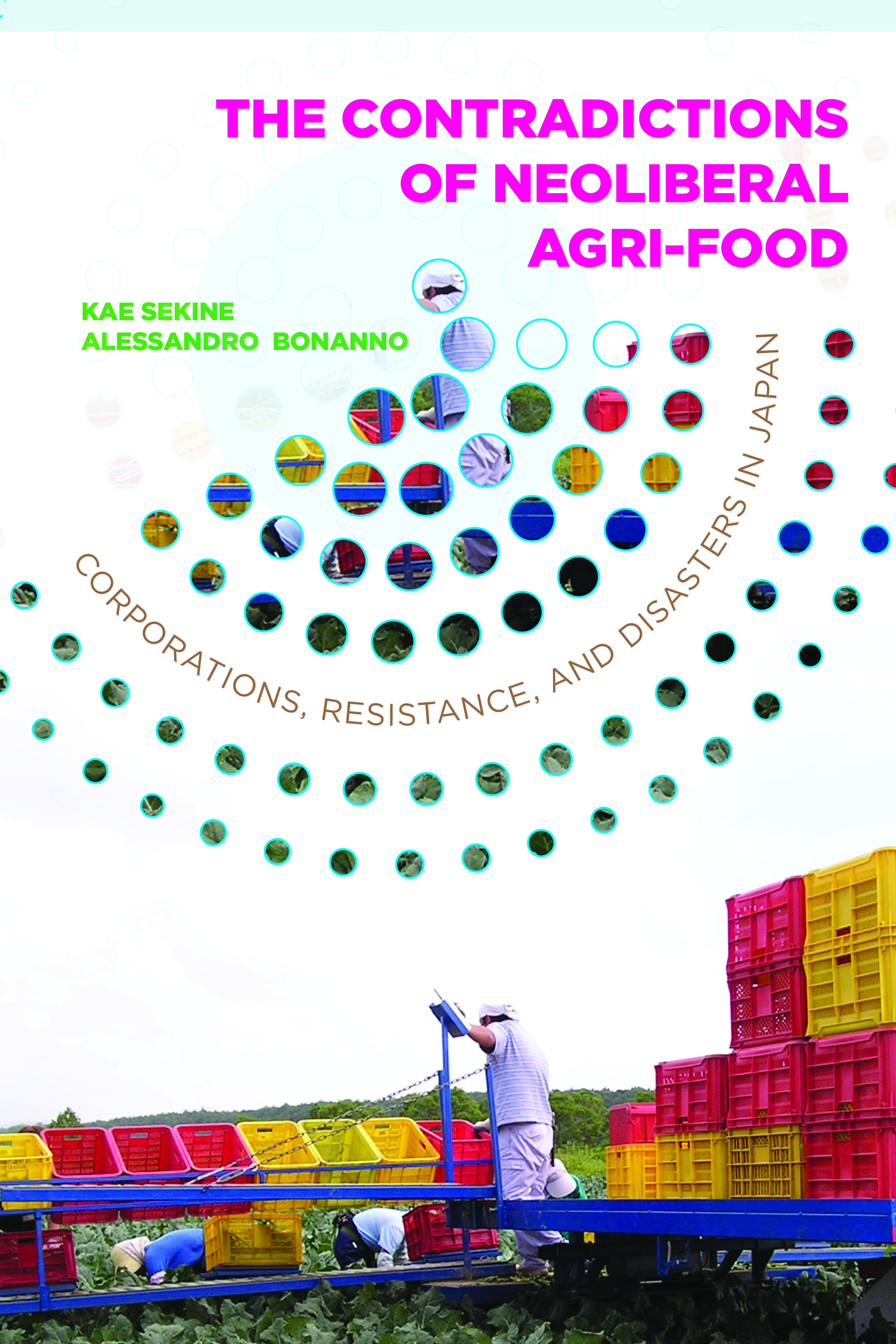 Kae Sekine and Alessandro Bonanno
August 2016
248pp
PB 978-1-943665-19-8
$32.99
epub 978-1-943665-20-4
$32.99
PDF 978-1-943665-21-1
$32.99
Summary
Employing original fieldwork, historical analysis, and sociological theory, Sekine and Bonanno probe how Japan's food and agriculture sectors have been shaped by the global push toward privatization and corporate power, known in the social science literature as neoliberalism. They also examine related changes that have occurred after the triple disaster of March 2011 (the earthquake, tsunami, and meltdown of the Fukushima Daiichi nuclear reactor), noting that reconstruction policy has favored deregulation and the reduction of social welfare.
Sekine and Bonanno stress the incompatibility of the requirements of neoliberalism with the structural and cultural conditions of Japanese agri-food. Local farmers' and fishermen's emphasis on community collective management of natural resources, they argue, clashes with neoliberalism's focus on individualism and competitiveness. The authors conclude by pointing out the resulting fundamental contradiction: The lack of recognition of this incompatibility allows the continuous implementation of market solutions to problems that originate in these very market mechanisms.
Table of Contents
Acknowledgments
Introduction
1. Agri-food in Japan: A Literature Review
2. Agriculture and Fisheries in Japan from the Post-World War II High Fordism to the Neoliberal Era (1945–2010)
3. Neoliberal Agri-food Policies in the Aftermath of the 2011 Earthquake, Tsunami, and Nuclear Meltdown
4. The Evolution of Corporate Agri-food Industrial Policies in Japan: The Cases of Dole Japan, Kagome, IBM, and Sendai Suisan
5. Dole Japan's Agricultural Production
6. Corporate Agri-food Industrial Strategies in the Aftermath of the Disasters
7. Fisheries and SZR
8. Agri-food Corporations, the State, Resistance, and Disaster Reconstruction under Neoliberalism
9. Neoliberalism in Japanese Agri-food: A Systemic Crisis
Notes
Bibliography
Author
Kae Sekine is associate professor of economics at Aichi Gakuin University, Nagoya, Japan.
Alessandro Bonanno is Texas State University System Regents' Professor and Distinguished Professor of Sociology at Sam Houston State University.
Reviews
"At a time when there is much over-generalization about neoliberalism and its global impacts, this provocative and revealing book provides a detailed case study of Japan, presenting a clear picture of how neoliberal settings—in supporting a corporate agri-food agenda—have worked against small farmers and fisher-folk. It is a fascinating, illuminating, and, ultimately, sobering analysis."
Geoffrey Lawrence, University of Queensland
"A novel and incisive analysis of the corporatization of Japanese agriculture and its acceleration after the triple disaster of March 2011. Groundbreaking."
Shuzo Teruoka, author of Agriculture in the Modernization of Japan, 1850–2000‪