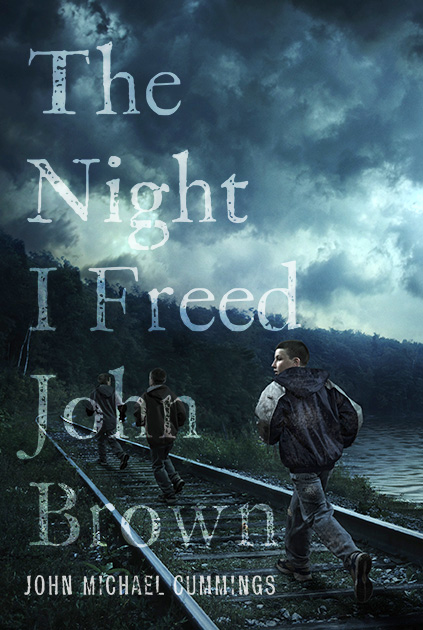 John Michael Cummings
February 2016
252pp
PB 978-1-940425-96-2
$16.99
epub 978-1-940425-97-9
$16.99
PDF 978-1-940425-98-6
$19.99
Summary
Winner of The Paterson Prize for Books for Young People
Recommended by USA Today for Black History Month as "a blend of history and suspense."
In this novel for young adults, Josh knows there is something about the tall Victorian House on the Harpers Ferry Hill, the one his father grew up in, that he can't quite put his finger on. And his impossible father won't give him any clues. He's hiding something.
And then there's the famous John Brown. The one who all the tourists come to hear about. The one whose statue looms over Josh's house. Why does he seem to haunt Josh and his whole family? When the fancy Richmonds come to town and move right next door, their presence forces Josh to find the answers and stand up to the secrets of the House, to his father—and to John Brown, too.
The historic village of Harpers Ferry comes alive in this young boy's brave search for answers and a place of his own in this brilliant first novel by John Michael Cummings.
Author
John Michael Cummings is a short story writer and novelist from Harpers Ferry, West Virginia. He is the author of The Night I Freed John Brown, which won the 2009 Paterson Prize for Books for Young People (Grade 7-12) and was recommended by USA Today for Black History Month. His short story "The Scratchboard Project" received an honorable mention in The Best American Short Stories 2007. His novel, Don't Forget Me, Bro, was excerpted in the Chicago Tribune. Mr. Cummings taught English at Seminole State College and was a reporter for The Fairfax Times.
Reviews
"Characterizations are sharp, the setting eerily evoked and the story satisfying. A highly original meditation on how the past can haunt the present."
Kirkus Reviews
"There are marvelous plot twists and surprises right to the very end…and his prose can be pure poetry."
The Boston Globe
"It tells us to make our own happy endings, and that life goes on, whether we like it or not."
BookPage
"Cummings has a special talent for description, painting vividly clear pictures with his animated words."
Teenreads.com
"It is a fast-paced story that addresses themes like: familial relationships, identity development and brotherhood."
The ALAN Review
"A compelling narrative of a troubled family and a dark secret of past grudges and grievances."
The Buffalo News
"Thoughtful and compelling...This moody, almost Gothic, novel will offer you a pleasant few hours to be sure."
The Orange County Register
"...Lively characters whose voices ring true. Josh is every young boy who ever resented his own culture and family."
The Baton Rouge Advocate
"A masterful work crafted in the time-honored genre that Mark Twain milked so gracefully in 'Tom Sawyer'."
The Bluefield Daily Telegraph
"It's one of the best novels I've read in a long time...Calling all librarians out there: Buy this book!"
David M. Kinchen, Huntingtonnews.net
"It isn't every day a debut novel is praised by a Poet Laureate, Newbery Honor recipient, and Pushcart Prize winner."
The Brooklyn Daily Eagle
"Cummings keeps a sense of suspense thrumming through the book…the story is mature, sad, affecting, and challenging."
Mid-American Review
"The use of history as a narrative tool adds a scope rarely attempted in the realm of young adult literature."
Black Warrior Review
"Plenty of action and authentic dialogue. You care about our young hero, because he cares about so many things."
The Texas Review
"Fresh and unique...the feeling of uncanniness never leaves the novel."
Gulf Stream Magazine