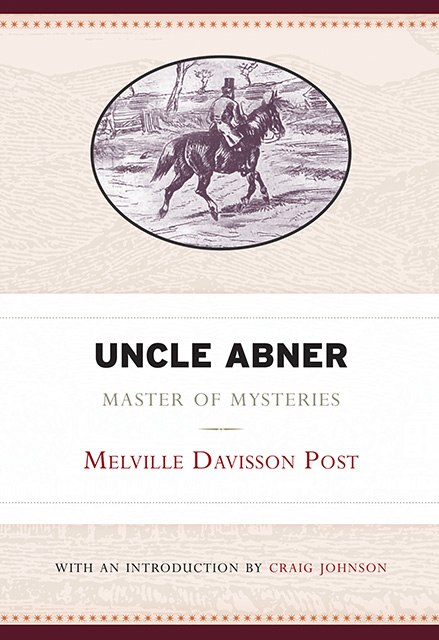 Melville Davisson Post
West Virginia Classics: Volume 5
March 2015
226pp
CL 978-1-940425-40-5 $24.99
eBook 978-1-940425-42-9 $24.99
Summary
First published in 1918, Uncle Abner: Master of Mysteries is an anthology of detective stories written by Melville Davisson Post. The popular stories within this collection were serialized in national magazines such as the Saturday Evening Post in the early twentieth century.
Uncle Abner is an amateur detective in present-day Harrison County, West Virginia. Throughout his journeys around this antebellum wilderness, long before the nation had a proper police system, the honest Uncle Abner is confronted by murders and mysteries that cannot be ignored. With uncanny intuition, impressive logic, and keen observation of human actions, Uncle Abner is Melville Davisson Post's most celebrated literary creation and is considered to be one of the most important texts in American detective and crime fiction.
This new edition contains an introduction by Craig Johnson, author of the Walt Longmire novels.
Author
Melville Davisson Post (1869–1930) was a native of Harrison County, West Virginia. He is the author of The Strange Schemes of Randolph Mason, the Randolph Mason series, the Uncle Abner: Master of Mysteries series, the Monsieur Jonquelle series, and the Walker of the Secret Service series, as well as many articles, essays, and treatises.
Craig Johnson is the New York Times bestselling author of the Walt Longmire novels, which are the basis for Longmire, the hit Netflix original drama. The Cold Dish won Le Prix du Polar Noir; Death Without Company, the Wyoming Historical Association's Book of the Year; and Another Man's Moccasins, the winner of both the Western Writers of America's Spur Award and the Mountains and Plains Book of the Year. The Dark Horse was a Publisher's Weekly Best Book of the Year, and Hell Is Empty was selected by Library Journal as the Best Mystery of the Year, as well as being a New York Times bestseller along with the next two books in the series, As The Crow Flies and A Serpent's Tooth. Any Other Name, the tenth Longmire novel, debuted at #6 on the New York Times list. Johnson lives in Ucross, Wyoming, population twenty-five.