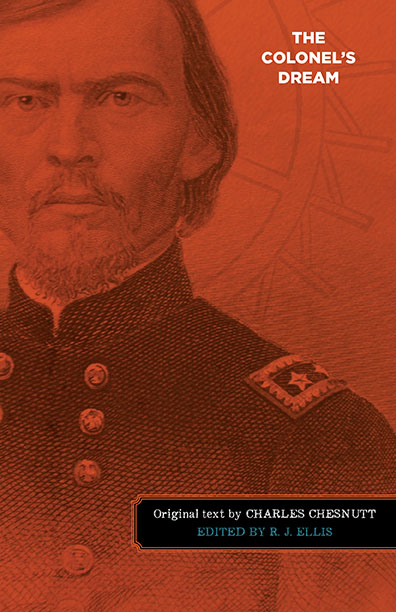 Charles W. Chesnutt
Edited by R. J. Ellis
October 2014
352pp
PB 978-1-935978-91-6
$22.99
CL 978-1-940425-23-8
$68.99
ePub 978-1-935978-93-0
$22.99
PDF 978-1-935978-92-3
$22.99
Series: Regenerations
Summary
Charles Waddell Chesnutt (1858–1932) was an African American writer, essayist, Civil Rights activist, legal-stenography businessman, and lawyer whose novels and short stories explore race, racism, and the problematic contours of African Americans' social and cultural identities in post–Civil War South. He was the first African American to be published by a major American publishing house and served as a beacon-point for future African American writers.
The Colonel's Dream, written in 1905, is a compelling tale of the post–Civil War South's degeneration into a region awash with virulent racist practices against African Americans: segregation, lynchings, disenfranchisement, convict-labor exploitation, and endemic violent repression. The events in this novel are powerfully depicted from the point of view of a philanthropic but unreliable southern white colonel. Upon his return to the South, the colonel learns to abhor this southern world, as a tale of vicious racism unfolds. Throughout this narrative, Chesnutt confronts the deteriorating position of African Americans in an increasingly hostile South. Upon its publication The Colonel's Dream was considered too controversial and unpalatable because of its bitter criticisms of southern white prejudice and northern indifference, and so this groundbreaking story failed to gain public attention and acclaim.
This is the first scholarly edition of The Colonel's Dream. It includes an introduction and notes by R. J. Ellis and works to reestablish this great novel's reputation.
Contents
Introduction
Editor's Note
The Colonel's Dream
About the Authors
Author
R. J. Ellis is professor of American studies at the University of Birmingham, UK. His positions have included founding chair of the United Kingdom Council for Area Studies Associations and president of the Society for the Study of American Women Writers.