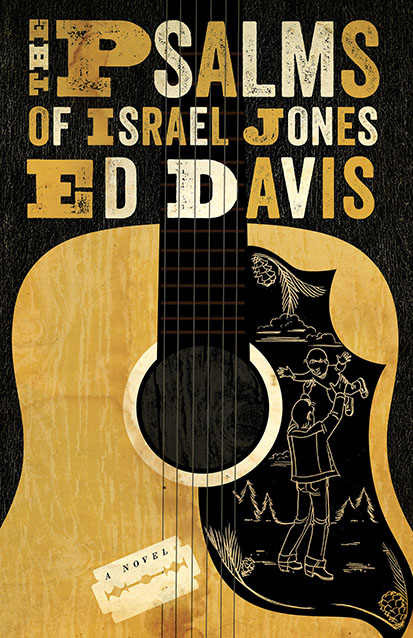 Ed Davis
September 2014
218pp
PB 978-1-940425-13-9
$16.99
ePub 978-1-94025-14-6
$16.99
PDF 978-1-94042-15-3
$16.99
Summary
The Psalms of Israel Jones is the story of a father and son's journey towards spiritual redemption. This novel tells the tale of a famous father trapped inside the suffocating world of rock and roll, and his son who is stranded within the bounds of conventional religion.
When Reverend Thomas Johnson receives an anonymous phone call, he learns his Dylanesque rock star father is acting deranged on stage, where he's being worshipped by a cult of young people who slash their faces during performances. In his declining years, Israel Jones has begun to incite his fans to violence. They no longer want to watch the show—they want to be the show.
Eager to escape troubles with his congregation as well as gain an apology from his dad for abandoning his family, Reverend Thom leaves town and joins Israel Jones's Eternal Tour. This decision propels him to the center of a rock and roll hell, giving him one last chance to reconnect with his father, wife, congregation—and maybe even God.
The Psalms of Israel Jones is the 2010 Hackney Literary Award winner for the novel.
Author
Ed Davis taught writing and humanities courses at Sinclair Community College in Dayton, Ohio for thirty-five years before retiring in 2011. He has also taught both fiction and poetry at the Antioch Writers' Workshop and is the author of the novels I Was So Much Older Then and The Measure of Everything, four poetry chapbooks, and many published stories and poems in anthologies and journals. He is also the author of Time of the Light, a poetry collection.
Learn more about Ed Davis on his website.
Reviews
"In this outstanding novel Ed Davis takes a deep, dark look at the sometimes fatal wounds that separate parent from child, husband from wife, and body from soul. In setting hard-core religion against hard-core rock & roll, he demonstrates that the line between death and redemption can be a fine one, indeed. I loved this book."
Clint McCown, author of Haints, War Memorials, The Member-Guest, and The Weatherman
"The Psalms of Israel Jones is a raucous yet spiritual journey where religion and rock 'n roll duke it out in the hearts and minds of a father and son trying to find new identities, or to reclaim the identities they've lost. You might think you know how religion and rock 'n roll are connected, but Ed Davis tells a unique story here that's going to spin those connections into their own funky dance full of moves you've never seen before. It's a rollicking read with a great big heart."
Jim Daniels, author of Eight Mile High and Birth Marks
"Is Israel Jones a nearly mythic figure come to redeem us? Sure. But he's also a fellow who respects an art form born of anger and woe and desperate times. His story obliges us to look back even as we drift farther and farther from the promises we once upon a time made. I love this book, not least for the zillion writers and religious thinkers I find in it, among them Dickens, Melville, Jonathan Edwards, Increase Mather, Jimmy Swaggart, and Walker Percy. The plot is straight out of On the Road with the same moral risk and ambiguities and the prose is rich."
Lee K. Abbott, author of Dreams of Distant Lives, Strangers in Paradise, and Love is the Crooked Thing
"An excellent, lively read."
William J. Cobb, author of The Bird Saviors and The Lousy Adult
"Reading Ed Davis's elegant prose is a little like listening to a Bob Dylan album: it's nearly impossible to choose a favorite line. Between the tears and the laughs is a moving story of two men seeking to understand the world and to be understood themselves. That's the heart of songwriting, and storytelling. With The Psalms of Israel Jones, Davis contributes to this greater understanding of ourselves and our world with a masterpiece that hits all the right notes."
Sheila M. Trask, ForeWord Reviews
"From the opening power chord to the feedback echoes that keep crashing through the mind after the last sentence, this novel is a rock testament to the power of music and the Word. Tight as a spring coiled to release and generous as an open hand, this is a book for fathers and sons, lovers, losers, doubters and believers – in short, for us all. "
Valerie Nieman, author of Blood Clay and Fidelities
"Reverend Thomas Johnson has a lot of reconciling to do. Estranged from his wife, under suspicion by the deacons of Suffering Christ Church of Holy Martyrs for carrying on an illicit affair with a parishioner, he's been summoned to join the tour of Israel Jones, fading rock legend. Israel happens to be Thom's father and happens to have abandoned his son at an early age. Thom blames him for his mother's suicide and many other sins. Ed Davis' novel The Psalms of Israel Jones takes us on a wild ride—from snake handling holy rollers in a West Virginia chapel, to sleazy roadhouses in Ohio, Kentucky, and North Carolina, pursued by Furies, a self-destructive tribe of Israel's fans. A particularly American blend of religion and rock & roll infuses the book with lyricism and rage on the road to the protagonist's salvation."
Deborah Clearman, author of the novel Todos Santos
"If you've ever wondered how the transport of searching, Bob Dylanesque rock and roll differs or is similar to what religion aspires to, this novel of healing through faith and music is for you. It's also at heart a raw and absorbing father-son combat. Just imagine Abraham as the lead singer of an edgy Appalachian band and Isaac the admiring, angry, terrified son, with his very own knife, standing in the wings."
Allan Appel, author of High Holiday Sutra and The Hebrew Tutor of Bel Air
"The Psalms of Israel Jones travels to the universal intersection of personal and cultural legacy, both of which have wounds that fester up through the blood of offspring. Music and performance become rituals of redemption for father, son, and a host of interesting, flawed, and interconnected characters that illuminate the deepest sense of human conflict in juxtaposition to the urgent desire for a Heavenly boon."
J. Frederick Arment, author of Backbeat: A Novel of Physics, The Elements of Peace, and The Economics of Peace
"This tightly woven novel, full of surprising reversals and sudden drops into new layers of understanding, carries the passions of Appalachia in its bones."
Susan Streeter Carpenter, author of Riders on the Storm
"The book is many things, and delightful in many ways. It's a funny, scary road trip/love story/religio-socio portrait of America set to roots-rock music. Put some old LP's on the record player and enjoy."
Independent Publisher