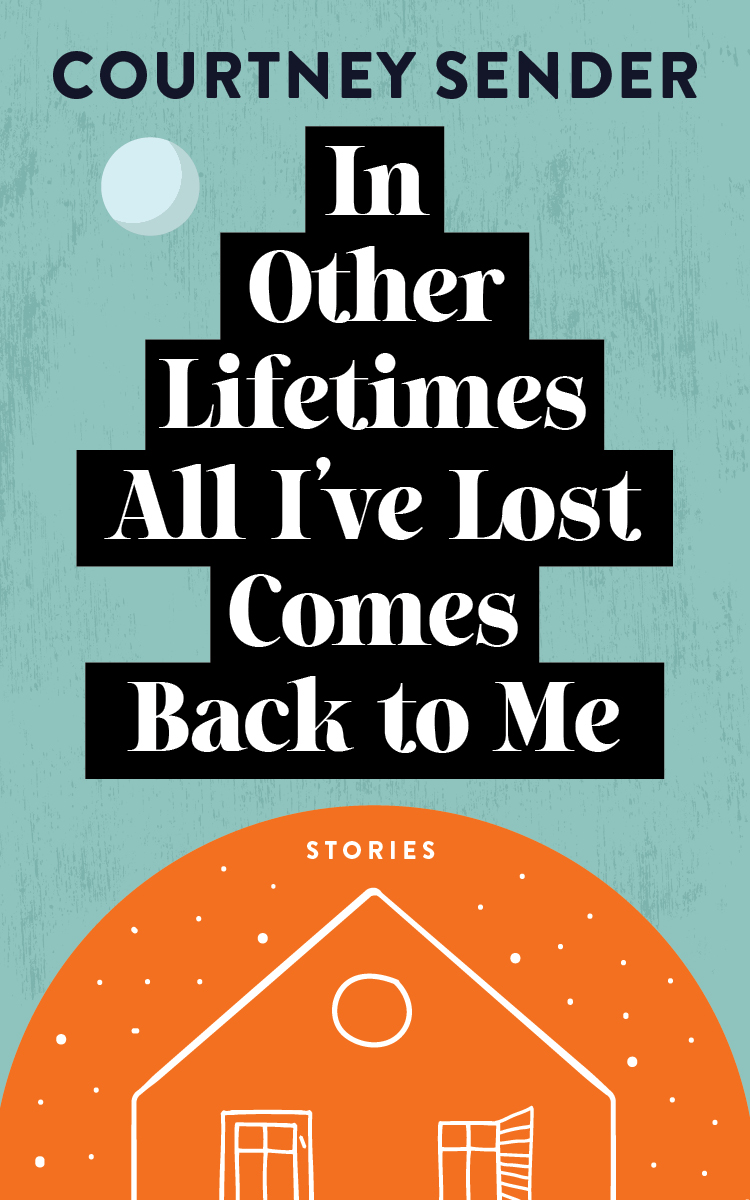 Courtney Sender
Available now!
March 2023
208pp
PB 978-1-952271-78-6
$19.99
eBook 978-1-952271-79-3
$19.99
In Other Lifetimes All I've Lost Comes Back to Me
Storie
Summary
Populated with lovers who leave and return, with ghosts of the Holocaust and messages from the dead, Courtney Sender's debut collection speaks in a singular new voice about the longings and loneliness of contemporary love. The world of these fourteen interlocking stories is fiercely real but suffused with magic and myth, dark wit, and distinct humor. Here, ancient loss works its way deep into the psyche of modern characters, stirring their unrelenting lust for life.
In "To Do With the Body," the Museum of Period Clothes becomes the perfect setting for a bloody crime. In "Lilith in God's Hands," Adam's first wife has an affair in the Garden of Eden. And in the title story, a woman spends her life waiting for any of the men who have left her to come back, only to find them all at her doorstep at once.
For readers of Elena Ferrante, Nicole Krauss, and Carmen Maria Machado, and for anyone who has known love and loneliness, In Other Lifetimes All I've Lost Comes Back to Me is a wise and sensual collection of old hauntings, new longings, and unexpected returns, with a finale that is a rousing call to the strength we each have, together or alone.
Contents
In Other Lifetimes All I've Lost Comes Back To Me
Black Harness
For Somebody So Scared
Only Things We Say
Epistles
An Angel on Stilts
The Docent
I Am Going to Lose Everything I Have Ever Loved
Lilith in God's Hands
To Lose Everything I Have Ever Loved
To Do With the Body
From Somebody So Scared
Missives
A New Story
Acknowledgments
Author
Courtney Sender's writing has appeared in the New York Times' Modern Love, the Atlantic, the Kenyon Review, American Short Fiction, and Tin House, among others. A MacDowell and Yaddo fellow, she holds an MFA from the Johns Hopkins Writing Seminars and an MTS from Harvard Divinity School. She currently lives in the Boston area.
Reviews
"Sender shifts between stories of love—between lovers, friends, family, ghosts—and the great looming shadow of the Holocaust, making a deep and howling portrait of longing and loneliness."
Boston Globe
"Sender's willingness to explore primal hurts makes her fiction compelling. . . . A distinctive debut from a promising author."
Kirkus Reviews
"Sender's intimate worlds explore the hollows of the real and imagined, bringing to life emotions and connections too unwieldy to define or restrain."
Booklist
"A stunner from the very first page."
Deesha Philyaw, author of The Secret Lives of Church Ladies, in the Millions
"A profound and deeply funny examination of loneliness in many of its forms."
Emma Copley Eisenberg in Electric Lit
"This book is fierce. This book is rowdy. This book makes you think about all the relationships in your life that have not panned out as you might have hoped."
Barrelhouse
"Brooding, poignant. . . . The sharp humor and imagination in these stories helps to temper the aching loneliness of people who are in various phases of losing, rejecting, or longing for love."
Foreword Reviews
"Courtney Sender hooks us with her singular magic. . . . Brilliantly aching and haunting."
Sara Lippmann, Lilith blog
"Sender matches the light topic of youthful lost love with the extreme heft of the Holocaust . . . and comes up with a miraculous balance between the personal and the universal."
Ann Patchett, author of The Dutch House
"Wholly original, lyrical, fierce, these stories confound expectations at every turn. Courtney Sender writes about passion and loneliness, faith and longing, heaven and hell with a clear eye and a compassionate wit. This collection expands and celebrates, even as it sometimes upends, what it means to tell a love story."
Alice McDermott, author of The Ninth Hour
"Courtney Sender's stories are fierce and tender, exploring the urgency of desire, the restlessness of longing, and the way that both trauma and the will to survive can be a haunting inheritance. Sender moves gracefully between the surreal and the everyday, capturing the way romantic love can be at once impossibly strange and mercifully familiar."
Danielle Evans, author of The Office of Historical Corrections
"Trust is the soul of these stories, and it flows both ways: the trust Courtney Sender has in her reader and the trust the reader feels deeply and truly in the hands of such a generous, intelligent, offbeat, singular writer. These stories, structured in an utterly original way, are rare and real; they get under your skin."
Elisa Albert, author of Human Blues
"Reading these stories is like hearing a series of songs you love—the rhythm, the feeling, the physicality, the words! Literary rock 'n' roll."
Aimee Bender, author of The Butterfly Lampshade