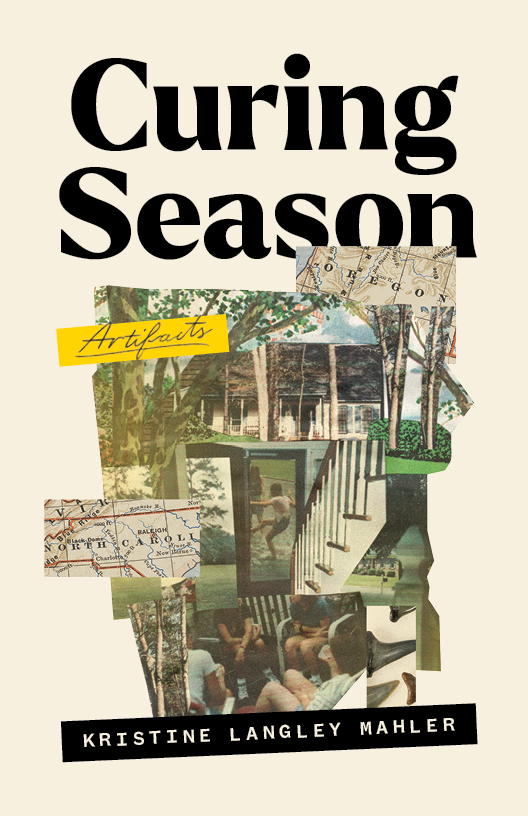 Kristine Langley Mahler
Available now!
October 2022
192pp
PB 978-1-952271-65-6
$21.99
eBook 978-1-952271-66-3
$21.99
In Place Series
Curing Season
Artifacts
Summary
After spending four years of adolescence in suburban North Carolina, Kristine Langley Mahler, even as an adult, is still buffeted by the cultural differences between her pioneer-like upbringing in Oregon and the settled southern traditions into which she could never assimilate. Collecting evidence of displacement—a graveyard in a mall parking lot, a suburban neighborhood of white kids bused to desegregate public schools in the 1990s, and the death of her best friend—Curing Season is an attempt to understand her failed grasp at belonging.
Mahler's yearning for acceptance remains buried like a splinter, which she carefully tweezes out in the form of artifacts from her youth. But it isn't until she encounters a book of local family histories that she takes inhabitation and truth apart, grafting and twisting and imprinting her history on theirs, until even she can no longer tell the difference between their truth and her own. Using inventive essay forms, Mahler pries apart the cracks of exclusion and experiments with the nature of belonging, memory, and place. Curing Season is a coming-of-age memoir for anyone who grew up anywhere but home.
Contents
Surface Tension
Club Pines
Shadowbox
A Fixed Plot
Mädchenfänger
She'll Only Come Out at Night
Creepsake
Not Something That's Gone
Out Line
In the Burn Pile Behind the Old Nobles House
A Pit Is Removed, a Hollow Remains
Alignment
Pull Me Through the Doorway
Acknowledgments
Notes
Author
Kristine Langley Mahler is a memoirist experimenting with the truth who lives near Omaha, Nebraska. Her work has been supported by the Nebraska Arts Council and is published in DIAGRAM, Ninth Letter, Brevity, Speculative Nonfiction, the Rumpus, and elsewhere. She is the director of Split/Lip Press.
Reviews
"An exquisite, aching memoir of adolescent girlhood. . . . Treasures await."
Minneapolis Star Tribune
"These experimental essays about place, home, and the failed effort to belong are closely tied to Eastern North Carolina, but will resonate everywhere."
Shelf Awareness
"Through careful excavation . . . Mahler manages to create a time machine harking back to the simplicity and complexity of adolescence in 1990s America."
Booklist
"A fun, strange play on nostalgia and belonging that embodies something so middle school that it aches. . . . It's a lovely and clever book of essays that add up to an intricate depiction of what must surely be everyone's oddest time."
The Rumpus
"Kristine Langley Mahler's Curing Season is a lovely and rapturous excavation and examination of the past, a lesson in writing oneself into history when it doesn't offer you a space. Displaced, coming of age, estranged from tradition, feeling out of place, this is a voice that teaches us how to live in the aftermath: you may not recognize life as you are living it, mementos may not reveal themselves until after the fact, what we miss and mourn may be what harmed us in the past. In imaginative forms and gripping prose, Mahler leads us to the entombed interiors of loss and shows us how to rewrite our stories so that we truly fit in."
Jenny Boully, author of Betwixt-and-Between: Essays on the Writing Life
"An exquisite excavation of childhood and adolescence, Curing Season recounts Kristine Langley Mahler's long-ago attempts at fitting in after moving to her new town: from wanting to carry the right shopping bag in the mall to forming an alliance with one girl against others to mailing 'histrionic letters of homesickness' to friends at her old school. In wise, lyrical, and formally inventive essays, Mahler vividly illustrates the heartaches of trying to belong in a place—even after leaving it."
Jeannie Vanasco, author of Things We Didn't Talk about When I Was a Girl
"An exceptional example of both place-based and experimental writing. My own adolescence and all the times I felt like an outsider sprang to life reading these pages."
Erica Trabold, author of Five Plots