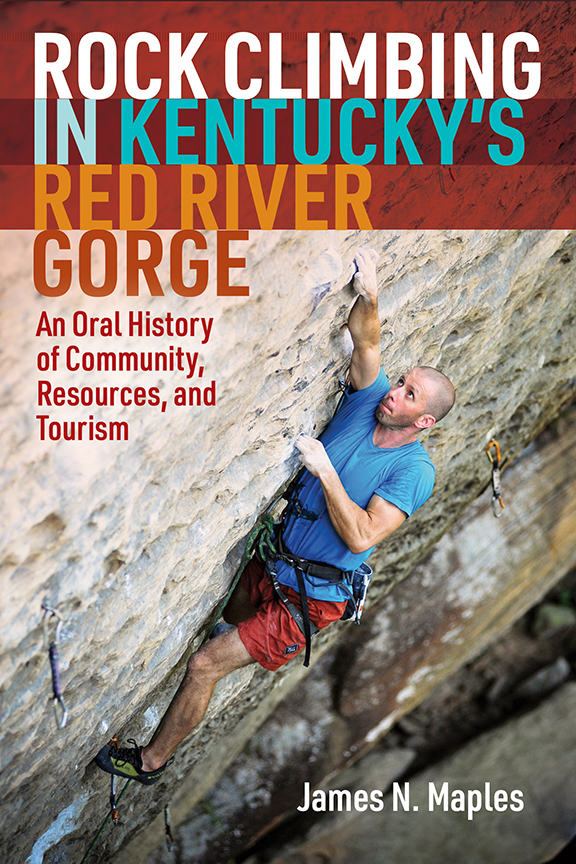 James N. Maples
Available now!
September 2021
248pp
PB 978-1-952271-15-1
$26.99
CL 978-1-952271-14-4
$99.99
eBook 978-1-952271-16-8
$26.99
Rock Climbing in Kentucky's Red River Gorge
An Oral History of Community, Resources, and Tourism
Summary
Rock Climbing in Kentucky's Red River Gorge documents, for the first time, fifty years of oral history from this famous climbing community. Through extensive interviews, Maples reconstructs the growth of rock climbing in the region—including a twice-failed dam project, mysterious first routes, unauthorized sport-route growth on public lands, and a controversial archaeological dig. The book details five decades of collaborations to secure ongoing access to some of the world's most beautiful and technically demanding routes and the challenges along the way.
More than a recounting of the past, however, Rock Climbing in Kentucky's Red River Gorge uses the region's extraordinary history to argue that climbing has the potential to be a valuable source of sustainable economic activity in rural areas throughout Appalachia today and in the years to come. The book concludes by offering policy recommendations and lessons learned about building beneficial partnerships among climbers, local communities, and public land managers to encourage community development and ecotourism alongside preservation.
Contents
Acknowledgments
Abbreviations
Introduction
1. A Brief Overview of the Red and the Surrounding Region
2. The Motherlode
3. The Red River Dam, 1962–1969
4. Cumberland Climbers, 1968–1975
5. Trad Climbing Growth and Climbing Guides, 1974–1986
6. Sport Climbing Begins in the Red, 1987–1995
7. Climbing Guides, Climbing Bans, and Climbers Organizing, 1993–1997
8. White-Haired Goldenrod and the Memorandum of Understanding, 1997–2000
9. The Military Wall Archaeological Dig, 2001–2002
10. Transitioning off Public Land and into a New Era at the Red, 2002–2004
11. The RocTrip, Growth, and Impact Issues, 2005–2010
12. Learning to Be a Red River Local, 2011–2019
13. What Comes Next? Climbing in the Red and Beyond, 2020–2050
Notes
Bibliography
Index

Author
James N. Maples is director of the Division for Regional Economic Assessment and Modeling and associate professor of sociology at Eastern Kentucky University. His work examines the economic and environmental impacts of outdoor recreation and sustainable tourism.
Reviews
"Well-written, accessible, and succinct. Historians, Kentuckians, scholars, and dirtbags alike will find this volume illuminating."
Kristi McLeod Fondren, author of Walking on the Wild Side: Long-Distance Hiking on the Appalachian Trail
"In this book, Maples unfolds a rich tapestry of climbing history in the Red. The reader might expect this history to begin with the setting of the first routes, but they will be pleasantly surprised that, instead, these major moments of climbing history are situated within the region's indigenous past, colonial movements, and the rise of Appalachian cultural heritage. Despite how isolated and insulated some of the crags and hollers of this region can seem, this book highlights the connections that weave through the Red as it has changed and will continue to change with time."
Jillian Rickly, University of Nottingham
"Maples's historical account of rock climbing in the Red River Gorge brings the people and places to life. From The Motherlode to current organizations working to preserve rock-climbing access, the compilation of history and memories offers a more nuanced understanding of rock climbing as an outdoor recreation endeavor for the region. Maples's work will aid in understanding the past and present, and it will inform the future of outdoor recreation in the area."
Michael J. Bradley, Arkansas Tech University
"One of the first attempts to provide a comprehensive chronology of the Red River Gorge and the impact climbing has played in its history, this book tells a story of a unique resource that many in eastern Kentucky have always felt rooted in but have had little opportunity to benefit from. In Rock Climbing in Kentucky's Red River Gorge, we learn about the quirky history of this area, the tension between climbers and public land managers, and the ever-present battle between the recreational use of a natural resource and its conservation for future generations to experience and enjoy."
Ryan L. Sharp, Kansas State University
"A climbing history of the Red—a global climbing mecca—is a major contribution. And like the climbers he studies, Maples pushes further, telling a larger story about the transformational power and possibility of climbing in Appalachia and beyond. Climbers, conservationists, public land advocates, and anyone with an interest in this region should read this book to understand how climbing is a complex force to be reckoned with and how climbers can be a force for good."
Zachary Lesch-Huie, Access Fund
"Maples, through his genuine curiosity about the climbing community, his own deep love of place, and his thoughtful methodology, has woven together an enjoyable story that hopefully inspires continued conservation of this wonderful part of the world."
Adam Cramer, Outdoor Alliance