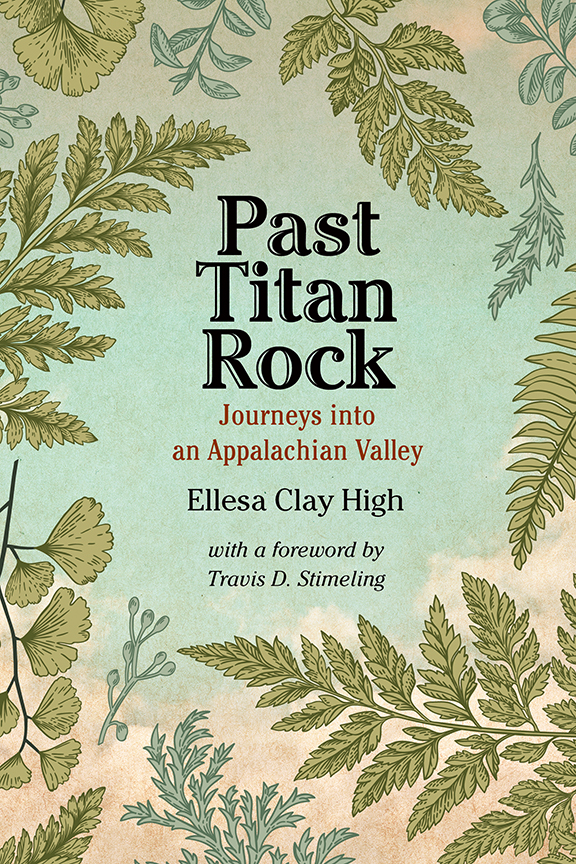 Ellesa Clay High
With a foreword by
Travis D. Stimeling
Available now!
September 2021
224pp
PB 978-1-952271-17-5
$22.99
Sounding Appalachia Series
Past Titan Rock
Journeys into an Appalachian Valley
Summary
Past Titan Rock, a winner of the Appalachian Award for Literature, is available in a new edition as part of the series Sounding Appalachia, with an introduction by series editor Travis D. Stimeling.
In 1977 Ellesa Clay High thought she would spend an afternoon interviewing Lily May Ledford, best known as the lead performer of an all-female string band that began playing on the radio in the 1930s. That meeting began an unexpected journey leading into the mountains of eastern Kentucky and a hundred years into the past. Set in Red River Gorge, an area of steep ridges and box canyons, Past Titan Rock is a multigenre, multivocal re-creation of life in that region. With Ledford's guidance, High traveled and lived in the gorge, visiting with people who could remember life there before the Works Progress Administration built roads across the ridges and into the valleys during the New Deal. What emerges through a unique combination of personal essay, oral history, and short fiction is a portrait of a mountain culture rich in custom, oral tradition, and song. Past Titan Rock demonstrates the depth of community ties in the Red River Gorge and raises important questions about how to resist destructive forces today.
Contents
Foreword by Travis D. Stimeling
Photo gallery
Past Titan Rock: Journeys into an Appalachian Valley
Author
Ellesa Clay High is an associate professor emerita of English at West Virginia University, where she taught Appalachian literature, Native American literature, and creative writing for over thirty years. Her poetry, fiction, creative nonfiction, and scholarship have appeared in numerous collections, journals, and magazines.
Reviews
"Welcome and valuable."
Oral History Review
"A remarkable book."
Journal of American Folklore