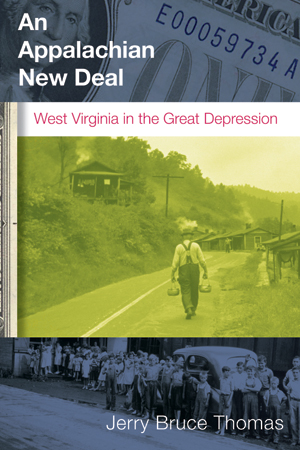 Jerry B. Thomas
March 2010
332pp
PB 978-1-933202-51-8
$28.99
PDF 978-1-933202-97-6
$23.99
PDF (120 Days)
$10.00
Summary
In this paperback edition of An Appalachian New Deal: West Virginia in the Great Depression, Jerry Bruce Thomas examines the economic and social conditions of the state of West Virginia before, during, and after the Great Depression. Thomas's exploration of personal papers by leading political and social figures, newspapers, and the published and unpublished records of federal, state, local, and private agencies, traces a region's response to an economic depression and a presidential stimulus program. This dissection of federal and state policies implemented under Franklin D. Roosevelt's New Deal program reveals the impact of poverty and hardship upon political, gender, race, and familial relations within the Mountain State—and the entire nation. Through An Appalachian New Deal, Thomas documents the stories of ordinary citizens who survived a period of economic crisis and echoes a message from our nation's past to a new generation enduring financial turmoil and uncertainty.
Contents
Preface to the Paperback Edition
Acknowledgments
Introduction
1. On the Eve
2. Drought and Depression
3. A Search for Order
4. A "Jump in the Dark"
5. The Blue Eagle
6. A Failed Experiment in Federal Relief
7. Reshaping the Welfare System
8. The New Deal and Mountain Agriculture
9. The New Deal and Families in Distress
10. Reluctant New Dealers
Epilogue: From Nearly Perfect to Almost Heaven
Notes
Bibliography
Index
Author
Jerry Bruce Thomas is professor emeritus of history at Shepherd University. He earned a BA in political science at West Virginia University and, after Peace Corps service in the Dominican Republic, an MA and PhD in history from the University of North Carolina at Chapel Hill. In addition to An Appalachian New Deal, he is the author of An Appalachian Reawakening: West Virginia and the Perils of the New Machine Age, 1945–1972 (also available from West Virginia University Press).
Reviews
" . . . Thomas's account of the Great Depression in West Virginia is a welcome edition to the historiography both of the New Deal and of Appalachia."
Thomas Kiffmeyer, associate professor of history, Morehead State University
"This book is well-researched, well-written, and gives readers unparalleled insight into the New Deal in West Virginia from the perspectives of state leaders, federal officials, and the state's poor."
Richard D. Starnes, Creighton Sossomon Associate Professor and Department Chair, Western Carolina University
"Thomas makes a persuasive case that West Virginia, with its chronic poverty, is an important laboratory for examining state and national efforts to end the Great Depression."
Douglas Carl Abrams, professor of history and chair of the Department of Social Studies Education, Bob Jones University
"Amazing as it may seem, there is no history of the New Deal in West Virginia. With its excellent research and clear narration, this book will stand as the major work on the New Deal in West Virginia for a long time to come. . . . A mature work of scholarship."
Ronald L. Lewis, professor emeritus of history, West Virginia University
"An important book that anyone interested in Appalachia's twentieth-century history will want to read. Thomas provides a gracefully written account of a crucial decade in West Virginia history."
John Alexander Williams, professor of history, Appalachia State University