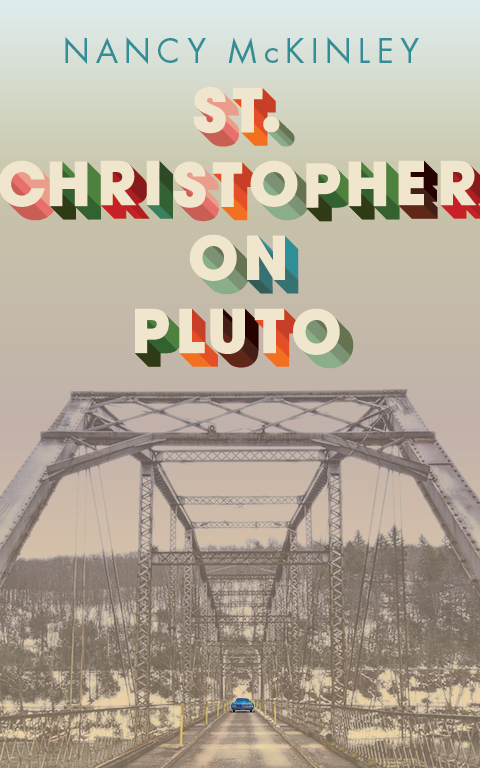 Nancy McKinley
Now Available!
February 2020
228pp
PB 978-1-949199-26-0
$18.99
eBook 978-1-949199-27-7
$18.99
St. Christopher on Pluto
Summary
2021 Colorado Book Awards Finalist, Literary Fiction
MK and Colleen get reacquainted while working at different stores in a bankrupt mall. Way back, the women went to Catholic school together and collaborated on racy letters to a soldier in Vietnam who thought they were much older than seventh graders—a ruse that typifies later shenanigans, usually brought on by red-headed Colleen, a self-proclaimed "Celtic warrior."
After ditching Colleen's car to collect the insurance, they drive from one unexpected event to the next in Big Blue, MK's Buick clunker with a St. Christopher statue glued to the dash. The glow-in-the-dark icon guides them past the farm debris, mine ruins, and fracking waste of the northern brow of Appalachia. Yet their world is not a dystopia. Rather, MK and Colleen show why, amid all the desperation, there is still a community of hope, filled with people looking out for their neighbors and with survivors who offer joy, laughter, and good will.
Contents
St. Christopher on Pluto
Cara Dog
Navidad
Signed Sealed Delivered
Sweet the Sound
Yellow Tape
Less Said
Love, Masque, and Folly
Complicado
Hand against the Horn
Pixelated
Ramp
After All Danger of Frost
Damn Stitch
Liquidate
Acknowledgments
Author
Nancy McKinley is a founding fiction faculty member at Wilkes University, where she teaches at the Maslow Family Graduate Program in Creative Writing. She is the author of Travels with a Nuclear Whore, which won the Thayer Fellowship in the Arts, and is a recipient of the Newhouse Award from the John Gardner Foundation.
Reviews
"St. Christopher on Pluto is good word medicine. I belly laughed and was so touched so many times, I had to keep tissues on hand. I will stock up and give this book to any friend overwhelmed by life."
Beverly Donofrio, author of Riding in Cars with Boys
"Set amidst Pennsylvania small-town life, the linked stories in St. Christopher on Pluto tackle big subjects: war, faith, AIDS, female friendship, race, and aging. Gravitas and comedy are not an easy combination, but Nancy McKinley masterfully mixes the two in a moving, memorable, and inspiring collection."
Steven Schwartz, author of Madagascar: New and Selected Stories
"A dazzling collection, recounted in multiple colloquial voices and acute imagery that conveys a palpable and cinematic sense of place."
J. Michael Lennon, author of Norman Mailer: A Double Life
"This book is the real hillbilly elegy, this tour through an Appalachia whose female warriors mess up and flounder but somehow survive. Nancy McKinley's stories are both sad and hilarious, and punctuated by unexpected wonder."
John Vernon, author of The Last Canyon
"Warm, generous stories."
Kirkus
"St. Christopher on Pluto drew me in by its humor, but, like the best comic fiction, it's constructed out of insider social observations that sting as much as they amuse. . . . It's so entertaining to go along for the ride with MK and chatty Colleen, and, because of their wry, sometimes bumbling, suck-it-up resiliency, it's also possible to take in these hard-luck landscapes and see some possibility amidst all the losses."
Maureen Corrigan, Fresh Air