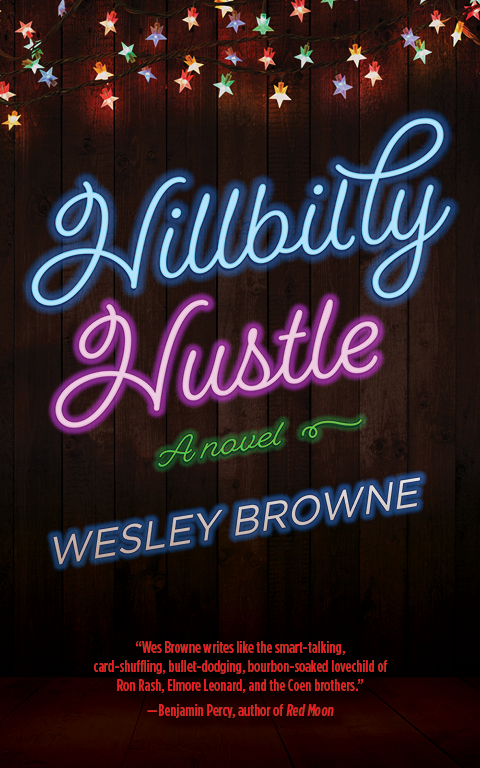 Wesley Browne
Now available!
March 2020
264pp
PB 978-1-949199-28-4
$19.99
eBook 978-1-949199-29-1
$19.99
Hillbilly Hustle
Summary
Knox Thompson thinks he's working a hustle, but it's a hustle that's working him. Trying to keep his pizza shop and parents afloat, he cleans out a backroom Kentucky poker game only to be roped into dealing marijuana by the proprietor—an arrangement Knox only halfheartedly resists.
Knox's shop makes the perfect front for a marijuana operation, but his supplier turns out to be violent and calculating, and Knox ends up under his thumb. It's not long before more than just the pizza shop is at risk.
Author
Wesley Browne is the founder and host of Pages & Pints Reading Series at Apollo Pizza in Richmond, Kentucky. He lives with his wife and two sons in Madison County, where he practices law, co-owns and helps manage local restaurants and a music venue, and coaches sports. This is his debut book.
Reviews
"Hilarious, exhilarating, utterly gripping. I loved every minute of this book. Hillbilly Hustle is required reading."
Kayla Rae Whitaker, author of The Animators
"This tour de force deftly walks the tightrope of being both a page-turner and a language-driven debut that firmly establishes a solid new voice. Cinematic, lyrical, and often very funny, Hillbilly Hustle is ripe with memorable characters and a vivid sense of place that sheds light on a whole new kind of Appalachia that's never been seen before."
Silas House, author of Southernmost
"Witty, savvy storytelling at the crossroads of pizza, pot, and noir. Hillbilly Hustle is the impish spawn of that lost camping trip Rounders, Pineapple Express, and Breaking Bad took to the Kentucky outback last summer. Step aside, Avon Barksdale and Tony Montana. Burl Spoon is my new favorite drug lord. With Hillbilly Hustle, Wes Browne dishes up a smart, tasty debut delivered in an assured voice, one that is sure to create a buzz among readers who like their comedy dry and the pace of their tales brisk."
Robert Gipe, author of Trampoline
"Wes Browne's Hillbilly Hustle is clever as hell, funny as hell, genuine as hell. Read it and feel alive."
Hannah Pittard, author of Visible Empire
"A narrative rolled as expertly as Willie Nelson's nightcap. It takes shape between breakneck page-turns and well-timed punchlines."
David Joy, author of The Line That Held Us
"One of those literary Appalachian noir novels that, somehow, gives a nod to Raymond Chandler and Raymond Carver, to Robert B. Parker and Donald Ray Pollock."
George Singleton, author of Staff Picks
"Wes Browne writes like the smart-talking, card-shuffling, bullet-dodging, bourbon-soaked lovechild of Ron Rash, Elmore Leonard, and the Coen brothers. He's clever as hell, a swift plotter with a heart-bruised sense of character and a brilliant ear for dialogue. I loved Hillbilly Hustle, and I'd gamble you will too."
Benjamin Percy, author of Suicide Woods
"A hell of a fun read. A sort of hillbilly Inherent Vice."
Jesse Donaldson, author of On Homesickness
"Wonder Boys meets Elmore Leonard."
Amy Greene, author of Bloodroot
"Holy Hell! Move over bible thumpers, Hillbilly Hustle is a religious experience to be read, taught, and talked about for years to come, piling on the conflict, the tension, and a cast of unforgettable rural Kentucky characters that are as authentic as the dialogue and the landscape that it's rooted within. Wes Browne has written a satirical barn burner of a debut novel."
Frank Bill, author of The Savage
"With masterful pacing and brilliant dialogue, Wes Browne's compelling debut novel Hillbilly Hustle renders the deadly terrain of Appalachian noir with humor and heart. Don't miss this savage, tender, hilarious read."
Pamela Duncan, author of Plant Life
"If Wes Browne isn't the Richard Price of Appalachian literature he must be its John Kennedy Toole. This is Appalachia, and all its contradictions, observed with a loving precision and rendered in razor-sharp dialogue. A brilliant debut."
Mark Powell, author of Small Treasons
"A top-notch debut with a winning narrative voice and unexpectedly multidimensional characters."
Kirkus