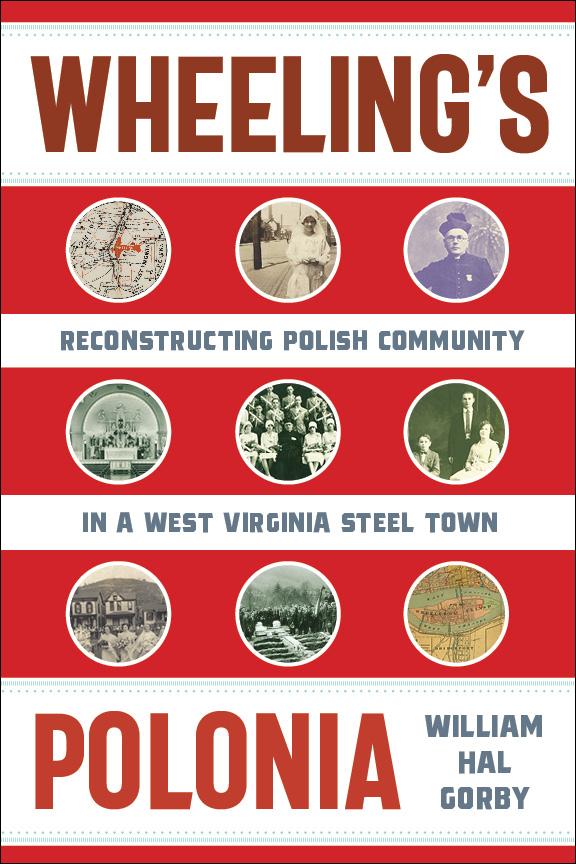 William Hal Gorby
Available now!
May 2020
312pp
PB 978-1-949199-40-6
$32.99
CL 978-1-949199-39-0
$99.99
eBook 978-1-949199-41-3
$32.99
West Virginia and Appalachia Series
Wheeling's Polonia
Reconstructing Polish Community in a West Virginia Steel Town
Summary
William Hal Gorby's study of Wheeling's Polish community weaves together stories of immigrating, working, and creating a distinctly Polish American community, or Polonia, in the heart of the upper Ohio Valley steel industry. It addresses major topics in the history of the United States in the first half of the twentieth century, while shifting from urban historians' traditional focus on large cities to a case study in a smaller Appalachian setting.
Wheeling was a center of West Virginia's labor movement, and Polish immigrants became a crucial element within the city's active working-class culture. Arriving at what was also the center of the state's Roman Catholic Diocese, Poles built religious and fraternal institutions to support new arrivals and to seek solace in times of economic strain and family hardship. The city's history of crime and organized vice also affected new immigrants, who often lived in neighborhoods targeted for selective enforcement of Prohibition.
At once a deeply textured evocation of the city's ethnic institutions and an engagement with larger questions about belonging, change, and justice, Wheeling's Polonia is an inspiring account of a diverse working-class culture and the immigrants who built it.
Contents
Acknowledgments
Introduction
1. "Wheeling Might Appropriately Be Called a Polish City": A Local Look at the Polish Migration, 1870–1915
2. "There Has Always Been a Tough Element in That Section": Work, Culture, and Society in South Wheeling and Benwood
3. The Heart of the Community: Polish Catholics at St. Ladislaus Parish, 1890–1917
4. Finding a Good Job and a Good Union for Polonia: Polish Workers within Wheeling's Labor Movement, 1890–1915
5. Proving Their Loyalty: Wheeling's Polish Immigrants during World War I
6. Struggling for Economic Security: Polonia during the 1919 Steel Strike and the Roaring Twenties
7. Polonia Adapts to the "New Era" of the 1920s
8. Moonshiners and Bootleggers: New Immigrants and the Selective Enforcement of Prohibition in Wheeling
9. Polonia in the Great Depression and the Rise of the CIO at Wheeling Steel
Conclusion
Notes
Author
William Hal Gorby is a teaching assistant professor of history and director of undergraduate advising at West Virginia University. He teaches courses on West Virginian, Appalachian, and American immigration history. He also consulted on the research and script editing for the Emmy-nominated PBS American Experience documentary The Mine Wars.
Reviews
"Wheeling's Polonia is an important work. Gorby skillfully makes the case for why this story is significant, not just for labor and working-class history but also (by implication) for today's electoral map. He shows a sensitivity to these workers and to the various facets of their identity as they evolved over time that many scholars and pundits often lack."
Donna T. Haverty-Stacke, author of America's Forgotten Holiday: May Day and Nationalism, 1867–1960