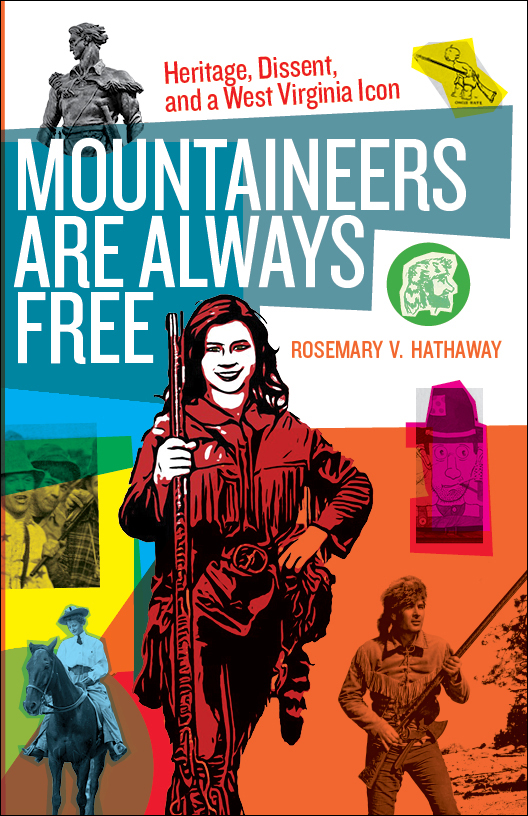 Rosemary V. Hathaway
Available now!
March 2020
276pp
PB 978-1-949199-31-4
$25.99
CL 978-1-949199-30-7
$99.99s
eBook 978-1-949199-32-1
$25.99
Mountaineers Are Always Free
Heritage, Dissent, and a West Virginia Icon
Summary
The West Virginia University Mountaineer is not just a mascot: it is a symbol of West Virginia history and identity embraced throughout the state. In this deeply informed but accessible study, folklorist Rosemary Hathaway explores the figure's early history as a backwoods trickster, its deployment in emerging mass media, and finally its long and sometimes conflicted career—beginning officially in 1937—as the symbol of West Virginia University.
Alternately a rabble-rouser and a romantic embodiment of the state's history, the Mountaineer has been subject to ongoing reinterpretation while consistently conveying the value of independence. Hathaway's account draws on multiple sources, including archival research, personal history, and interviews with former students who have portrayed the mascot, to explore the complex forces and tensions animating the Mountaineer figure. Often serving as a focus for white, masculinist, and Appalachian identities in particular, the Mountaineer that emerges from this study is something distinct from the hillbilly. Frontiersman and rebel both, the Mountaineer figure traditionally and energetically resists attempts (even those by the university) to tame or contain it.
Contents
Introduction
1. The Origins of the Mountaineer
2. From Slouch Hat to Coonskin Cap: The Hillbilly Mountaineer versus the Frontiersman
3. The Rifle and the Beard: The WVU Mountaineer in the 1960s
4. Policing the Student Body: "Mountain Dears" and (Sexy) Girls with Guns
5. Inclusion, Exclusion, and the Twenty-First-Century Mountaineer
Notes
Bibliography
Illustration Credits
Index
Author
Rosemary V. Hathaway is an associate professor of English at West Virginia University, where she teaches folklore, American literature, and young adult literature.
Reviews
"With her personal, familial connection to the subject and background as a folklorist, Rosemary Hathaway has written a well-crafted and thoroughly researched narrative with nuance, a strong historical foundation, and important analysis. Mountaineers Are Always Free has both relevance to the current political moment and the power to endure."
Emily Hilliard, state folklorist and founding director of the West Virginia Folklife Program
"Folklorist Rosemary Hathaway's well-researched and engaging book explores the evolution of the WVU 'mascot' the Mountaineer from its preindustrial origins to the present. Imaginatively analyzing personal, local, and national sources, Hathaway reveals how the ongoing transformations of the Mountaineer have both built upon and challenged regional and national stereotypes in ways that reflect competing conceptions of freedom and identity."
Anthony Harkins, author of Hillbilly: A Cultural History of an American Icon