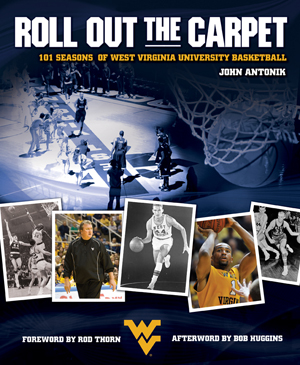 John Antonik
With a foreword by Rod Thorn and
afterword by Bob Huggins
September 2010
288pp
HC/J  978-1-933202-66-2
$39.95
Summary
Roll Out the Carpet is the story of West Virginia University basketball. This comprehensive history chronicles over one hundred seasons of the game, from the early years of the Tri-State and Eastern Conferences, to the golden era of Hot Rod Hundley, Jerry West, and Rod Thorn, to the Mountaineer's most recent triumphs under coaches John Beilein and Bob Huggins.
For Mountaineers, it's not just about winning a prize, trophy or title—it's about the work ethic, pride, and loyalty that embodies the spirit of the state. With unparalleled insider access, alumnus and longtime athletic department official John Antonik details the vibrant history of the players, coaches, and fans that created the finest moments of Mountaineer basketball. These pages overflow with accounts of nail-biting tension leading to buzzer-beating shots, thrilling game-saving moments, and rich, intimate details of the superstar players and coaches that built an institution of gold and blue.
From the first game in 1904 against rival Pitt to West Virginia's glorious return to the 2010 NCAA Final Four, Roll Out the Carpet celebrates the tradition of Mountaineer basketball. With over five hundred  photographs—many of which have never been published before—and articles of memorabilia from the WVU athletic department, university archives, and personal collections, this book is a must-have for any West Virginia University basketball fan. It's a great day to be a Mountaineer!
Contents
Foreword by Rod Thorn
Introduction: Let's Roll Out the Carpet...
The Early Years (1903-1919)
S-t-a-d-s-v-o-l-d Spells Stability (1920-1933)
The Marshall Plan (1934-1938)
Taking a Bite Out of the Big Apple (1939-1942)
The War Years (1943-1945)
Triumph and Tragedy (1946-1950)
Picking up the Pieces (1951-1954)
A Golden Era (1955-1960)
King and His Court (1961-1965)
Running Waters (1966-1969)
Years of Transition (1970-1978)
The Years of the Cat (1978-2002)
Beilein Brings 'em Back (2003-2007)
Huggs Comes Home (2007-2010)
Afterword by Bob Huggins
Acknowledgements
Bibliography
Author
A native of West Virginia, John Antonik received a Bachelor's Degree in Journalism and a Master's Degree in Sports Management from West Virginia University. He is Director of New Media for Intercollegiate Athletics, West Virginia University and author of West Virginia University Football Vault: The History of the Mountaineers.
With a foreword by Rod Thorn and an afterword by Bob Huggins.
Reviews
"...a well-researched work documenting 101 years of WVU lore."
Doug Huff, The Wheeling Intelligencer
"...a must for WVU basketball lovers of the past and present."
Mickey Furfari, The Beckley Register-Herald
"...a veritable encyclopedia, of all things West Virginia basketball."
Colin Dunlap, The Pittsburgh Post-Gazette
"Antonik has turned out a fact-stuffed, story-enhanced read..."
Jack Bogaczyk, The Charleston Daily-Mail
"Sports enthusiasts will revel in the 100-plus seasons covered in this book..."
West Virginia Living