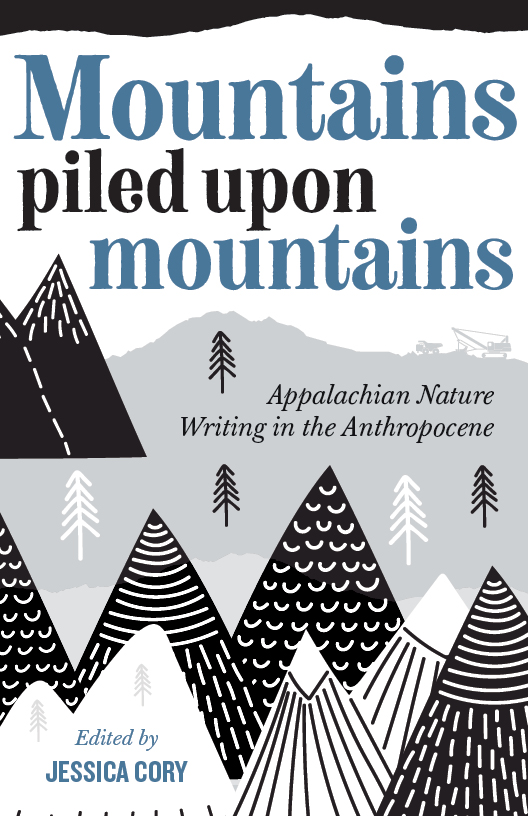 Now available!
August 2019
360pp
PB 978-1-946684-90-5
$27.99
eBook 978-1-946684-91-2
$27.99
Summary
Mountains Piled upon Mountains features nearly fifty writers from across Appalachia sharing their place-based fiction, literary nonfiction, and poetry. Moving beyond the tradition of transcendental nature writing, much of the work collected here engages current issues facing the region and the planet (such as hydraulic fracturing, water contamination, mountaintop removal, and deforestation), and provides readers with insights on the human-nature relationship in an era of rapid environmental change.
This book includes a mix of new and recent creative work by established and emerging authors. The contributors write about experiences from northern Georgia to upstate New York, invite parallels between a watershed in West Virginia and one in North Carolina, and often emphasize connections between Appalachia and more distant locations. In the pages of Mountains Piled upon Mountains are celebration, mourning, confusion, loneliness, admiration, and other emotions and experiences rooted in place but transcending Appalachia's boundaries.
Contents
Chris Bolgiano
Taylor Brown
Ben Burgholzer
Kathryn Stripling Byer
Wayne Caldwell
Sarah Beth Childers
Jessica Cory
Chauna Craig
Thomas Rain Crowe
Stephen Cushman
doris diosa davenport
Ed Davis
Susan Deer Cloud
Lisa Ezzard
Katie Fallon
Carol Grametbauer
Jesse Graves
Jane Harrington
Lisa Hayes-Minney
Laura Henry-Stone
Scott Honeycutt
George Hovis
Gene Hyde
Libby Falk Jones
Madison Jones
Julia Spicher Kasdorf
Bill King
John Lane
Jeanne Larsen
Laura Long
Brent Martin
Michael McFee
Jim Minick
Felicia Mitchell
Ann Pancake
Ellen J. Perry
Mark Powell
Heather Ransom
Jeremy Michael Reed
John Robinson
Rosemary Royston
M. W. Smith
Larry D. Thacker
Gail Tyson
Rick Van Noy
G. C. Waldrep
Meredith Sue Willis
Amber M. Wright
David R. Young
Editor
Jessica Cory teaches in the English department at Western Carolina University. She grew up in southeastern Ohio, and her work has been published in ellipsis…, A Poetry Congeries, and other journals.
Reviews
"Mountains Piled upon Mountains is a collection of writings that does more than record the observations of Appalachian authors on their environment. It is also a timely call to action: to preserve what might be lost and, most hopefully, what might yet be resurrected. Jessica Cory has given us an important addition to our region's literature."
Ron Rash, author of Above the Waterfall
"From the introduction onward, this collection, filled with bright surprises and sharp challenges, engaged my emotions, mind, and senses. Taking in its life-giving poems, heart-piercing stories, and ethically profound essays, night after night I pondered this collection, drank in Appalachia and nature, and felt my sense of wonder and connection renewed."
Chris Green, director of the Loyal Jones Appalachian Center, Berea College