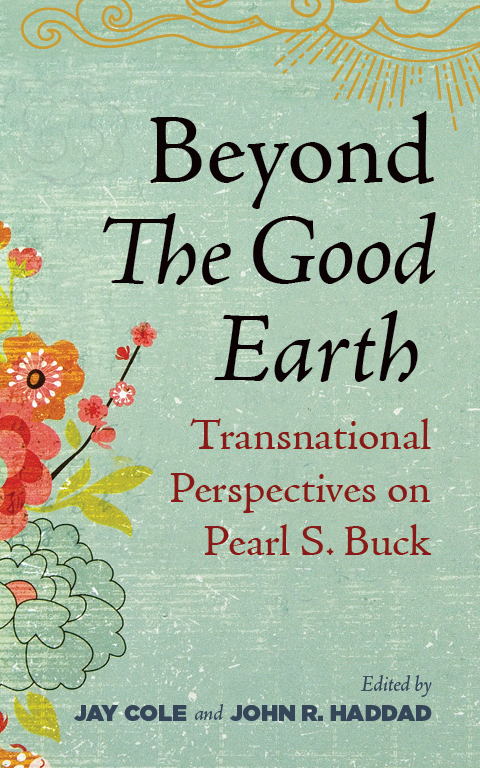 Edited by Jay Cole and John R. Haddad
Available now!
204pp
PB 978-1-946684-75-2
$24.99
eBook 978-1-946684-76-9
$24.99
Summary
How well do we really know Pearl S. Buck? Many think of Buck solely as the Nobel laureate and Pulitzer Prize–winning author of The Good Earth, the novel that explained China to Americans in the 1930s. But Buck was more than a novelist and interpreter of China. As the essays in Beyond The Good Earth show, she possessed other passions and projects, some of which are just now coming into focus.
Who knew, for example, that Buck imagined and helped define multiculturalism long before it became a widely known concept? Or that she founded an adoption agency to locate homes for biracial children from Asia? Indeed, few are aware that she advocated successfully for a genocide convention after World War II and was ahead of her time in envisioning a place for human rights in American foreign policy. Buck's literary works, often dismissed as simple portrayals of Chinese life, carried a surprising degree of innovation as she experimented with the styles and strategies of modernist artists.
In Beyond The Good Earth, scholars and writers from the United States and China explore these and other often overlooked topics from the life of Pearl S. Buck, positioning her career in the context of recent scholarship on transnational humanitarian activism, women's rights activism, and civil rights activism.
Contents
Introduction
Jay Cole and John Rogers Haddad
1. Pearl Buck, Raphael Lemkin, and the Struggle for the Genocide Convention
David M. Crowe
2. Pearl Buck and the Evolution of American Foreign Policy: Reflections and Speculations of Her Film Biographer
Donn Rogosin
3. Pearl Buck's Strategic Vision: Decolonization, Desegregation, and Second World War Imperatives
Charles Kupfer
4. Chinese Culture "Going Global": Pearl S. Buck's Methodological Inspiration
Junwei Yao
5. Pearl S. Buck's Promising Legacy in South Korea: The Pearl S. Buck Foundation and the Rise of Korean Multiculturalism
T.J. Park
6. "Always in Love with Great Ends": Pearl S. Buck on Sun Yatsen and His Nationalist Revolution
David Gordon
7. China's Recent Realization: The Real Peasant Life Portrayed by Pearl S. Buck
Kang Liao
8. Gateways into The Good Earth: Myth, Archetype and Symbol in Pearl S. Buck's Classic Novel
Carol Breslin
9. "Not Having to Be Alone Is Happiness": The Cal Price Writing Workshops at the Pearl Buck Birthplace as Catalysts for a Glocal Writing Community
Rob Merritt
Contributors
Index
Author
Jay Cole serves as senior advisor to the president of West Virginia University. He teaches courses about Pearl S. Buck as part of the WVU Osher Lifelong Learning Institute, and he is a member of the Pearl S. Buck Birthplace Foundation board of directors.
John R. Haddad chairs the American studies program at Penn State Harrisburg. He is the author of The Romance of China: Excursions to China in U.S. Culture, 1776–1876 and America's First Adventure in China: Trade, Treaties, Opium, and Salvation.
Reviews
"The strength of this collection lies in the breadth and variety of the subjects discussed, from US foreign policy to literary and political controversies in China to Pearl Buck's accomplishments and influence as a writer and as a social and political activist. Taken collectively, these essays provide a rewarding survey."
Peter Conn, author of Pearl S. Buck: A Cultural Biography