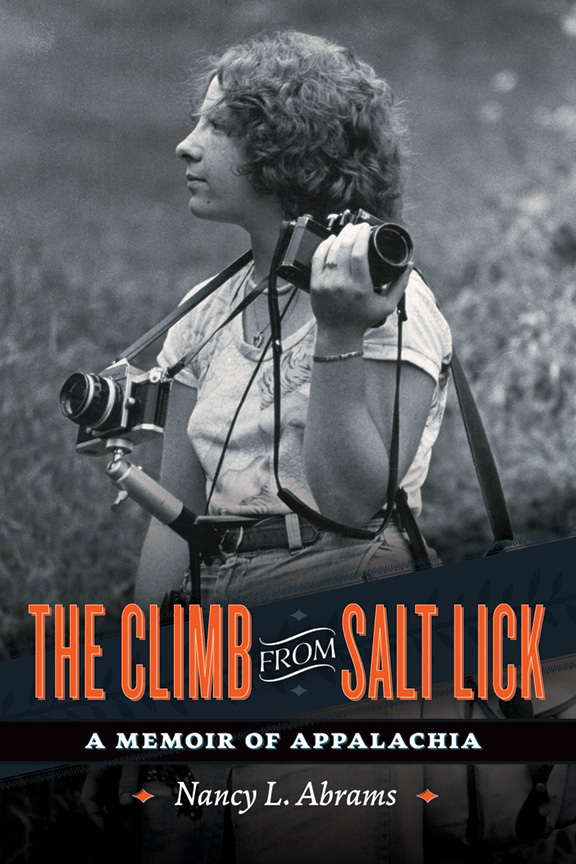 Nancy L. Abrams
Now available!
276pp / 36 images
PB 978-1-946684-18-9
$26.99
ePub 978-1-946684-19-6
$26.99
PDF 978-1-946684-20-2
$26.99
Summary
In the mid-1970s, Nancy L. Abrams, a young photojournalist from the Midwest, plunges into life as a small-town reporter in West Virginia. She befriends the hippies on the commune one mountaintop over, rents a cabin in beautiful Salt Lick Valley, and falls in love with a local boy, wrestling to balance the demands of a job and a personal life. She learns how to survive in Appalachia—how to heat with coal and wood, how to chop kindling, plant a garden, and preserve produce.
The Climb from Salt Lick is the remarkable memoir of an outsider coming into adulthood. It is the story of a unique place and its people from the perspective of a woman who documents its burdens and its beauty, using words and pictures to tell the rich stories of those around her.
Contents
Prologue
Section I: A Home
1 Carpetbagger
2 Salt Lick and Calamity
3 Non Compos Mentis
4 Embedded
5 I Grow Fond
6 Take Me Home, Country Roads
7 Real Life
8 Salt Lick
9 Through Calamity
10 A Doctor! And He's Jewish!
11 Ramps
12 The Commune Down Salt Lick, Part 1
13 Pot Roast
Section II: A Mate
14 Switching Gears
15 Judy Judy Judy
16 Diamonds Are a Girl's Best Friend
17 Disaster Practice
18 West Virginia Brigadoon
19 The Commune Down Salt Lick, Part 2
20 Civil War
21 Deer Dear Friend
22 Happy Daze
23 Why Is This Night Different?
24 Black Power
25 The Murderer and Me
26 Buckwheat Baby
27 Apple Cider
28 Busted
29 Dilettante
30 The Nesting Instinct
31 Experiments with Utopia
32 Changes in Altitude
33 The Cheat 1
34 The Cheat 2
35 The Climb from Salt Lick
Author
Nancy L. Abrams is a graduate of the University of Missouri School of Journalism, where she trained as a photojournalist. She has worked as a photographer, writer, and editor at The Preston County News and the Dominion Post, where she edited the Sunday magazine Panorama. She holds an MFA in creative writing-nonfiction from The New School and has been a professional writer and photographer for four decades.
Reviews
"The Climb from Salt Lick is sort of a reverse Hillbilly Elegy, the story of a young woman who flummoxes her family back in St. Louis by settling in remote, rural West Virginia, giving us a glimpse into hardscrabble living, small-town characters, and a slice of history. Especially charming is the chapter in which Abrams recalls the preparations for the fiftieth anniversary of Arthurdale, the planned community funded by the New Deal and championed by Eleanor Roosevelt. This is an endearing memoir of a relatively prosperous time (the 1970s were good for West Virginia coal), a woman who drives too fast chasing after stories, and a landscape that is long overdue for some appreciation."
Booklist
"Abrams's work is a great corrective to ugly caricatures of Appalachia such as J.D. Vance's Hillbilly Elegy. She shows that a newcomer can flourish even in the most unforgiving terrain, and that curiosity can trump narrow-mindedness even in the most remote climes."
Chicago Reader
"This memoir is a love story—for a West Virginia man, for a West Virginia journalism career, and ultimately, for the state itself. Abrams's palpable love for West Virginia allows her to combine the wonder of an intelligent, respectful outsider with the passion of an Appalachia native."
Sarah Beth Childers, author of Shake Terribly the Earth: Stories from an Appalachian Family
"A must-read for West Virginians. For journalists and would-be journalists. For feminists, young and old. And mothers. For old hippies and anybody who came of age in the sixties and seventies. For anybody who's taken a toke or two. For anybody who has tried to balance integrity with duty, dropping out with pursuing a career while trying to succeed as a breadwinner and parent."
Sara Pritchard, author of Help Wanted: Female and Crackpots
"Abrams writes sharply and passionately, with a journalist's skill at laying out compelling facts, and with an artist's ability to make us experience this life with her."
Meredith Sue Willis, author of Out of the Mountains: Appalachian Stories