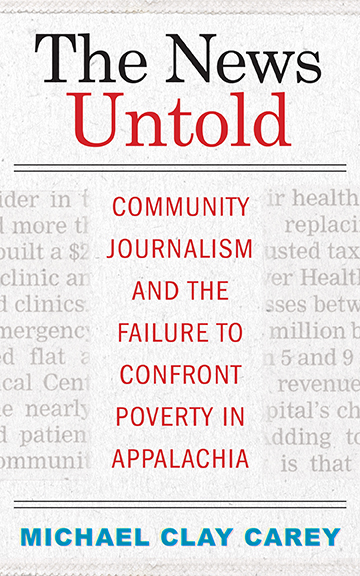 Michael Clay Carey
Now Available!
252pp
PB 978-1-943665-97-6
$26.99
CL 978-1-943665-96-9
$79.99
ePub 978-1-943665-98-3
$26.99
PDF 978-1-943665-99-0
$26.99
Summary
Association for Education in Journalism and Mass Communication Tankard Book Award winner
Weatherford Award winner, nonfiction
The News Untold offers an important new perspective on media narratives about poverty in Appalachia. It focuses on how small-town reporters and editors in some of the region's poorest communities decide what aspects of poverty are news, how their audiences interpret those decisions, and how those two related processes help shape broader understandings of economic need and local social responsibility. Focusing on patterns of both media creation and consumption, The News Untold shows how a lack of constructive news coverage of economic need can make it harder for the poor to voice their concerns.
Critical and inclusive news coverage of poverty at the local level, Michael Clay Carey writes, can help communities start to look past old stereotypes and attitudes and encourage solutions that incorporate broader sets of community voices. Such an effort will require journalists and community leaders to reexamine some of the professional traditions and social views that often shape what news looks like in small towns.
Contents
Acknowledgments
1. Poverty and Community Media in Rural Appalachia
2. Greenburg, Priorsville, and Deer Creek: Community Case Studies
3. Dominant Frames in Local Poverty Coverage
4. Pressures, Philosophies, and the Encoding of Media Messages
5. Decoding Poverty Coverage and Broader Images of Appalachia
6. How Local Media's Silence Influences Views of Poverty
Appendix A: Research Methodology
Appendix B: Action Steps for Journalists 0
Notes
Bibliography
Index
Author
Michael Clay Carey is an assistant professor of journalism and mass communication at Samford University in Birmingham. He researches the impacts of stereotypes and the roles media play in the formation and maintenance of individual and group identity. Carey spent ten years working as a newspaper reporter and editor.
Reviews
"Carey's meticulously researched and beautifully written account of how local news outlets chronicle life in three Appalachian towns gets at the ways in which journalists sometimes cover poverty, and sometimes ignore it. He helps us understand how local people respond to those news discourses and to their disempowering silences. And he uses the research to make concrete suggestions for how a more inclusive, context-sensitive journalism can reinvigorate the local civic sphere."
Linda Steiner, University of Maryland
"A compassionate and thoughtful exploration of an important topic. Carey draws on his skills as a journalist to create an intimate portrait of these three communities, while using his training as a scholar and social scientist to give us a rigorously researched book."
John Hatcher, coeditor of Foundations of Community Journalism