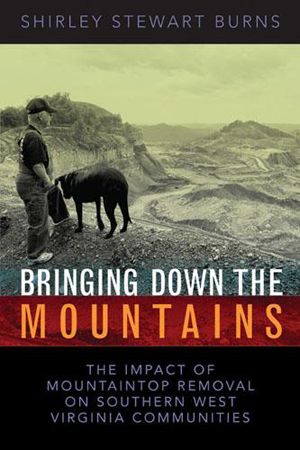 Shirley Stewart Burns
September 2007
215pp
PB 978-1-933202-17-4
$24.95
PDF 978-1-933202-99-0
$23.99
PDF (120 Days)
$10.00
Summary
Coal is West Virginia's bread and butter. For more than a century, West Virginia has answered the energy call of the nation—and the world—by mining and exporting its coal. In 2004, West Virginia's coal industry provided almost forty thousand jobs directly related to coal, and it contributed $3.5 billion to the state's gross annual product. And in the same year, West Virginia led the nation in coal exports, shipping over 50 million tons of coal to twenty-three countries. Coal has made millionaires of some and paupers of many. For generations of honest, hard-working West Virginians, coal has put food on tables, built homes, and sent students to college. But coal has also maimed, debilitated, and killed.
Bringing Down the Mountains provides insight into how mountaintop removal has affected the people and the land of southern West Virginia. It examines the mechanization of the mining industry and the power relationships between coal interests, politicians, and the average citizen.
2007 ForeWord Magazine Finalist in Environment
Contents
Acknowledgments
List of Abbreviations
Introduction
Open for Business: The Shameful Legacy of Natural Resource Extraction
Chapter 1
Making Molehills out of Mountains: Power Relationships and the Rise of Strip Mining in Southern West Virginia
Chapter 2
Solidarity Forever? The UMWA and Southern West Virginia
Chapter 3
To Dance with the Devil: The Social Impact of MTR
Chapter 4
"You Scratch My Back and I'll Scratch Yours": The Political Economy of Coal
Photographs following page 98
Chapter 5
Showdown in Charleston: The Judicial System and MTR
Chapter 6
"Show Me Where to Put My Fishing Pole": The Environmental Impact of MTR
Epilogue
Requiem for the Mountains? Central Appalachian Coalfields at a Crossroad
Notes
Bibliography
Appendix 1
An excerpt from John D. Rockefeller's "Citizens to Abolish Surface Mining" Speech
Appendix 2
Coal Impoundments Found in the Nine Southern Coalfield Counties of West Virginia
Appendix 3
Coal-slurry Spill Information for the Nine Southern Coalfield Counties of West Virginia
Index
Author
Shirley Stewart Burns holds a BS in news-editorial journalism, a master's degree in social work, and a PhD in history with an Appalachian focus. A native of Wyoming County in the southern West Virginia coalfields and the daughter of an underground coal miner, she has a passionate interest in the communities, environment, and histories of the southern West Virginia coalfields. She lives in Charleston, WV. She co-edited Coal Country: Rise Up Against Mountaintop Removal Mining with Mary-Lynn Evans and Silas House.
Reviews
"Bringing Down the Mountains is a clear and impassioned account of the devastation being visited upon the mountains of southern West Virginia by the coal industry. Read it and weep."
Denise Giardina, author of Storming Heaven and The Unquiet Earth
"Shirley Stewart Burns . . . reminds us that the effects of certain economic practices might still be described in such old-fashioned terms as 'devastation' and 'destruction.'"
Tycho de Boer, Journal of Southern History
"[Burns] exercises considerable skill in detailing the expansion of mountaintop removal (MTR) and its growing opposition."
Chad Montrie, author of Making a Living: Work and Environment in the United States
"Burns offers a cautionary tale of the future . . . The crisis Burns defines has implications for all of us and for our children. This book deserves a wide audience."
John H. Barnhill,Technology and Culture
"Bringing Down the Mountains is one of the finest books yet regarding mountaintop removal mining and the destruction of the Appalachian culture and environment. Shirley Stewart Burns has written the most comprehensive account of the struggle that has been taking place in the coalfields of southern West Virginia and the long-term ecological and social consequences of mountaintop removal mining. It is a thoroughly researched and eloquent book that brings alive the true voices and great dignity of a courageous people."
Jack Spadaro, former superintendent of the National Mine Health and Safety Academy
"Everyone in America should read this important book. Shirley Stewart Burns understands this complex issue intimately, and she eloquently explains it from all the various angles, exposing the horrors of mountaintop removal and the way it is not only destroying the heart of a place and its people, but also affecting everyone. This is the perfect book for anyone who wants to educate themselves on this disturbing, irresponsible, and disrespectful form of Big Business gone awry."
Silas House, author of Clay's Quilt and The Coal Tattoo
"Written with passion and a sense of urgency, Bringing Down the Mountains is one of the most important resources available on the causes and consequences of mountaintop removal. It is historically grounded and well-documented but also remarkably current and accessible. It is always informative and alternately infuriating and inspiring as the author recounts the incestuous power relationships between the coal industry and local and national politicians, and the courage and determination of local people fighting to save their land and heritage. This should be required reading in every high school civics classroom in West Virginia and for all who care about the future of the Appalachian coalfields."
Stephen Fisher, editor of Fighting Back in Appalachia: Traditions of Resistance and Change
"Bringing Down the Mountains provides a powerful, fact-filled analysis of controversial mountaintop removal coal mining in the context of more than a century of social, economic, and environmental injustice experience by coalfield communities. Shirley Burns shines a bright light on King Coal and its handmaidens who have exploited the vast mineral wealth of the region, reaping huge profits while coal mining communities continue to experience poverty, high unemployment, and economic distress."
Patrick McGinley, West Virginia University College of Law
"The common ground on mountaintop removal is as narrow as the Appalachian hollows being filled in by MTR. Those on both sides of this deep divide, however, will learn something from this highly readable study which analyzes the issue within its political, economic, environmental, and human context. Written from the community perspective, it gives voice to the powerless who are most dramatically affected by this destructive practice."
Ronald L. Lewis, West Virginia University
"Bringing Down the Mountains not only tells the story of coalfield residents' fight against mountaintop removal, but it puts this tale into the important historical context of the continuing fight between West Virginians and outside coal interests over the use—and sometimes abuse—of the state's natural resources. Shirley Stewart Burns reminds readers that West Virginia's history is a long series of fights over who benefits and who is damaged by coal extraction, how the riches created by the coal-based economy are divided, and over who decides the outcome of these vial issues."
Ken Wards Jr., Charleston Gazette
"Bringing Down the Mountains examines one of the most significant challenges facing the Appalachian region: mountaintop removal coal mining (MTR). Shirley Burns's timely and comprehensive study provides the important analyses of the impact of MTR on the environment, people, and communities of southern West Virginia, including economic costs and benefits. While the analyses of community and environmental impacts represent the core of the book, chapters on the United Mine Worker's role in promoting MTR; the history of legal challenges by citizens; and the relationship between the coal lobby, West Virginia's political leaders, and campaign finances are also indispensable sources of insight and information for scholars, activists, and students. This book is a must-read for anyone who loves the Appalachian Mountains or is concerned about the American environment."
Dwight B. Billings, University of Kentucky
"Too often, critics of mountaintop removal mining in southern West Virginia are thought of as outsiders. Shirley Stewart Burns is a native of the West Virginia coalfields, from a mining family, and in Bringing Down the Mountains she speaks with passion and detailed knowledge. She knows these hills; she knows these people. To this she adds a depth of historical research and the persistence of a journalist. She tells stories that should indeed make us weep, for our mountains and for our own appetites that drive this quest for cheap energy, at any cost. This is truly a case in which history can and should change the future we are currently making."
Gregory A. Good, West Virginia University
"This book is a wake-up call not only for southern West Virginians, but for anyone who uses electricity generated from coal. Bringing Down the Mountains is a must-have for students and scholars of energy policy, the environment, economics, politics, organized labor, and Appalachian studies."
Katie Fallon, Virginia Tech
"Bringing Down the Mountains is an invaluable study of mountaintop removal, the most devastating coal mining practice in the United States. Burns brings together history, politics, economics, sociology, ecology, biology, and interviews with coalfield residents with an efficacy and efficiency I've seen in no other book about the subject. Comprehensive and thoroughly documented, Bringing Down the Mountains is a work we've needed for a decade and a must-have for anyone concerned about the future of the Appalachian region."
Ann Pancake, author of Strange as This Weather Has Been
"Bringing Down the Mountains joins a growing list of books that bring new approaches in environmental and socioeconomic analysis to Appalachia's history and struggles."
Aviva Chomsky, LABOR
"Bringing Down the Mountains is without a doubt the first book you should read if you want to learn more about Mountaintop Removal, how it came to be, what it does to the earth, and what is being done to try and stop, or at least slow down, this very destructive process."
Merrill E. Pratt, Life in Small Bites